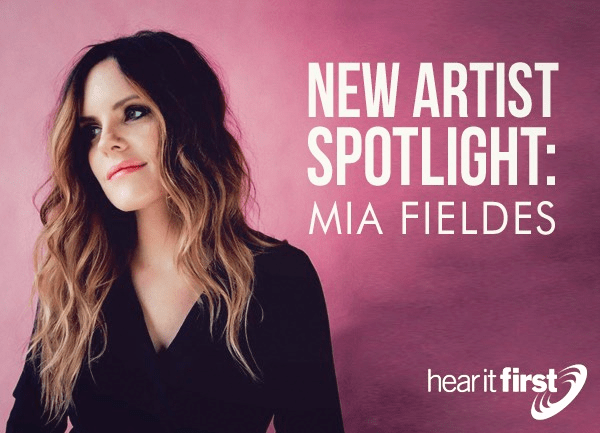 Have you heard of Mia Fieldes? Chances are you have heard many of her songs – under the name of Hillsong Worship and Hillsong United. Mia was a songwriter and singer at the Christian worship music powerhouse based in Sydney, Australia for over 10 years. She wrote "All For Love", "Can You Hear?", "It's Your Love", "Saviour King", "With Christ" and many other songs for Hillsong Worship. Mia is trusting in God's lead by stepping out on her own. This isn't her first go around – no, she has already collaborated with Michael. W. Smith, Meredith Andrews, for KING & Country, Matt Maher and Francesca Battistelli. Recall the song "Christ Is Risen" from Matt Maher? Mia co-wrote that song. She also co-wrote "He Knows My Name" by Francesca Battistelli. So, is Mia Fieldes really a new Christian artist?
My answer is no because she has been in the music industry for years, but behind the scenes. Is she new to recording her own music and being in the spotlight? Yes! Mia is already on radio stations with the radio single "Fearless", which was released back in March. Now she's back in a big way with her new EP album called Ashes. It features five songs and brings a blend of her experience collaborating with other artists, writing songs that deeply glorify God and the sound of Hillsong Worship. Many songwriters and singers have come out from Hillsong United as solo artists and succeeded. I predict Mia Fieldes to continue rising as a solo artist and expand her voice and presence.
If you haven't checked out the EP Ashes, here's a preview of each song.
"Live & Breathe"
The song "Live & Breathe" starts out with incredibly high energy brought on by the drums, guitar and piano. The drums come in and out throughout and it drives home the message of running to God and quenching the thirst for Christ. Mia confidently sings this song and you can sense that she genuinely believes everything she is singing.
Favorite Lyrics
All my devotion

All my delight

All that I hope for

All that I desire

There is no other

None in this world that can satisfy
"Fearless"
Mia's voice comes through as though she is singing directly to you. "Fearless" brings the message that God is faithful as He goes before us and we can be fearless in His presence. Why live in fear when you can live fearlessly?
Favorite Lyrics
I am Fearless
In Your presence
You're around me
All around me
In my weakness
You are strongest
You surround me
You surround me
"Ashes"
"Ashes" is a beautiful song about redemption and how God calls our hearts. In life we can feel and move as though we are dead, but God will call us up from the ashes. He can make a way to redeem us and transform our lives for good.
Favorite Lyrics
From the ashes

From the ashes

You call my heart to love

Call my heart to love

From this silence

From this sadness

You call my heart to love

Call my heart to love
"If I Have You"
The song "If I Have You" is about total focus on God and how this is lived out. Mia sings about not needing riches, anyone's words or acceptance, or anything else in this world. She's focused on going to Heaven, so why would she need anything more?
Favorite Lyrics
I don't need a thousand empty words

I just need the ones that you have spoken

If I have you and nothing else

I have everything

If I have you and nothing else

I don't need to see tomorrow's plan

I just need to trust that You are working

I don't even need to understand

I just need to keep You as the first thing
"Christ Is Risen"
Mia co-wrote "Christ Is Risen" and it was originally released on his album Alive Again (2011). This version is a sweet poem matched with Mia's strong and confident voice. Nothing can keep us from Christ and He has already overcome every challenge and burden.
Favorite Lyrics
Christ is risen from the dead
Trampling over death by death
Come awake, come awake!
Come and rise up from the grave
Christ is risen from the dead
We are one with him again
Come awake, come awake!
Come and rise up from the grave
Conclusion
Overall, this EP is encouraging and her personality comes through strongly. Mia has said that she used to stay up late writing letters to God as a young teen. She may not have imagined the path God would take her, but she began writing songs when many of her peers were following more typical interests like winning ice cream eating contests and following teen heart throbs. I don't think I'm alone when I say I look forward to more original tracks and to see where Mia Fieldes goes in Christian music. Stay updated on what's she's up to and get to know her personality by following her on Facebook, Twitter and Instagram.
Article by Elise Cleary
I'm a Christian writer and editor residing in northern Michigan and thoroughly enjoy Christian centered music, movies, TV shows and books. A favorite song is "Oceans (Where Feet May Fail)" by Hillsong United and I find many songs by Matt Maher, Tim Timmons, Third Day, Laura Story, Jeremy Camp and numerous other artists uplifting. A few of my favorite Christian movies include God's Not Dead, The Shunning, Do You Believe and many by the Kendrick brothers. When I'm not writing, I enjoy running, experimenting in the kitchen and spending time with my musically gifted husband and spunky daughter. I am so blessed and in awe of the work God is doing throughout the Christian entertainment industry.