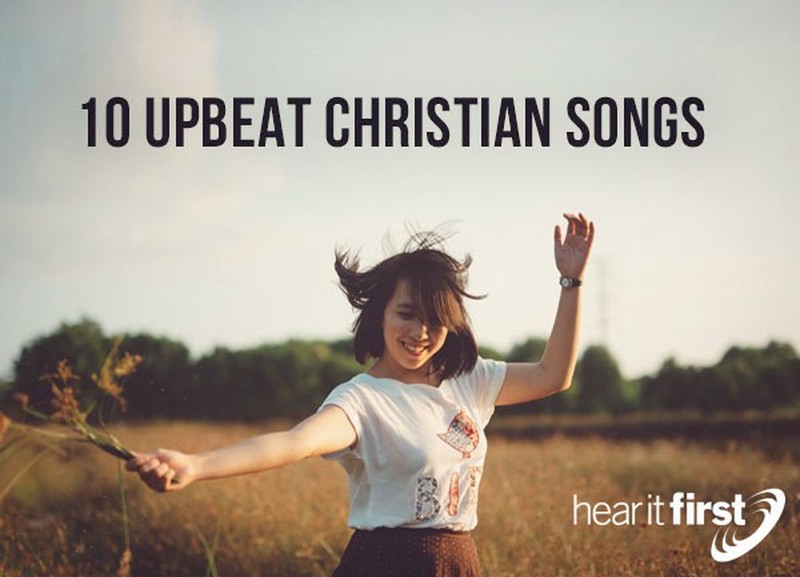 "Sing to God, sing praises to his name; lift up a song to him who rides through the deserts; his name is the Lord; exult before him!" ~ Psalm 68:4
Let them praise his name with dancing, making melody to him with tambourine and lyre! ~ Psalm 149:3
Are you needing a little pep in your step about now? Either to start your day off right or finish it up with a little boost of energy? Maybe you are needing a little strength for the battle or to be reminded that God's love is near. Perhaps you need to hear that Jesus is for you when all others seem to be against you.
10 Joyful Upbeat Christian Songs
Turn up the volume and enjoy these 10 upbeat Christian songs by some of the current greats in Christian music. I think you will find them encouraging and filled with hope at least for the next hour or so but my guess is they'll become favorites long into the future.
"A time to weep, and a time to laugh; a time to mourn, and a time to dance" ~ Ecclesiastes 3:4
1. The Afters "Battles"
The Afters remind us that God is fighting for us. He is with us on every side, in the shallow and in the deep. There is nowhere we are that He is not near. Are you needing to be rescued? Hold out your hands. He's right there. Your weakness is His strength.
2. Hawk Nelson "Live Like You're Loved"
What if? What if we lived like we are loved? Hawk Nelson is beating the drum and rocking the message which compels us to be who we were made to be, to live like we are loved. Do you believe it? Can you believe it? There is no fear in love. Quite the opposite. There is freedom in love. Stretch your arms out wide, breathe in His life and live like you're loved. Because you are.
3. Citizen Way "Bulletproof"
What a fun tune that refreshes our perspective of the power and strength we have when we have our armor on. Like a cool drink of water on a hot summer day, this scripture-based song is going to make you want to get up and dance. No fear. No worry. Armor on!
4. MercyMe "Greater"
It's often so easy to get lost in our daily and forget that there is something greater. Someone greater! This is an upbeat song with an upbeat message. Get up and listen up. You will be encouraged to remember that our daily is not the end. Let this tune pour grace over you. "Greater is the One living inside of me than He who is living in the world." I bet you won't be able to listen to this one without dancing, or at least wanting to.
5. Phil Wickham "Your Love Awakens Me"
No longer dead but alive. No longer sleeping away our days. God's love brings life. "Your love is greater. Your love is stronger. Your love awakens me." Move out of the past and live your today. Live your future. Are you awake yet? Fresh hearts, fresh eyes moving forward.
6. Anthony Evans "I Found You"
We can find God in many ways - we only need to be looking. Anthony Evans shares the significance in opening our eyes to finding God through other people, in our circumstances, and even through our heartaches. Perhaps a renewed focus is in order today? Open your heart's eyes and be on the lookout. He's there.
7. Gateway Worship Voices "Love Has Found Us"
There is nowhere that God is not. He is everywhere which also means His love is everywhere. This upbeat song of worship is a song that inspires and reminds us that His love has found us. It's up to us to receive it. Sing along with Gateway Worship and proclaim the freedom we have both individually and in the community because of Christ's love.
8. Newsboys "Crazy"
Newsboys are virtually synonymous with upbeat. If your heart is beating I would think it would be nearly impossible to not want to go a little crazy with this song. We know that there are those who called Jesus a little crazy. If we go a little crazy for Jesus, we'll be in good company.
9. Micah Tyler "Directions"
Featured on the God's Not Dead soundtrack, Micah Tyler encourages listeners to move forward with purpose rather than wandering aimlessly through life. God gives us directions to follow to stay on His path. When we try to make our own way we so often get sidetracked and distracted. Follow Him. He is, after all, The Way.
10. Audio Adrenaline "Move"
As if the title doesn't say enough! "You've got to move. If you're ready or not, give it all you've got, turn it up now. You've got to move." Audio Adrenaline offers us a good dose of real-life adrenaline to use on a slow-motion kind of day. You'll want to turn the volume up on this one.
Bonus Song: Fellowship Creative "With Us"
The truth is that whether we believe it or not, whether we see Him or not, He is with us. Join in with Fellowship Creative in letting your heart and/or your body dance to these promising lyrics and joy-filled melody that is clearly meant to energize and restore the truth of His presence.
The uplifting message of these 10 songs rings loud. God is ever near and His love and presence give us the power and strength to move. He is with us and He is for us. These songs would make a terrific rainy day playlist to remind us that He is greater, He is stronger, and that we have a life worth living. This is a real and true message of hope that we can all benefit from regardless of the circumstances we might find ourselves in on any given day.
Article by Andrea Stunz
I'm a born-and-raised Texan who enjoys any adventure that requires a passport. As a Christ-following pilgrim, I'm a lover of stories and a connoisseur of sunrises and coffee - best when served together. I listen to a wide range of musicians with Andrew Peterson, Jimmy Needham, and Bethel Music being just a few of my favorites. When I'm not writing, you'll find me in the kitchen or spending time with those I love.