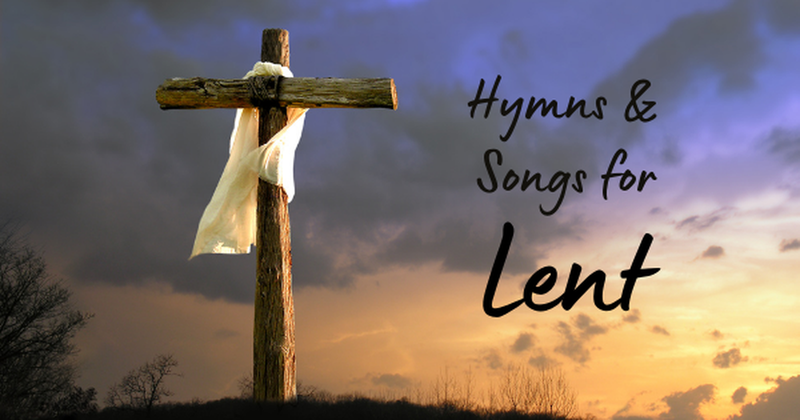 As we prepare for Christ's Resurrection during the season of Lent, we must praise God's sacrifice of His only Son. Whether you connect through traditional hymns or modern worship songs, sing from your heart and rejoice in God's gift of salvation! Here are the 10 best hymns and songs for Lent.
Favorite Lyrics:
Were the whole Realm of Nature mine,
That were a Present far too small;
Love so amazing, so divine,
Demands my Soul, my Life, my All.
---


2. "Christ Is Risen" by Matt Maher
Favorite Lyrics:
No scheme of hell, no scoffer's crown
No burden great can hold you down
In strength you reign
Forever let your church proclaim
---


3. "The Power of the Cross" by Stuart Townend
Favorite Lyrics:
Oh, to see my name
Written in the wounds,
For through Your suffering I am free.
---
4. "Lord, Who Throughout These Forty Days" by Claudia F. Hernaman and Richard Redhead
Favorite Lyrics:
As You did hunger and did thirst,
So teach us, gracious Lord,
To die to self, and only live
By Your most holy word.
---
5. "Resurrecting" by Elevation Worship
Favorite Lyrics:
The fear that held us now gives way
To him who is our peace
His final breath upon the cross
Is now alive in me
---
6. "Open Our Eyes, Lord" by Robert Cull
---
7. "O, The Blood" by Gateway Worship
Favorite Lyrics:
O what love, No greater love
Grace, how can it be
That in my sin, Yes, even then
He shed His blood for me
---
Favorite Lyrics:
Well might the sun in darkness hide
And shut His glories in
When Christ, the mighty Maker, died
For man, the creature's, sin
---
9. "No Longer Slaves" by Zach Williams
Favorite Lyrics:
You unravel me with a melody
You Surround me with a song
Of deliverance from my enemies
Till all my fears are gone
---
10. "Lead Me To The Cross" by Hillsong United
Favorite Lyrics:
You were as I, tempted and tried
You are, the word became flesh
Bore my sin and death
Now You're risen
---