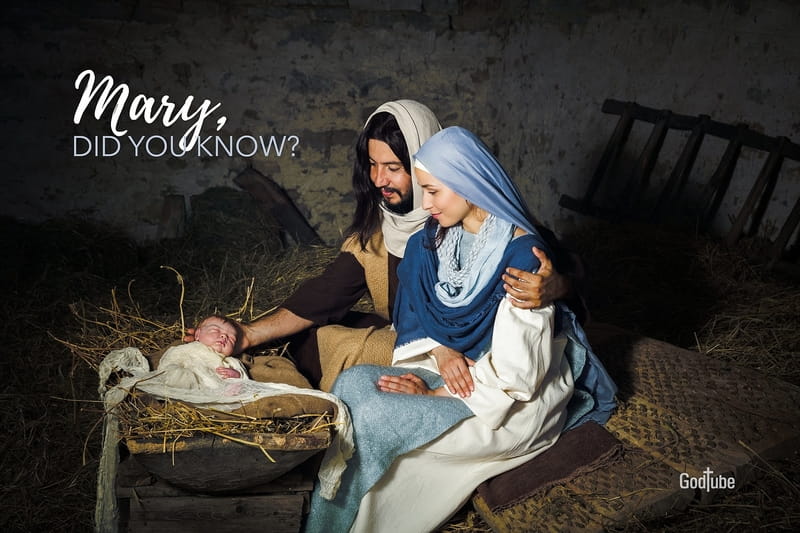 The moving Christmas song, 'Mary, Did You Know?' is a favorite for many people. This video playlist of the top performances of this Christmas classic will surely warm your heart.
Mary, Did You Know?
Imagine if you were alive back when Jesus, Mary and Joseph walked the planet. If you were there when Jesus was on earth performing His miracles, and you lived in Mary's town, what might you have asked her?
We all know the story now. We know how God sent the angel Gabriel to Mary to prepare her.
Today, we know that yes, Mary knew the important role she had. She was told how important her son's birth would be. In short, the answer to 'Mary Did You Know?' was yes, she knew. But back then, people probably didn't know that.
Biblical Story: Mary Learns About Jesus
26 Six months after Elizabeth knew she was to become a mother, Gabriel was sent from God to Nazareth. Nazareth was a town in the country of Galilee. 27 He went to a woman who had never had a man. Her name was Mary. She was promised in marriage to a man named Joseph. Joseph was of the family of David. 28 The angel came to her and said, "You are honored very much. You are a favored woman. The Lord is with you. *You are chosen from among many women."
29 When she saw the angel, she was troubled at his words. She thought about what had been said. 30 The angel said to her, "Mary, do not be afraid. You have found favor with God. 31 See! You are to become a mother and have a Son. You are to give Him the name Jesus. 32 He will be great. He will be called the Son of the Most High. The Lord God will give Him the place where His early father David sat. 33 He will be King over the family of Jacob forever and His nation will have no end."
34 Mary said to the angel, "How will this happen? I have never had a man." 35 The angel said to her, "The Holy Spirit will come on you. The power of the Most High will cover you. The holy Child you give birth to will be called the Son of God.
36 "See, your cousin Elizabeth, as old as she is, is going to give birth to a child. She was not able to have children before, but now she is in her sixth month. 37 For God can do all things." 38 Then Mary said, "I am willing to be used of the Lord. Let it happen to me as you have said." Then the angel went away from her.
Story Behind The Lyrics to 'Mary, Did You Know?'
Singer Mark Lowry was born in Texas in 1958. His mom was a singer, pianist and songwriter. After Mark graduated from Christian college Liberty University in 1980, he went on to become a comedian and popular Christian singer.
Mark shared that the idea for the song came to him when he was writing a Christmas program for Jerry Falwell in 1984.
As I wrote the 'speaking parts' I began to think about Mary. I have always been fascinated with the concept that God came to earth." Mark said.
He went on to recall a conversation he had with his own mother about Jesus' birth where she said, "If anyone on earth knew for sure that Jesus was virgin born--Mary knew!"
Mark shared how that statement struck him profoundly.
Mary knew her child was extraordinary.
Mark spent the next seven years tweaking his lyrics and thinking about what he would have asked Mary if he'd met her.
Then in 1991, he asked a friend, Buddy Greene, to write music to accompany his lyrics.
Buddy thought about what the music should be for about two weeks before the answer hit him. He sat down to write them and the music flowed. He finished in a mere 30 minutes.
The two recorded the song, which has since gone on to be one of the most beloved modern Christmas songs. Many famous musicians have gone on to record it. Here are a few of our favorites!
---
Mary Did You Know? - Clay Aiken
Awe-Inspiring Version Of 'Mary, Did You Know?' Will Leave You Speechless
Mary Did You Know Sung By Talented Little Girl
The Singing Contractors Perform 'Mary, Did You Know'
Mary Did You Know - Incredible Footage From The Bible (ft. CeeLo Green)
Beautiful A Cappella Version Of 'Mary, Did You Know'
Gaither Vocal Band - Mary, Did You Know? [Live]
Danny Gokey STUNS With 'Mary, Did You Know'
Kenny Rogers - Mary, Did You Know
Mary Did You Know : Gayatri Nair
Students Sing 'Mary Did You Know' During Tornado
A Cappella Rendition Of 'Mary Did You Know' From 7th Ave
A Cappella Group Performs 'Mary Did You Know' With Songwriter
'Mary Did You Know' - Reba McEntire And Little Big Town
The Reliques - Christmas Mashup - Mary Did You Know - Joy To The World and More!
'Mary Did You Know' - Christmas Hymn From Straight No Chaser
Family Sings 'Mary Did You Know' In A Silo
'Mary Did You Know' Featuring Singers and Babies From GodTube Team
---