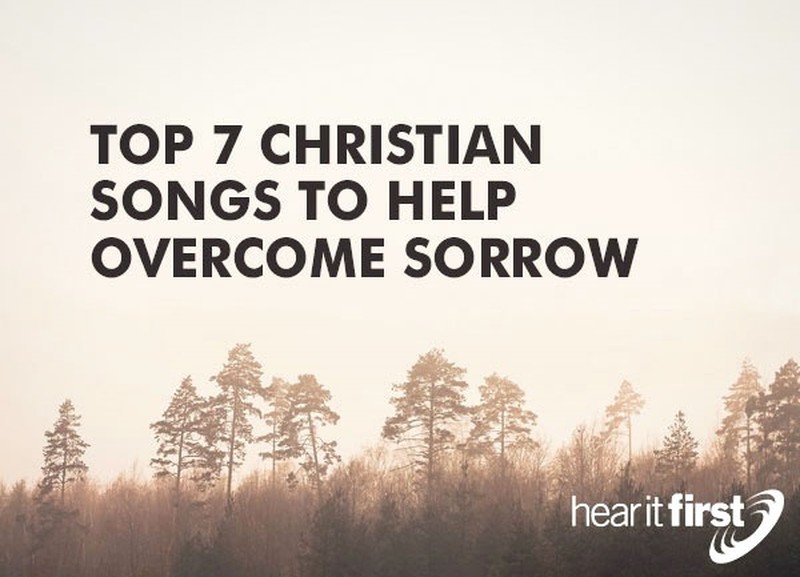 Are you experiencing a time of sorrow and pain? Grief, fear, and uncertainty can unsettle your spirit. Only God can truly restore your heart and fill you will peace, confidence and hope. Life brings moments of joy, happiness, pain, loneliness, despair, and loss. It's natural to grieve during these times. Bring your broken heart to God and let Him restore you.
"He will wipe away every tear from their eyes, and death shall be no more, neither shall there be mourning, nor crying, nor pain anymore, for the former things have passed away." ~ Revelation 21:4
"I have said these things to you, that in me you may have peace. In the world you will have tribulation. But take heart; I have overcome the world." ~ John 16:33
Encouraging Christian Songs to Endure Grief
Here are our top seven Christian songs to help you remember God's love when going through times of hardship and despair.
7. "Lift Me Up" by The Afters
Turn to God if you are feeling downcast with a heavy heart. God is good all the time and wants to embrace you with His blessings of restoration and renewal.
Favorite Lyrics
You know my heart is heavy
And the hurt is deep
But when I feel like giving up
You're reminding me
That we all fall down sometimes
But when I hit the ground
You lift me up when I am weak
Your arms wrap around me
Your love catches me so I'm letting go
You lift me up when I can't see
Your heart is all that I need
Your love carries me so I'm letting go
6. "Your Hands" by JJ Heller
Christ cares so much about what you are going through and is ready to comfort you when your world is shaking.
Favorite Lyrics
When my world is shaking, heaven stands
When my heart is breaking
I never leave your hands
When you walked upon the earth
You healed the broken, lost and hurt
I know you hate to see me cry
One day you will set all things right
Yeah, one day you will set all things right
5. "There Will Be A Day" by Jeremy Camp
Pain is part of this life and it can draw us closer to God than we have ever been. Living in this world is full of trials and tribulation, but we are promised a time that is coming where we will be free of all pain and tears.
Favorite Lyrics
There will be a day with no more tears, no more pain, and no more fears
There will be a day when the burdens of this place, will be no more, we'll see Jesus face to face
But until that day, we'll hold on to you always
I know the journey seems so long
You feel you're walking on your own
But there has never been a step
Where you've walked out all alone
You can rise up in Christ and get through to painful and sorrowful times. Rise up and follow where God is leading you.
Favorite Lyrics
And I will rise when He calls my name
No more sorrow, no more pain
I will rise on eagles' wings
Before my God fall on my knees
And rise
I will rise
There's a day that's drawing near
When this darkness breaks to light
And the shadows disappear
And my faith shall be my eyes
3. "Hold My Heart" by Tenth Avenue North
You are significant to God and He hears and sees you. He will hold you up and heal your broken heart.
Favorite Lyrics
One tear in the dropping rain
One voice in a sea of pain
Could the maker of the stars
Hear the sound of my breaking heart
One light, that's all I am
Right now I can barely stand
If You're everything You say You are
Won't You come close and hold my heart
I've been so afraid, afraid to close my eyes
So much can slip away before I say goodbye
But if there's no other way
I'm done asking why
2. "He Is With You" by Mandisa
Have you felt the presence of God in a time you felt overcome by sorrow and sadness? Nothing is more comforting.
Favorite Lyrics
He is with you when your faith is dead
And you can't even get out of bed
Or your husband doesn't kiss you anymore
He is with you when your baby's gone
And your house is still, and your heart's a stone
Cryin' God, what'd You do that for
He is with you
There's a time for yes
And a time for no
There's a time to be angry
And a time to let it go
There is a time to run
And a time to face it
There is love to see you
Through all of this
1. "Be Still My Soul (In You I Rest)" by Kari Jobe
I pray that your soul is still in God's peace. Give Him your burdens and let Him bless you with rest.
Favorite Lyrics
Be still, my soul, thy God doth undertake.

To guide the future as He has the past.

Thy hope, thy confidence, let nothing shake.

All now mysterious shall be bright at last.

Be still, my soul, the waves and wind still know.

His voice who ruled them while He dwelt below.
There are many promises from God in the Bible – one being that Christ will never leave us or forsake us. He is always there reaching out to us, but we have to reach back to Him. I pray these songs focused your mind on the glorious ways God is trying to turn your sorrow into a full life of strength and hope. Turn to God and let Him cover you with His comfort as He holds you tight.
Article by Elise Cleary
I am a Christian writer and editor that lives in northern Michigan and thoroughly enjoys music, movies, TV shows, books, and other entertainment with a Christian focus. My favorite song is "Oceans" by Hillsong United because it reminds me that God has big plans for me and everyone else who puts their trust in Him. There are many movies that have impacted my life, but a few include God's Not Dead, The Shunning, and Letters to God. When I'm not writing I enjoy watching movies and laughing with my busy toddler and husband.