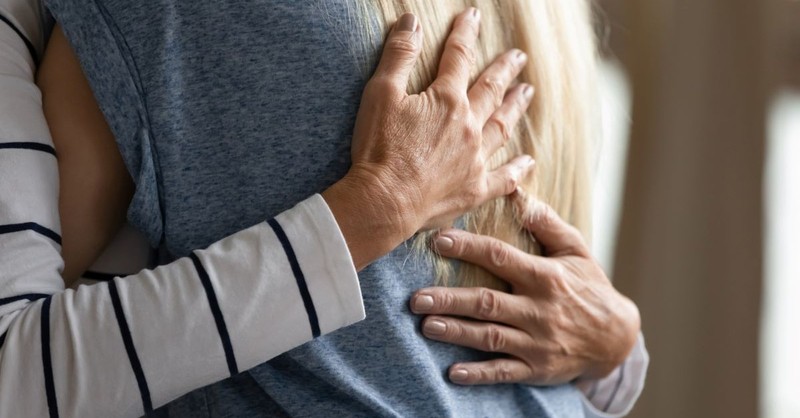 God's forgiveness is amazing and we all need a reminder of how powerful it is. The hardest part about forgiveness is often forgiving ourselves when we fall short. Making changes is hard and impossible without God's grace, but you will be successful when you learn to forgive yourself.
Be kind to one another, tenderhearted, forgiving one another, as God in Christ forgave you. ~ Ephesians 4:32
And whenever you stand praying, forgive, if you have anything against anyone, so that your Father also who is in heaven may forgive you your trespasses. ~ Mark 11:25
Christian Songs about Forgiveness
If you grew up in the Christian faith, you probably heard many sermons about forgiveness and sang countless songs about the subject. It's talked about a lot, but there are many people still hanging onto the hurts of their past. Listen to the top 10 Christian songs about forgiveness below and commit to practicing it daily.
10. Come to the Cross by Michael W. Smith
This song joyfully encourages everyone to come to the cross for forgiveness.
Favorite Lyrics
Hallelujah, everyone
Everyone can come to the cross
It doesn't matter what you've done
Everyone can come to the cross

Sinner, come today
Come today, at the cross there is room
Blessed thought for everyone
For everyone can come to the cross
Now a living fountain, see
Open there for you and me
For rich and poor, for bond and free
God's amazing grace pardons our sins so we are forgiven and can experience freedom in Christ.
Favorite Lyrics
My chains are gone
I've been set free
My God, my Savior has ransomed me
And like a flood His mercy reigns
Unending love, amazing grace

The Lord has promised good to me
His word my hope secures
He will my shield and portion be
As long as life endures
8. You Never Are by Francesca Battistelli
No matter how far away you drift through life from God, you can always come back home to Him.
Favorite Lyrics
Oh don't be so afraid
you think that you're too far
but you never are you never are
So scared that you're too late
too hidden in the dark
but you never are you never are
7. Who Am I by Casting Crowns
God cares about us and loves us so much! He wants to see us rise above our pain, sins, and limits.
Favorite Lyrics
Not because of who I am
But because of what You've done.
Not because of what I've done
But because of who You are.

I am a flower quickly fading,
Here today and gone tomorrow.
A wave tossed in the ocean.
A vapor in the wind.
Still You hear me when I'm calling.
Lord, You catch me when I'm falling.
And You've told me who I am.
I am Yours, I am Yours.
6. There Will Be a Day by Jeremy Camp
Holding onto everything in this world only weighs you down. Jeremy Camp reminds us how there is a time coming that we will be free of all pain and suffering.
Favorite Lyrics
There will be a day with no more tears, no more pain, and no more fears
There will be a day when the burdens of this place, will be no more, we'll see Jesus face to face
But until that day, we'll hold on to you always

I know the journey seems so long
You feel you're walking on your own
But there has never been a step
Where you've walked out all alone
5. Forgiveness by TobyMac, Featuring Lecrae
Lecrae and TobyMac bring a unique song with Christian rap that talks about how sweet forgiveness is. It's a fun one to sing along to.
Favorite Lyrics
'Cause we all make mistakes sometimes
And we've all stepped across that line
But nothing's sweeter than the day we find
Forgiveness, forgiveness
And we all stumble and we fall
Bridges burn in the heat of it all
But nothing's sweeter than the day,
sweeter than the day we call
out for forgiveness
4. Forgiven by Sanctus Real
We can be sure of our place with God, as Sanctus Real reminds us that we are forgiven even when we don't feel like we belong.
Favorite Lyrics
My mistakes are running through my mind
And I'll relive my days in the middle of the night
When I struggle with my pain, wrestle with my pride.
Sometimes I feel alone and I cry.

And in this life
I know what I've been
But here in your arms
I know what I am
3. Losing by Tenth Avenue North
No matter what someone does, forgiveness is always needed, even when a person doesn't realize how what they did was wrong.
Favorite Lyrics
This is love, this is hate...
We all have a choice to make

Oh, Father won't You forgive them?
They don't know what they've been doin' (oh no)
Oh, Father, give me grace to forgive them
'Cause I feel like the one losin'
2. I'm Not Who I Was by Brandon Heath
How do you deal with the pain that comes from the past? Forgiveness is the answer and Brandon Heath talks about this in this song.
Favorite Lyrics
I found us in a photograph
I saw me and I had to laugh
You know I'm not who I was
You were there, you were right above me
And I wondered if you ever loved me, Just for who I was

When the pain came back again
Like a bitter friend
It was all that I could do
To keep myself from blaming you
1. Forgiveness by Matthew West
Matthew West describes forgiveness perfectly in this song.
Favorite Lyrics
It's the hardest thing to give away
And the last thing on your mind today
It always goes to those that don't deserve

It's the opposite of how you feel
When the pain they caused is just too real
It takes everything you have just to say the word…
As Christian, forgiveness means we are free to live a life in Christ as God intended. I'm grateful for the many songs and reminders about God's forgiveness and what it means. Many other artists have sung about forgiveness, including Kings of Leon, Relient K, Mary Mary, Point of Grace, Al Green, Bryan Adams, and Sidewalk Prophets. What's your favorite song about forgiveness?
Article by Elise Cleary
I am a Christian writer and editor that lives in northern Michigan and thoroughly enjoy music, movies, TV shows, books, and other entertainment with a Christian focus. My favorite song is "Oceans" by Hillsong United because it reminds me that has big plans for me and everyone else who puts their trust in Him. There are many movies that have impacted my life, but a few include God's Not Dead, The Shunning, and Letters to God. I love connecting with readers, so please don't hesitate to contact me! When I'm not writing I enjoy watching movies and laughing with my busy toddler and husband.
Photo credit: ©GettyImages/fizkes