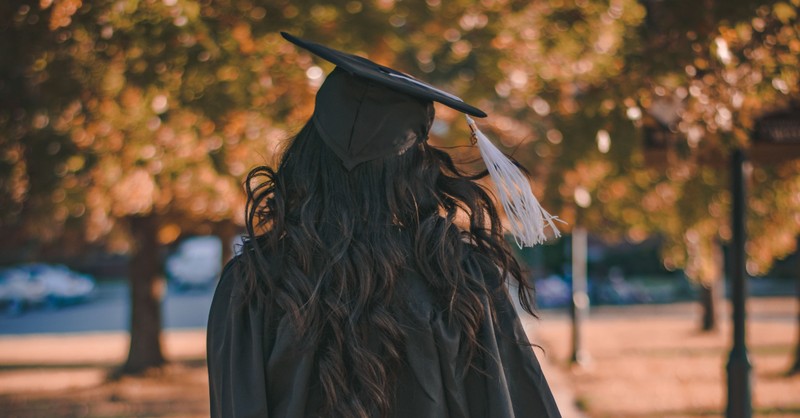 As we head into summer many students, faculty and parents begin to plan graduation parties and commencement ceremonies. One of the key pieces to the commencement is the music. It sets the mood and creates special memories in the hearts of all involved. Here we've gathered some of our favorite Christians songs related to the themes of graduation and hope for the future.
"For I know the plans I have for you, declares the Lord, plans for welfare and not for evil, to give you a future and a hope." ~ Jeremiah 29:11
10 Christian Songs for Graduation
Check out these ten Christian songs perfect for celebrating a graduation. May they inspire faith in your graduate's life hereafter!
10. Place in this World
Favorite Lyrics: "A life of pages waiting to be filled. A heart that's hopeful. A head that's full of dreams."
9. Wait and See
This is a great upbeat song by Brandon Heath. Enjoy this video
Favorite Lyrics: "… God won't forget all the plans He's made for me. I have to wait and see. He's not finished with me yet."
8. Where You Lead Me
Favorite Lyrics: "I' m stepping out so come what may. I'll give it all 'cause I'm drawn to You. As long as my heart is beating, where you lead me I will follow."
Bible Truth ~ (Psalm 25:5) Lead me in thy truth, and teach me: for thou art the God of my salvation; on thee do I wait all the day.
7. Never Give Up
I think there must be about 7 or 8 songs with this same title. The one that is in my heart is the one that was written by James Harris, James Wright, Terry Lewis and Yolanda Adams. I never heard it performed any better than how Yolanda does it.
Favorite Lyrics: "Keep the dream alive, don't let it die. If something deep inside keeps inspiring you to try, don't stop. And never give up, don't ever give up on you. Don't give up."
6. Ready
Favorite Lyrics: "I can't sit around waiting for it all to change. It's gonna take every single one of us doing what we can. There's lots of fighting in this world but there's so much loving too. So take my hand I'm ready now for You."
5. Blue Sky
This is a great song of friendship that was written by Francesca Battistelli, Rebecca Mizell and Samuel C. Mizell. Of course it is sung by Frannie as only she can do.
Favorite Lyrics: "Come, come, don't you be afraid. Whatever comes tomorrow, my love is here to stay."
Bible Truth ~ (Deuteronomy 31:6) Be strong and of good courage, fear not, nor be afraid of them: for the Lord thy God, he it is that doth go with thee; he will not fail thee, nor forsake thee.
4. Find Your Wings
One of my favorite contemporary groups was 4Him of which Mark Harris was a member. He went on as a solo artist and actually won a GMA Dove Award for Inspirational Song of the Year for this song. You will be inspired by the video below. I can imagine a Daddy singing this song in honor of his graduate.
3. You Raise me Up
Favorite Lyrics: "You raise me up so I can stand on mountains. You raise me up to walk on stormy seas. I am strong when I am on Your shoulders. You raise me up to more than I can be."
2. Hands and Feet
Favorite Lyrics: "I'll be Your hands. I'll be Your feet. I'll go where You send me. I'll go where You send me. And I'll try yeah I'll try to touch the world like You touched my life. And I'll find my way to be Your hands."
Favorite Lyrics: "In Christ alone, my hope is found. He is my light, my strength, my song … My Comforter, my All in All, here in the love of Christ I stand."
Scriptures for Graduation:
Delight thyself also in the LORD; and he shall give thee the desires of thine heart. Psalms 37:4
Trust in the LORD with all your heart, and do not lean on your own understanding. In all your ways acknowledge him, and he will make straight your paths. Proverbs 3:5-6
For I know the thoughts that I think toward you, saith the LORD, thoughts of peace, and not of evil, to give you an expected end. Jeremiah 29:11
Rejoice in the Lord always; again I will say, rejoice. Philippians 4:4
For we are his workmanship, created in Christ Jesus for good works, which God prepared beforehand, that we should walk in them. Ephesians 2:10
Think about it, what other Christian graduation songs can you name? List them in the comments below and let's see how big this collection becomes.
Resource: The Holy Bible, King James Version, www.youtube.com, photo credit: ©Pexels/Stanley Morales