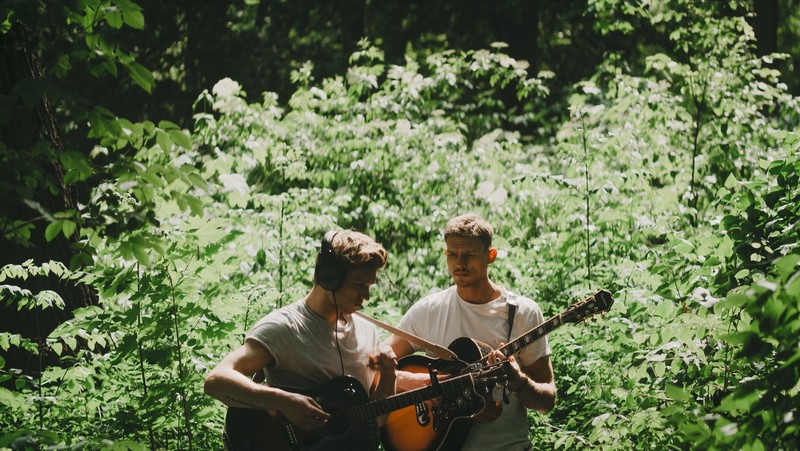 Christian music spans decades of time. It includes many genres from gospel to contemporary to metal. All forms have different sounds for sure, but they all proclaim the same message, Jesus is real and He is the Savior of mankind through His death on the cross for the atonement of our sins.
First, we found an amazing playlist of the 50 Greatest Worship Songs on Spotify you can listen through.
Top Christian Songs Playlist
Our 101 Greatest Christian Songs
Here is our list of the 101 best Christian songs ever made.
101. Why Me Lord – Kris Kristofferson

100. My Savior My God – Aaron Shust

99. Revelation Song – Phillips, Craig, and Dean

98. Go Rest High On That Mountain – Vince Gill

97. Thank You – Ray Boltz

96. Lifesong – Casting Crowns

95. When I Survey The Wondrous Cross – Isaac Watts

94. O Praise Him – David Crowder Band

93. My Redeemer Lives – Rueben Morgan

92. Redeemed – Big Daddy Weave
Bible Truth - (1 Samuel 18:6) As they were coming home, when David returned from striking down the Philistine, the women came out of all of the cities of Israel, singing and dancing, to meet King Saul, with tambourines, with songs of joy, and with musical instruments.

91. Changed – Rascal Flatts

90. Follow You – Leeland F/Brandon Heath

89. There Will Be A Day – Jeremy Camp

88. Great Is Thy Faithfulness – Thomas Chisholm

87. Place In This World – Michael W. Smith

86. I'll Fly Away – Albert E. Brumley

85. What Faith Can Do - Kutless

84. Mountaintop – The City Harmonic

83. Awesome God – Rich Mullins

82.While I'm Waiting – John Waller

81. All Of Creation – Mercy Me

80. In Christ Alone – Michael English

79. Old Rugged Cross – George Bennard

78. Open Hands – Matt PaPa

77. God Gave Me You – Dave Barnes

76. 10,000 Reasons – Matt Redman

75. Tough As Nails – Clay Jacobs

74. Trust And Obey – John H. Sammis

73. O Great Love – Robbie Seay Band

72. Jesus Take The Wheel – Carrie Underwood

71. How Great Is Our God – Chris Tomlin

70. Concrete Angel – Martina McBride

69. That's What Love Is For – Amy Grant

68. The Redeemer – Sanctus Real

67. Testify To Love - Avalon

66. This Is The Stuff – Francesca Batistelli

65. Be Thou My Vision – Dallan Forgaill
Bible Truth - (Romans 8:31) What then shall we say to these things? If our God is for us, who can be against us?

64. On My Knees – Jaci Velasquez

63. Steady My Heart – Kari Jobe

62. Me And God – Josh Turner

61. More Beautiful You – Jonny Diaz

60. Thy Will Be Done – CeCe Winans

59. It Is Well With My Soul – Philip Bliss

58. All Along – Remedy Drive

57. Proof Of Your Love – For King And Country

56. Something Beautiful - NEEDTOBREATHE

55. Give Me Jesus – Fernando Ortega

54. What Do I Know Of Holy – Addison Road

53. From The Inside Out – Seventh Day Slumber

52. After The World - Disciple

51. Believe – Brooks & Dunn
Also Read: 8 Great Bible Verses About Worship
Top 50 - Greatest Christian Songs
50. Stand In The Rain - Superchick

49. Whitewashed – August Burns Red

48. I Need Thee Every Hour – Annie S. Hawks

47. Starry Night – Chris August

46. Stronger – Mandisa

45. Salvation Is Here – Lincoln Brewster

44. In My Arms - Plumb

43. One Life To Love – 33 Miles

42. Three Wooden Crosses – Randy Travis

41. All This Time – Britt Nicole

40. One Thing Remains – Jesus Culture

39. Our God – Chris Tomlin

38. Word Of God Speak – Mercy Me

37. Take Me Into The Beautiful- Cloverton

36. I Need You To Love Me – Barlow Girl

35. Frontline - Pillar

34. Blessings – Laura Story

33. You Love Me Anyway – Sidewalk Prophets

32. A Closer Walk With Thee – Patsy Kline

31. Don't Waste Your Life - Lecrae

30. The Motions – Matthew West

29. How Great Thou Art – Carl Gustav Boberg/Stuart K. Hine
28. Where I Belong – Building 429

27. Maker Of The Universe - Phil Keaggy

26. Hero - Skillet

25. Because He Lives – The Gaithers

24. Lord I Lift Your Name On High- Rick Founds

23. This Is Your Time – Michael W. Smith

22. Dare You To Move - Switchfoot

21. City On Our Knees – Toby Mac

"The Truth" (Psalm 47:1) Clap your hands, all peoples! Shout to God with loud songs of joy!
Top 20 - Greatest Christian Songs
20. Call My Name – Third Day
Favorite Lyrics- "When you feel like you're alone in your sadness, and it seems like no one in this whole world cares. And you want to get away from the madness. You just call my name and I'll be there."
19. Flood – Jars Of Clay
Favorite Lyrics- "But if I can't swim after forty days and my mind is crushed by the thrashing waves. Lift me up so high that I cannot fall. Lift me up,"
18. Jesus Freak – DC Talk
Favorite Lyrics- "What will people think when they hear that I'm a Jesus Freak. What will people do when they find that it's true. I don't really care if they label me a Jesus Freak, cause there ain't no disguising the truth."
17. By Your Side – Tenth Avenue North
Favorite Lyrics- "' Cause I'll be by your side wherever you fall. In the dead of night whenever you call. And please don't fight these hands that are holding you. My hands are holding you."
16. In The Name of the Lord – Sandi Patti
Favorite Lyrics- "And when we call upon your name, your strength through weakness to show. We can know the master plan extend the master's hand. When we come in the name of the Lord."
15. Dive – Stephen Curtis Chapman
Favorite Lyrics- "I'm diving in, I'm going deep, in over my head I want to be caught in the rush, lost in the flow, in over my head I want to go. The river's deep, the river's wide, the river's water is alive. So sink or swim, I'm diving in."
14. How He Loves Me- John Mark McMillan
Favorite Lyrics- "He is jealous for me, loves like a hurricane. I am a tree bending beneath the weight of his wind and mercy. When all of a sudden I am unaware of these afflictions eclipsed by glory."
13. Lead Me – Sanctus Real
Favorite Lyrics- "So Father, give me the strength to be everything I'm called to be. Oh, Father, show me the way to lead them. Won't You lead me?"
12. Oh Lord, You're Beautiful – Keith Green
Favorite Lyrics- "I want to take your word and shine it all around. But first help me to just, live it Lord. And when I'm doing well, help me to never seek a crown. For my reward is giving glory to you."
11. God Is In Control – Twila Paris
Favorite Lyrics- "This is no time for fear, this is a time for faith and determination. Don't lose the vision here carried away by emotion. Hold on to all that you hide in your heart. There is one thing that has always been true. It holds the world together."
Top 10 - Greatest Christian Songs
10. From The Inside Out - Hillsong
Favorite Lyrics- "In my heart, in my soul I give you control. Consume me from the inside out, Lord. Let justice and praise become my embrace to love You from the inside out."
9. He Reigns - Newsboys
Favorite Lyrics- "It's the song of the redeemed rising from the African plain. It's the song of the forgiven drowning out the Amazon rain. The song of Asian believers filled with God's holy fire. It's every tribe, every tongue, every nation a love song born of a grateful choir."
8. My Deliverer - Rich Mullins
Favorite Lyrics- "Joseph took his wife and her child and they went to Africa To escape the rage of a deadly king here along the banks of the Nile, Jesus listened to the song that the captive children used to sing, they were singing...My Deliverer is coming - My Deliverer is standing by."
7. El Shaddai - Amy Grant
Favorite Lyrics- "We will praise and lift you high El Shaddai. Through your love and through the ram, you saved the son of Abraham. Through the power of your hand you turned the sea into dry land. To the outcast on her knees, you are the God who really see."
6. Give Me Your Eyes – Brandon Heath
Favorite Lyrics- "Looked down from a broken sky Traced out by the city lights My world from a mile high Best seat in the house tonight Touched down on the cold black tile Hold on for the sudden stop Breath in the familiar shock Of confusion and chaos Are those people going somewhere? Why have I never cared?
5. East To West – Casting Crowns
Favorite Lyrics- "I start the day, the war begins, endless reminding of my sin time and time again. Your truth is drowned out by the storm I'm in. Today I feel like I'm just one mistake away from You leaving me this way."
4. Take You Back – Jeremy Camp
Favorite Lyrics- "You satisfy this cry of what I'm looking for, and I'll take all I can and lay it down before the throne of endless grace now that radiates what's true. I'm in the only place that erases all these faults that have overtaken me. But I know your response will always be, I'll take you back."
3. Made To Worship – Chris Tomlin
Favorite Lyrics- "Before the day, before the light, before the world revolved around the sun. God on high stepped down into time and wrote the story of His love for everyone."
2. I Can Only Imagine – Mercy Me
Mercy Me was founded in Greenville, Texas and with the unique sound of frontman Bart Millard they have established themselves as one of the most successful Christian bands of all time. The guys have released 7 studio albums since 2001. Their crowning achievement remains their iconic hit from 12 years ago "I Can Only Imagine" which crossed over becoming a mainstream hit as well.
Favorite Lyrics- "Surrounded by Your glory, what will my heart feel? Will I dance for you Jesus or in awe of you be still. Will I stand in your presence or to my knees will I fall Will I sing hallelujah, will I be able to speak at all, I can only imagine."
This is the song of songs for the man/woman who realizes who they are and who God is for the very first time. It is filled with truth and emotion that we can all relate with. The grace of God is the ultimate gift to receive. His gift of grace gave us salvation through Christ on the cross. This song will be a staple in Christian music forever.
Favorite Lyrics- "Amazing grace! How sweet the sound that saved a wretch like me. I once was lost, but now am found. I was blind, but now I see."
Click on the following links to see more Faith & Entertainment Top 101 articles:
101 Best Christian Artists of All Time
101 Best Family Movies of All Time
These are the top 101 Christian songs of all time to date. They all have great lyrics about our faith that can build us up and bring us to singing out praises to God. What songs would you have included? Did I miss some that should have been on here? God bless!
Resources- The Holy Bible, English Standard Version"Scripture quotations are from The Holy Bible, English Standard Version® (ESV®), copyright © 2001 by Crossway, a publishing ministry of Good News Publishers. Used by permission. All rights reserved.", www.youtube.com, photo credit: Unsplash
Co-Author: Greg Nichols
I am a Christian blogger who loves both "Faith" and "Entertainment!" I have always been a big fan of music, books, movies, and especially sports. I have a beautiful wife Kerry and two precious daughters, Kyrsten and Kassidy. I came to the lord when I was 22 years of age. My best friend shared the story of the gospel with me around the time my first child was being born, I fell in love with the promise of salvation and want to "Live Forever" now.