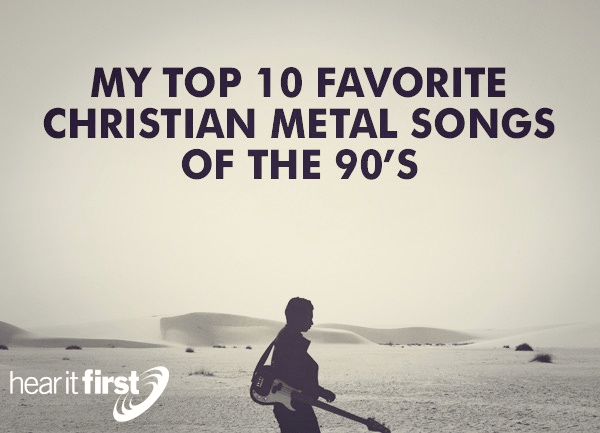 The 90's were some of the best years for Christian metal. It was a time of transition. 80's hair bands were becoming old as thrash metal moved in to change the course of metal. Even industrial metal was making its stand in the 90's. It was awesome! There were so many amazing bands, many who are still active today, that you had the opportunity to bang your head to! I love how music keeps changing and the metal of today would not be where it's at without the metal of the 90's! Here are my top 10 favorite Christian metal songs of the 90's with some of my favorite lyrics for all. This list has hair bands, thrash bands, industrial bands and hardcore bands! Such and awesome decade of music! Enjoy!
10. Stryper, Against The Law
Favorite Lyric – "We've still got the fire burning in our souls. But we're just rockin' harder to make our music roll."
9. Barren Cross, Rattle Your Cage
Favorite Lyric – "You just can't go on and think that it's all right, just sit back and let someone else fight. What will it take to bring you back to life? To get you up and fight?"
8. Circle Of Dust, Telltale Crime
Favorite Lyric – "Trade wars, national debt producing paramount consequence. One system government. World domination omnipotent."
Only one is omnipotent and that is Yahweh!
7. Deliverance, Weapons Of Our Warfare
Favorite Lyric – "The weapons of our warfare, powerful they are. No nuclear warfare attacks can bring these strongholds down. To take dominion over Satan's own ground, rise up with the sword of God and put your armor on. And the weapons of our warfare aren't carnal."
6. Six Feet Deep, Purify
Favorite Lyric – "Pull the wool from my eyes, sensitize me. Cut the cancer from inside, purify me. Send Your cleansing rain, saturate me. Burn away this pain, drench and drain me."
5. Whitecross, We Know What's Right
Rex Carroll is a legend. If you don't know who he is then please check him out! He is hands down one of the best guitarists of all time!
Favorite Lyric – "Your death for the city, so complete, it wasn't pretty. They didn't understand what You had planned. You arose three days later. Death was strong, but You were greater. Still those closest to You could not stand. So blinded by their pain, didn't know what they would gain."
4. Project 86, One Armed Man
Favorite Lyric – "Zombies staring, looking my way, crying out for something. They can't fill their stomachs with enough to satisfy the hunger growing. Needing something real! Needing something real! Needing something, needing something, needing something real! Zombies staring, looking my way crying out for something they can't feel!"
3. Mortification, Brutal Warfare
Favorite Lyric – "Pain and torment cast from below, stand strong with God's armor on. Inflicted hate, spiritual war, Christ's the victor know this well."
2. Tourniquet, Broken Chromosomes
Favorite Lyric – "Men fail me, but the Son of God saves!"
1. Living Sacrifice, Reborn Empowered
This song is hard to beat. It's heavy! The lyrics are solid! The breakdowns are awesome! Did I mention it's heavy? The album this song is on, Reborn, brought me through some pretty dark times. God brought me through these times with metal and this album was played the most! Here are the lyrics for the song!
Reborn empowered
All strongholds broken
Old ways have died,
Given new life
Boldness engulfs my every word,
Strength empowered by God
Jesus
The strength in Christ's name
Power, all knees must bow
Same spirit that dwells in us,
Raised Him from the dead
This gift freely given,
You will believe
Evil, its plan to deceive,
Manipulation, deception we bind
Rebirth, confession,
That He is God, Almighty
Reborn empowered
All strong holds broken

Old ways have died,
Given new life
Rebirth, confess, our Lord
Conclusion
Christian metal of the 90's was some of the best in my opinion. There was such diversity from the shifting of 80's hair metal into the newer metal. It was a decade full of life and so many options. If you didn't grow up with metal from this era, please go check some of it out. These bands poured their heart and soul into their music and trusted God for the rest! There are so many other great bands that could be mentioned here (Antestor, Narnia, Bride ect…) God bless you all and LONG LIVE THE KING!!!
Article by Derek Hill
I am a Christian blogger with passions in music, games and news. I enjoy all kinds of music, with my favorite being Christian metal(all kinds). Some of my favorite bands are The Devil Wears Prada, Living Sacrifice(1997-present), and Becoming the Archetype. I enjoy many kinds of games including 1st/3rd person shooters, platformers, RPG's and many more. I am a big fan of the multiplayer online games including the Call of Duty franchise of games. I have been saved since I was 9 years old. I am also a father of 2 beautiful children and I love it!