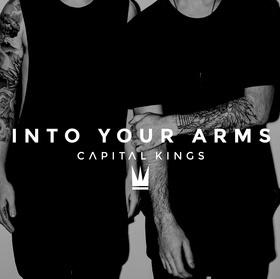 Gotee Records' Capital Kings announces their sophomore full-length album titled II releasing this fall on October 2. Today the two-piece EDM group has released the digital single "Into Your Arms" at iTunes – click here to get the new track. This single is currently impacting Hot AC/CHR radio and charting in the Top 25 of the Hot AC/CHR chart in just 2 weeks while receiving airplay on networks such as Air1 and more.
"With this record we wanted to push the boundaries even more with what we do," shares Capital Kings' Cole Walowac. "On our first record we dabbled in the EDM world with our productions, but with this record we definitely went all in and committed to that sound. What we learned over the past few years from touring and playing shows is that people want something different and something fun. And with our music style and this new record I think we have the possibility to connect with people of all ages all over the world."
The current single along with the band's No. 1 song for 10 weeks at Hot AC/CHR, "Fireblazin," will both be on the upcoming album II. This new project was preceded by their self-titled debut album (2013), which debuted at No. 5 on the Billboard Christian Albums chart and peaked in the overall Top 40 iTunes Albums chart during street week. During the last two years since their debut, the band has continuously dropped new tracks for their fans including the aforementioned singles along with "Be a King" from their REMIXDproject and "In The Wild."
Capital Kings is not only known for their creative and unique EDM music, singles and remixes, the group has also made strong waves in the touring sector as they have toured with artists such as TobyMac, Crowder, All Sons & Daughters, Lecrae and more. They continue to tour internationally with recent shows to Mexico City, Mexico, Bogota, Colombia and an upcoming November date in Amsterdam, Netherlands. Past international trips include Guatemala City and Peru. Stay tuned for a fall tour announcement and dates.
About Capital Kings:
Capital Kings, the duo of Cole Walowac and Jon White, blends pop, electronic dance music, and rap into an intoxicating musical mix that makes audiences want to move. Their self-titled debut LP debuted at No. 5 on the Billboard Christian Albums chart and peaked in the overall Top 40 iTunes Albums Chart during release week. The album featured the two Top 5 Christian Hot AC/CHR radio singles – "You'll Never Be Alone" and "I Feel So Alive." Their upcoming sophomore album II project the features the hit "Fireblazin," which was #1 at Hot AC/CHR for 10 consecutive weeks. Since releasing their debut self-titled album in 2013, Capital Kings has been on the road as part of Winter Jam, TobyMac's Hits Deep Tour and TobyMac's Summer Shed Tour with Skillet & Lecrae and Crowder's Neon Steeple Tour.
About Gotee Records:
In 1992, a production team of three talented guys with diverse tastes shared a love for music. Producers Joey Elwood and Todd Collins, along with Grammy-winning artist TobyMac, launched Gotee Records in 1994 after unsuccessfully finding a label deal for the R&B trio, Out of Eden. With a steady focus on artistry, the new label expanded to reflect the diverse interests of its founders. Within 12 months, Christafari, GRITS, and Johnny Q. Public were signed, easily representing four different music categories; R&B, reggae, rap and rock. In the 20 plus years since Gotee's founding as a record label, it has launched the careers of Relient K, Jennifer Knapp, Sonicflood and more recently, Jamie Grace, Capital Kings, Finding Favour, Ryan Stevenson and Morgan Harper Nichols. The present day in the Gotee story is much like the label's early days. Through all the changes in a tumultuous music industry, the boutique label's independent spirit is maintained through a steady focus on artist development and diversity.
CONNECT WITH CAPITAL KINGS ON SOCIAL MEDIA: