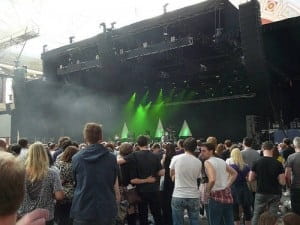 Now that summer is officially here, kids and teens are begging to be entertained. It can be challenging to find an activity for the entire family to go to that's fun and safe. Over the next few months, there will be many Christian music festivals all over the country. Music festivals are awesome because you generally pay one price to see countless artists, hear speakers and there are great activities for children and teens. Here are some of the largest Christian music festivals coming up.
"The Truth" Philippians 4:4 "Rejoice in the Lord always; again I will say, rejoice."
AtlantaFest
Hurry so you don't miss this festival that is currently happening at the Stone Mountain Park in Georgia. It runs from June 12th through the 15th and has many speakers and some of the biggest names in Christian music. Artists include Citizen Way, Kyle Sherman, George Moss, Seventh Day Slumber, Rhett Walker, Sidewalk Prophets, Tenth Avenue North, Lecrae, Building 429, Crowder, Newsboys and Tobymac. One day tickets are still available and can be purchased for $35. Checkout the website www.atlantafest.com for more information.
Alive Festival
Coming up June 19th through 22nd in Mineral City, Ohio, you can take part in the 26th annual event. Checkout over 30 seminars and workshops, hear your favorite artists and swing by the Family Fun Tent. Don't miss Skillet, Switchfoot, Newsboys, Matthew West, Kari Jobe, Audio Adrenaline, Sidewalk Prophets, Rhett Walker Band, We Are Leo and many lesser-known bands. Families can visit the zoo, see a magician, get a fun balloon creation and bounce around in the free inflatable zone. Learn more at www.alive.org/.
Big Ticket Festival
With the festival back in Gaylord, Michigan where it originated, June 20th through 22nd, you will get to listen to over 50 artists and kids have an event of their own! Artists include Beacon Light, We Are Leo, Veggie Tales, Switchfoot, Sidewalk Prophets, Chris Tomlin, Francesca Battistelli, Jake Hamilton, Hawk Nelson, Pillar, Selah and Matt Maher. The festival has expanded the kid's activities to include Stand Athletes and Camp Rock, which includes a petting zoo, puppets, inflatables, wacky family photo booth, giant sandbox and a kid's stage. Find out more information at www.bigticketfestival.com/.
"The Truth" Colossians 1:15 "He is the image of the invisible God, the firstborn of all creation."
Creation Festival Northeast
Set in Shirleysburg, Pennsylvania June 26th through 29th, this festival is celebrating 35 years. Besides great music, events include baptisms, candle lighting, extreme sports, Creation Lookout and a tarp run where participants will secure their spots for the event. You will hear over 27 artists, including Christy Nockels, Kristian Stanfil, We Are Leo, Britt Nicole, Lecrae, Switchfoot, Hawk Nelson, Building 429, David Nasser, Matt Maher and Aaron Shust. Find more details at www.creationfest.com/ne/.
Elevate Music Festival
If you are near Prescott Valley, Arizona June 28th through 30th, be sure to swing by this great Christian music festival. Artists include Third Day, Jars of Clay, Tenth Avenue North, Matthew West, Casting Crowns, Jason Gray and Jonny Diaz. Checkout more about the festival at www.elevatemusicfestival.com/.
Sonshine Festival
This festival in Willmar, Minnesota July 17th through 20th is great for the whole family! Besides music, the festival features kid's events, a zipline, bungee trampoline, skatepark, pony rides, inflatable games and great speakers. Artists include Audio Adrenaline, Building 429, Crowder, Hawk Nelson, Lecrae, Petra, Skillet, The City Harmonic, Fit for a King, Capital Kings, Zealot, Your Memorial and Toby Mac. Learn more at www.sonshinefestival.com/.
Hills Alive 2013
The best part about this festival in Rapid City, South Dakota July 19th through 21st is it's FREE! There will be many merchandise and food vendors and an array of artists. Don't miss Audio Adrenaline, Plumb, Silverline, We Are Leo, Bebo Norman, Big Daddy Weave, Jeremy Camp, Selah, For King and County, Building 429 and countless others! Find out more at www.hillsalive.com/2013site/.
Spirit West Coast
Children, teens and adults will enjoy the 17th annual event in Monterey, California August 1st through 3rd. Artists include the Newsboys, Tenth Avenue North, Todd Brown Band, Hee Sun Lee, Tenth Avenue North, Project 86, Jeremy Camp, Rhett Walker Band, Audio Adrenaline, For King and Country, The City Harmonic, Building 429, Matthew West and others. Get all the event details at www.spiritwestcoast.org/.
Kingdom Bound Christian Music Festival
With over 40 artists, extreme sports demos, over 40 seminars and countless other events for children and teens, you will be inspired. This all happens in Darien Lake, New York August 4th through 7th. Hear Matthew West, Lecrae, Audio Adrenaline, Hillsong LIVE, Aaron Gillespie, Nine Lashes, Laura Watson, Capital Kings, Robin Mark, Jason Dunn and Laura Story. Find more information at www.kingdombound.org/.
Creation Festival Northwest
One of two Creation festivals happening this summer, Creation Northwest is in Enumclaw, Washington August 7th through 10th. Take part in a candle lighting, baptisms, watch extreme sports and bring your kids to the petting zoo. You won't be disappointed to hear We Are Leo, Christy Nockels, Kristian Stanfill, Matt Maher, Audio Adrenaline, Hawk Nelson, Chris Tomlin, Building 429 and other great artists! Learn more about the events at www.creationfest.com/nw/.
"The Truth" Philippians 2: 1 – 2 "So if there is any encouragement in Christ, any comfort from love, any participation in the Spirit, any affection and sympathy, complete my joy by being of the same mind, having the same love, being in full accord and of one mind."
Unity Christian Music Festival
Taking place August 7th through 10th in Muskegon, Michigan, this festival boasts fun, entertainment and something for everyone. Kids five and under can play in the Kiddie Pillar Obstacle Course, Kids Bounce House and enjoy Duplo blocks and face painting. Don't miss the Unity Train, carnival games, free inflatable games, HEY 5k run, the Hide out, Unity Blood Drive, Camp Unity or, best of all, Day Zero. Day Zero is a pre-event day that is completely free and includes the Jason Eaton Band, All Things New, Everfound and Nick Hall. A few artists throughout the festival include Hillsong LIVE, Casting Crowns, Citizen Way, Matthew West and Jeremy Camp. See the entire lineup at www.unitymusicfestival.com/.
Awaken Fest
Set for September 28th in Findlay, Ohio, you can enjoy a day of great music. Artists are still making plays for the event, but a few groups include Family Force 5, Hawk Nelson, The Afters and Silverline. Stay up to date on the latest details at www.awakenfestival.com/.
Conclusion
Just like watermelon and peach iced tea, summer is complete with Christian music festivals! More details will emerge around the festivals later this summer, but I am very excited to attend a couple of these events. I can hear the music and children's laughter now! I'd love to hear about your summer music plans, so drop me a note below.
Are you a fan of a lot of these bands coming to festivals this summer?  Check out this F&E title counting down the current top bands:  Top 40 Christian contemporary bands.
Resources- The Holy Bible, English Standard Version"Scripture quotations are from The Holy Bible, English Standard Version® (ESV®), copyright © 2001 by Crossway, a publishing ministry of Good News Publishers. Used by permission. All rights reserved.", www.youtube.com,photo credit: Loz Flowers via photopin cc