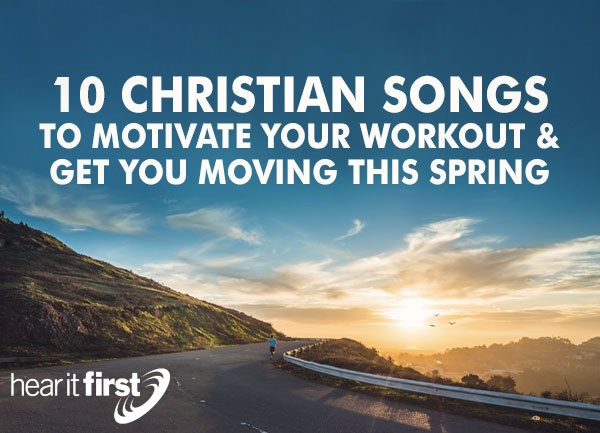 Spring fever hits me hard and all I want to do is go running, walking, biking, swimming – anything that involves being outdoors. After one run I feel like I can run a marathon, which is completely not true, but it's a feeling I would bottle up if I could. Many people set out to run 5k's and even use the opportunity to raise money for various causes. It's exciting when you sign up for a race, agree to meet a friend to go running or even start adding in a long walk to get moving and feel healthier. Getting started is sometimes the easy part. Sticking with it can be more challenging, especially as race day approaches and you feel a little bit unprepared or your to-do list encroaches on your time to workout. One thing that makes a tremendous impact on how motivated I feel to workout and while I'm in the final stretch of a long run is having uplifting and encouraging music. I used to listen to regular mainstream pop music and it made the run less boring, but I became so infused, as though my strength to keep going was coming from somewhere else when I switched to Christian music. Maybe you have experienced this too.
Here are 10 Christian songs to motivate your workout and get you moving this spring. Imagine how much further God will take you when you are focused on Him while sweating out the toxins.
10. "With Us" by Fellowship Creative
God is with you wherever you are, even when you are swimming laps in the pool, running along the road and lifting weights. He knows your thoughts and can strengthen you and provide the extra burst of energy you need to climb that last hill. Ask Him for strength and to fill you with joy the next time you are struggling through a workout!
Favorite Lyrics
Whether near or far
Every where you are
Whether high or low
You'll never let us go
We're not going to hide
With you in our lives
With you on our side
Because you are with us
You are with us
Jesus
9. "Never Fail" by Anthony Evans
There is always a point during a grueling workout or race where you may think – even for a split second – that you might want to take a tiny break or slow down a little. Don't do it! Your biggest enemy during your workout can be your mind – really! You can push through it
Favorite Lyrics
He's defeated all
Of our enemies
He's put all things
Underneath our feet
He has conquered death
And given us victory
8. "Here For A Reason" by Ashes Remain
Doubting you will ever be an athlete? Are you moving? Are you still standing? Are you still breathing? Good! You are on your way and every step, push up and sit up counts. Here's a secret: don't compare yourself to other people. You may never be Allyson Felix of Gabby Douglas, but God has given you an incredible opportunity to be the awesome spouse, mother, father, sister, aunt ­– your list is long!
Favorite Lyrics
Every time that you wake up breathing
Every night when you close your eyes
Every day that your heart keeps beating
There's purpose for your life
So don't give up
Don't lay down
Just hold on
Don't quit now
Every breath that you take has meaning
You are here for a reason
7. "Symphony of Grace" by The Digital Age
Here's a promise about exercising: you won't feeling amazing during or after every workout. Does this mean that you should just stop for the day? No! You build strength during the rough moments, so give yourself some grace!
Favorite Lyrics
Praise be to God
who has set me free
in a symphony of grace
I will stand and shout it
with everything sing praises
for my King has come
and He's coming again
6. "This Is Amazing Grace" by Phil Wickham
Do you take Jesus with you when you workout? If you are feeling amazing on a run or in the gym ­– thank Him. Praise Him when you accomplish a goal because He was right there cheering you on. This may seem simple, but if you have dealt with a health issue or injury that left you immobile, then you probably approach exercise with a little more thanksgiving.
Favorite Lyrics
This is amazing grace
This is unfailing love
That You would take my place
That You would bear my cross
You lay down Your life
That I would be set free
Oh, Jesus, I sing for
All that You've done for me
5. "What We're Here For" by The Afters
Taking time to workout means slowing down the rush of life to be intentional about exercising your body and brain. A coach once told me that running is 10% physical and 90% mental and this is true in any workout you do. The lyric "this is what we're here for" reminds me that God made me to move, so let's do this!
Favorite Lyrics
We're here to slow down, reach out ?and take a better look around.?Just a little bit of time can change a life?So I won't walk by and leave up to the next guy?I wanna be what I believe all of the time?I've got my own life, but it's not mine.
This is what we're here for.?To show the world how You love it.?This is what we're made for.?To lay it all down like You did.?When we feel useless, You still use us.?Help us not forget.?This is what we're here for.?This is what we're here for.
4. "Nothing Ever (Could Separate Us)" by Citizen Way
One great way to boost your workout is to give your workout to God and let Him lead you. Starting to run can be intimidating to someone who has never jogged a mile. Racing a triathlon can seem impossible for someone who isn't a strong swimmer. Playing volleyball can seem difficult for someone who doesn't feel like they are coordinated. Let God guide you! He loves that you are trying!
Favorite Lyrics
No ocean no valley no mountain too high?No power on earth there's no distance too wide?No height or no depth could keep me from Your love?No failure no weakness no doubt in my mind?No prison around me could keep You outside?No not even death can pull me from Your arms
3. "Thank God for Something" by Hawk Nelson
A frustrating part of working out is when you are overcoming an injury. This setback can throw off your plans to compete and it's easy to just digress into negative thoughts. Athletes at all levels experience at least one injury and guess what? It doesn't mean you are done! God gave you an incredible body that knows how to heal itself, so thank God for this amazing body you have as you recover!
Favorite Lyrics
Mama always said to me the very best medicine is gratitude?It's not what you don't have, but what you do?I must admit that I forget that life's a gift?Hey mama, gonna change my attitude?1, 2, 3, 4?1, 2, 3, 4
2. "Shake" by MercyMe
Do you remember how you felt before you started dedicating time to working out? You have made incredible progress and you should celebrate this! Love where you are and keep pushing toward your next goal!
Favorite Lyrics
I just can't believe?Where my life was at?All that I know is that my heart was broken?And I don't ever wanna go back??Ain't no explanation?How I saw the light?He found me and set me free?And it brought me back to life
1. "Move" by Audio Adrenaline
When you start working out it's easy to begin comparing yourself to other people. Don't do it! Just get going and move! Embrace your workout journey and the blessings that come. Exercising will recharge your mind, body and spirit. As Audio Adrenaline sings, "Don't let this moment pass you by. This is your time."
Favorite Lyrics
You've got to move
It's your chance to fly
With your head held high
Right about now
You've got to move
Don't let this moment pass you by
This is your time
You've got to move
If your ready or not
Give it all that you've got
Turn it up
You've got to MOVE
Get out and move! God will bless you immensely as you devote time to becoming stronger physically. He wants you to take care of yourself and there are so many great options with exercise classes, YouTube videos, running clubs, online workout programs. You don't have to be an Olympic athlete or even strive to be one! Keeping yourself healthy is the best way to prevent diseases, set an example for your kids and others around you and to boost your spiritual health. Keep God as the focus in this journey and share how God is blessing you in your health with those around you. Check out this list on Spotify!
Article by Elise Cleary
I am a Christian writer and editor that lives in northern Michigan and thoroughly enjoy music, movies, TV shows, books and other entertainment with a Christian focus. My favorite song is "Oceans" by Hillsong United because it reminds me that has big plans for me and everyone else who puts their trust in Him. There are many movies that have impacted my life, but a few include God's Not Dead, The Shunning and Letters to God. When I'm not writing I enjoy watching movies and laughing with my busy toddler and husband.