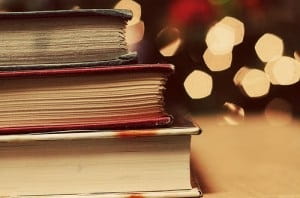 Sarah Young is the type of author who lets her words speak for themselves, or rather, let's Jesus's words speak to you. Her books are written from the point of view of Jesus speaking directly to the reader. Sarah believes that it is possible for all of us to hear God's messages through quiet listening and prayer. The responses she receives during her devotional time make up the majority of her published works.
She rarely does any type of publicity or interviews, aside from a recent chat with the Christian Broadcasting Network, and currently serves as a missionary overseas. In the interview, Sarah says that she likes to find a quiet place that is hers alone to commune with God everyday. I encourage you to do the same, but this time, take along one of the books listed below and see if maybe you gain some encouragement from the messages she received, along with a few of your very own.
10) Biblical Womanhood
This book answers questions as to what it means to be Christian woman in today's society. There are biblical references particular to women, along with bible studies covering topics such as: Women and Beauty, Women and Singleness, and my favorite: Women & the Family of God.
9) Jesus Calling: 365 Devotions for Kids
As a mother of two, I am always searching for ways to show my children the depth of God's love for them. I believe that knowing they always have Jesus to turn to in times of trouble better equips them to handle the stresses of life. This book, which I was delighted to discover comes in a Children's edition, speaks to kids from the point of view of Jesus and helps them to feel as if they know him on a much more personal level.
8) 40 Days with Jesus-Celebrating His Presence
This is a compilation of devotionals centered around the 40 days leading up to Christs death and his resurrection. It is excerpted from Jesus Calling, but makes an excellent stand alone as a gift during the Easter season.
7) Jesus Lives-Seeing His Love In Your Life
It is sometimes far easier to believe that Jesus is alive in heaven, a place of perfection befitting him, than to believe that He is living in us.In her book, Jesus Lives, Sarah Young encourages us with 180 devotionals centered around Romans 8:11- "And if the Spirit of him who raised Jesus from the dead is living in you, he who raised Christ from the dead will also give life to your mortal bodies through his Spirit, who lives in you." Written from the perspective of Jesus, it is a great reminder of Christs' presence and our power in Him.
6) Nearer to Jesus
An inspirational devotional inviting the reader to draw closer to Christ in times of trouble and turmoil, as well as in the little aspects of our daily lives. Young encourages us to be unafraid to cry out to the Lord, while listening for his responses to our needs, worries and plans.
5) Dear Jesus: Seeking His Light In Your LIfe
This is the book to turn to when in need of reassurance and comfort. Written as a compilation of letters to Jesus, along with His responses, these devotionals address the variety of emotions that can pull us away from ourselves and our faith. The pages will add light to your life and remind you that we were never created to live in darkness.
4) 14 Days of Jesus Today-(E-book Devotional)
This free devotional is a refreshment to those feeling stale in their prayer life. Offered in downloadable form, readers open one devotional a day for two weeks. It is an introduction of sorts to Sarah Youngs writing style, as well as a preview of what can be found in the full hardcover edition of Jesus Today. I found it to be an exciting way to approach my prayer time and looked forward eagerly to each daily message.
3) Jesus Today: Experience Hope Through His Presence
In the early pages of this book, Sarah Young details her ongoing health struggles and the despair she faced dealing with years of misdiagnosis and pain. She goes on to say that while she was at her lowest, she found that she still held onto hope: The hope that came from Jesus. The devotionals featured in the book are messages of that same hope, from Him to You.
2) Jesus Calling: Enjoying Peace In His Presence
In this beloved bestseller, Sarah Young conveys Jesus's messages through devotionals written in the first person, from Jesus Himself. Jesus Calling is a must have for anyone who wants to feel closer to God and closer to the peace He promises all who come to Him.
1) Jesus Calling Devotional Bible
Though some devotional Bibles can be a bit all over the place, this one, written by God:) with some devotional additions from Sarah Young's books, serves it's purpose beautifully. The devotionals featured point the reader back to scripture and reinforces the message that we can hear Jesus speak anyime we open a Bible. This one in particular.
Final Thoughts:
Sarah Young's earliest writings were in her journal. She would write down her prayers and pleas to God. Eventually she realized that He may have something He wanted to say back. When she began to listen, she recognized that this wasn't a power unique to her, but rather a relationship that Jesus was desiring with all of us. Her books help erase the invisible barrier that we sometimes unwillingly put up when praying. We are no longer coming before God with a request list and crossing our fingers for answers. We are having a one on one conversation with our Father. Sarah Young's books just remind us of how great that conversation can be.
 Related Post:  Top 10 Christian Novels
Resources- ESV Holy Bible, Youtube,photo credit: ginnerobot via photopin cc