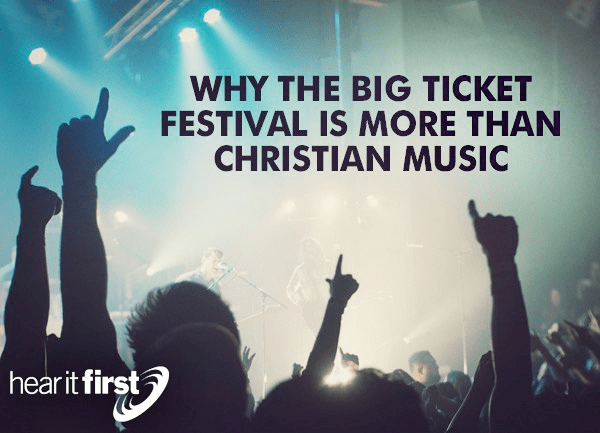 The Big Ticket Festival in Gaylord, Michigan has been part of my summer experience for the past three years. I went one day the first year and we quickly decided to go two days the following year. Last summer we knew we would be going all three days this year. Yes, we already purchased our three-day passes for next summer. So, why is this becoming a summer family tradition? Like any vacation, it requires planning ahead and traveling – all to spend three days on the dusty fairgrounds surrounded by porta potties and long walks to and from the car. It isn't a five star hotel experience and there are long lines and big crowds. So why Big Ticket? I asked many people this question this year and was blown away by what I learned and how my Big Ticket experience became even more purpose driven. In short, you experience what God is doing at Big Ticket. Let's check out how.
Threads of Hope Weave Faith
I was drawn to a tent selling colorful bracelets and met Stephen Gruber who traveled with his family from Wisconsin. His passion was evident as he began telling me about Threads of Hope and how his family began selling the bracelets made by impoverished people in the Philippines back in 2010. The Kuhlow family lives in the Philippines and sends the bracelets to the Grubers who travel to over 30 festivals and events throughout the United States each year to raise funds. What amazed me was the Gruber family's journey of faith that lead them to support the Filipino people whom they have yet to meet.
Timbali Purses on a Mission of Faith
A favorite tent I always stop by at Big Ticket is Timbali Crafts. Your eyes are drawn to the colorful designs and your heart is drawn to the women from Swaziland, Africa. These women volunteer their time as cooks to feed orphans and make the purses as income to support their own families. Suzanne and her husband Bryan operate the tent at Big Ticket and also travel around to other events. Years ago Suzanne felt the calling to go on a missions trip overseas and God pointed her to Swaziland. She travelled leaving her seven children all under the age of seven at the time and felt God prick her heart for the people and orphans she met that week. Selling Timbali Crafts came out of that trip and has grown into a mission her family and even church have helped foster. This ministry helps support the women of Swaziland and brings them closer to Christ.
Crowned Free Empowers Women
As I walked through the merch tent a white t-shirt with a pink crown and tulle around the bottom caught my eye as I immediately thought of my young daughter. I figured there was a story behind the shirts and I was right. Heidi VanderWal shared with me how she and Danielle DeSmit started Crowned Free less than a year ago to support women coming out of human trafficking. Their mission is to "raise awareness and empower women who have been rescued from sex trafficking." The crown on the shirt represents the freedom every woman has through Christ and speaks value to all women, but those especially who have endured trafficking. Crowned Free describes it powerfully: "She is you. She is me. She is the one that has been liberated from trafficking. She is the champion. She is brave and courageous. She is an overcomer. She is fearfully and wonderfully made. She is a conqueror. She is loved. She is strong." A lot of the merchandise at Big Ticket has become more purpose driven through the past few years, but this spoke to my heart.
Operation Christmas Tree Experience
I walked into the Operation Christmas Child tent and won't soon forget Louis' smile as he invited me to pack a box. I simply asked him to share his story and my heart was touched. Louis is originally from Panama and when he was six years old he told his mom he wanted to go to school. They were poor and couldn't afford the school supplies so his mom told him to pray. The next day Louis was invited to go to an event where the children would receive boxes from Operation Christmas Child. All of the school supplies he needed were in that box along with a message letting him know that he was loved and a stuffed animal that he still keeps to this day. I packed my first box last Christmas and packed another one this time and it was an entirely new experience. I packed a box for a little boy ages two to four years old and decided to make it a red box. A red notepad, pack of crayons, red car, red parrot, red handmade monster. It was easy to write a letter with a child that young in mind since I have a three-year-old daughter, but I still could not imagine a boy who has perhaps never had a car to play with or paper to color on. Memories of my daughter "zooming" her cars around and wearing sunglasses like those packed in the box made me smile with the hope that this little boy would not only have some toys and a toothbrush, but also know that he is loved immensely by Jesus.
Aaron and Jill Boyd Share their Faith
Singer Aaron Boyd of Bluetree, from Northern Ireland, is so on fire for Christ. I enjoyed seeing them last year and quickly learned how much of an adventure seeker Aaron is when he jumped out of plane as he entered the stage to perform. This year he brought his wife, Jill, and three young daughters with him. Jill shared their story of becoming parents nine years ago when their first daughter was born. They were amazed at how they could just walk out of the hospital with a tiny human being. Within a few weeks the midwife and doctors knew that something wasn't right and both Jill and Aaron prayed to God and surrounded themselves with their friends and family in Christ. Their fears were realized when doctors confirmed diagnosis of cystic fibrosis. I never would have guessed they lived through the terrifying truth of wondering if their baby would be okay because they both exude so much joy. Each time I see Aaron in concert and learn how connected he is with many other Christian bands, he is in this solely to glorify God. Life clearly has not been easy – traveling overseas with family brings challenges, but he doesn't let his circumstances define him.
Why Big Ticket?
Many people are drawn to the Big Ticket Festival because of the music – yes, it's a music festival. Over 13,000 people were in attendance this year for Switchfoot, Tobymac, Peter Furler, Jeremy Camp and Newsboys. The music and performances were incredible. What's even more incredible is what God is doing at Big Ticket and the many other Christian music festivals. Why Big Ticket? The giant cross where people put prayer requests, the tent to share your story, the World Orphans bus experience and being surrounded by thousands of other Christians. Faith-based merchants like Threads of Hope, Timbali Crafts and Crowned Free. Stories from people like Jill and Aaron Boyd, the Newsboys, 6th Day Made (formerly the Jason Eaton Band). This is just a sliver of why I keep going back each year.
Article by Elise Cleary
I'm a Christian writer and editor residing in northern Michigan and thoroughly enjoy Christian centered music, movies, TV shows and books. A favorite song is "Oceans (Where Feet May Fail)" by Hillsong United and I find many songs by Matt Maher, Tim Timmons, Third Day, Laura Story, Jeremy Camp and numerous other artists uplifting. A few of my favorite Christian movies include God's Not Dead, The Shunning, Do You Believe and many by the Kendrick brothers. When I'm not writing, I enjoy running, experimenting in the kitchen and spending time with my musically gifted husband and spunky daughter. I am so blessed and in awe of the work God is doing throughout the Christian entertainment industry.