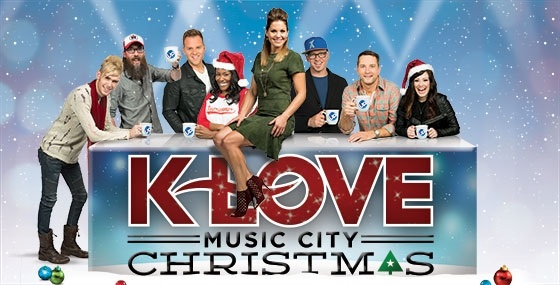 UP, "America's Christmas Channel," and national radio powerhouse, K-LOVE, present the original UP Christmas Special "K-LOVE Music City Christmas" (#KLOVEChristmas), hosted by actress/author Candace Cameron Bure (Finding Normal, "Full House"). The first-ever, hour-long special will include performances of beloved Christmas standards and original songs by leading Christian music artists, including TobyMac, Newsboys with for KING & COUNTRY, Mandisa, Colton Dixon, Kari Jobe, Matthew West, Brandon Heath, Crowder, Big Daddy Weave and Tenth Avenue North, as well as heartfelt and lively holiday memories with the stars. The special was taped before a live audience in Nashville, TN. "K-LOVE Music City Christmas" will premiere exclusively on UP on Monday, December 9 at 8 p.m. EST, as well as be broadcast to K-LOVE listeners in December. Click here to view the promo for the special.
"As America's Christmas Channel, we are thrilled to partner with K-LOVE, the top contemporary inspirational radio network, to bring this very special holiday evening to families coast-to-coast," said Leslie Glenn Chesloff, executive vice president of programming, UP. "This is a unique opportunity to share a spectacular range of Christmas performances by a talented array of artists with a broad audience between the live telecast and broadcast."
"We are excited that the very first "K-LOVE Music City Christmas" special will premiere on UP," shared David Pierce, K-LOVE and Air1's Chief Creative Officer. "The network is the ideal partner to present this beautiful Christmas special that is filled with spirited musical performances and meaning."
"K-LOVE Music City Christmas" features musical performances of classic holiday carols such as "O Holy Night" (Kari Jobe), "We Three Kings" (Tenth Avenue North) and "Go Tell It On The Mountain" (Crowder) with a duet performance of "Jingle Bell Rock" (Newsboys with for KING & COUNTRY). Fans will also hear original songs from TobyMac ("Christmas This Year"), Brandon Heath ("Just A Girl") and UP's Emmy®-nominated movie title song "The Heart of Christmas" from Matthew West. Plus, the special features "American Idol" alumni Mandisa ("Christmas Day") and Colton Dixon ("Jingle Bells").
Follow all of the stars at:
Big Daddy Weave on Twitter at @bdwmusic
Brandon Heath on Twitter at @brandonheath
Candace Cameron Bure on Twitter @candacecbure
Colton Dixon on Twitter at @coltondixon
Crowder on Twitter at @crowdermusic
for KING & COUNTRY on Twitter at @4kingandcountry
Kari Jobe on Twitter at @karijobe
Mandisa on Twitter at @mandisaofficial
Matthew West on Twitter at @matthew_west
Newsboys on Twitter at @newsboys
Tenth Avenue North on Twitter at @tenthavenorth
TobyMac on Twitter at @therealtobymac
Newsboys and for KING & COUNTRY perform on K-Love Music City Christmas (via UPTV.com)