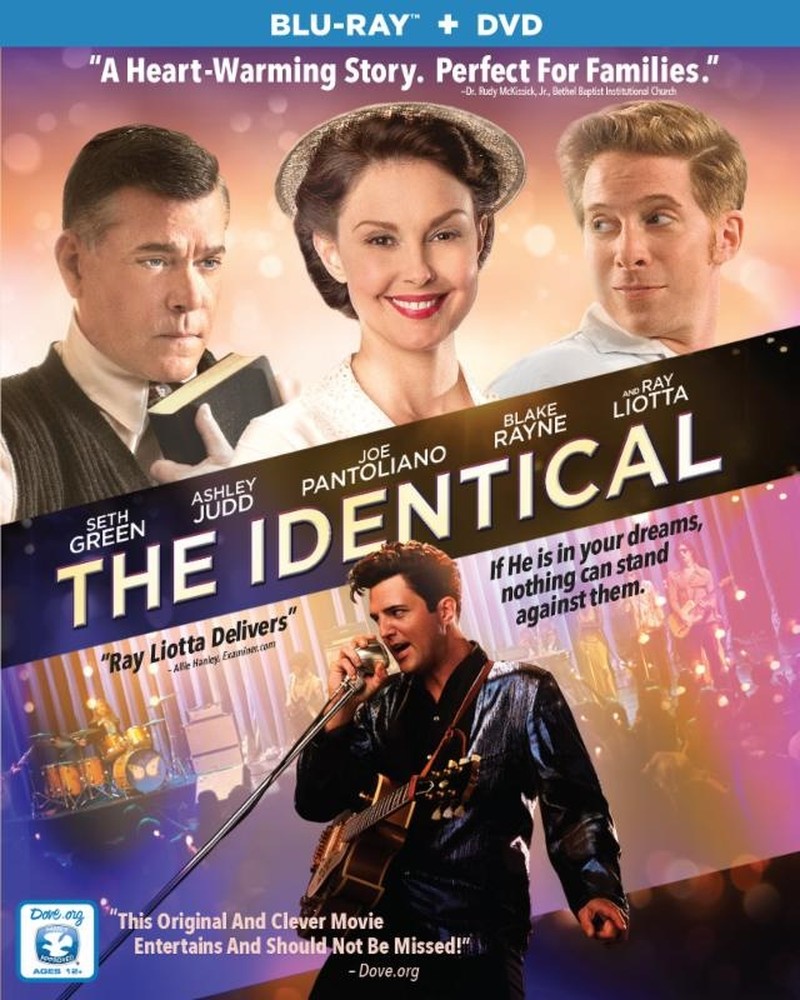 Redemption and rock 'n' roll combine to create an intriguing backdrop for the faith-based feature film, The Identical. This powerful story about a young man's search for purpose and identity arrives on Blu-ray/DVD combo pack, DVD, VOD and Digital HD January 13 from City of Peace Films, Capitol Christian Distribution and Cinedigm (NASDAQ: CIDM). It can be found at Christian retailers including Family Christian, LifeWay Christian, Mardel, Parable, Munce Group and Covenant Group, as well as Walmart, Amazon and more.
The Identical, which won the Nashville Film Festival Audience Award - U.S. Narrative, features an all-star cast, including Golden Globe nominees Ray Liotta (Goodfellas, Field of Dreams) and Ashley Judd (Dolphin Tale 2, Divergent), as Reverend Reece Wade, a depression-era preacher who lives his faith, and his wife Louise; Brian Geraghty (Ray Donovan, Seven Days in Utopia, The Hurt Locker) and Amanda Crew (Charlie St. Cloud), as William and Helen Hemsley, the impoverished parents of twins who just want to do right by their boys; Seth Green (Austin Powers, Family Guy) as Ryan's friend Dino, who introduces him to the 'worldly' joy of rhythm & blues; Joe Pantoliano (The Sopranos, The Matrix) as Ryan's employer and mentor Avi Hirshberg; newcomer Blake Rayne in the pivotal dual roles of Drexel Hemsley and Ryan Wade; and Erin Cottrell (the Love Comes Softly series) as Ryan Wade's wife.
The Identical offers viewers a compelling 'what if' story. What if twin brothers were born to a poor couple during the Great Depression? What if another young couple, a preacher and his wife who were unable to have children, agreed to take one of the boys and raise him as their own? What if one of the twins grows up poor, but achieves meteoric fame and fortune in the heady days that gave birth to rock 'n' roll? What if the other twin has the same musical gifts, but struggles between chasing fame and pleasing his parents? What if his ultimate choice uncovers the long buried family secret about his identity?
"The Identical intertwines meaningful themes of faith, family, fatherhood, forgiveness and finding your true calling in life," declares Focus on the Family's influential PluggedIn.com website.
ChristianFilmDatabase.com calls The Identical a "story about the restoration and the reconciliation of a family broken apart by culture, creed and tradition," and says "movie-going audiences will be drawn to this timeless tale of love, hope and redemption that speaks to all generations."
"Liotta is totally convincing as Reece. Opposite him Judd has her best role in years. The surprise of the film is Rayne. He seems to have been created to play this role...fans should latch on to him and make him a star," says Jackie K. Cooper of The Huffington Post. "This movie entertains--totally. Believe me on that."
The Dove Foundation awarded The Identical its Dove "Family-Approved" Seal for ages twelve plus, calling it an "original and clever movie [that] entertains and should not be missed!"
The Identical DVD and Blu-ray features over 20 original songs, all produced and co-written by Motown legend, Jerry Marcellino, and the film's producer, Yochanan Marcellino. The CBA version of The Identical DVD features additional bonus material that is not available in the mainstream version.