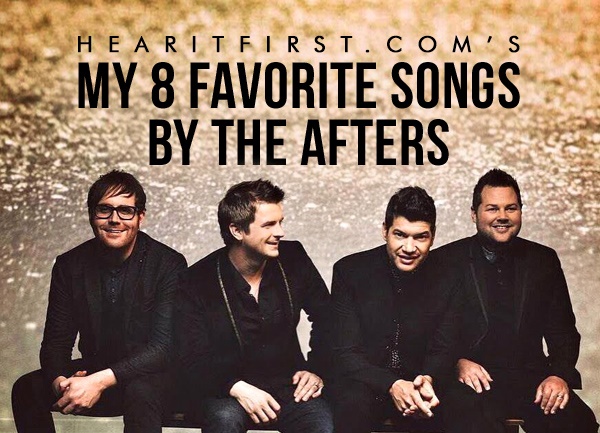 It is a true gift to find a band that has found a way to offer top-notch music brilliantly paired with inspiration, encouragement and hope with a little fun sprinkled in for good measure. The Afters consistently and generously deliver this gift to their fans. From the band member's own personal tests and trials, they have crafted heartfelt lyrics throughout their albums intending to help us along in our own struggles and celebrate our joys. Their music lifts our spirits and reminds us that life is beautiful and worth living. "Grace thunders through spiritual drought with a mighty downpour of living water. All of this, and more, affirms the fact that yes, life is beautiful." (www.theafters.com/band)
From the albums, I Wish We All Could Win (2005), Never Going Back To OK (2008), Light Up the Sky (2010), Life Is Beautiful (2013) and their newest single, Live On Forever, which comes in at #1 on this list, I offer you 8 of my top favorite songs by The Afters.
1. Live On Forever
If this single is any indication of what is coming in the future from The Afters, the future is very bright. Not only do we have another album to look forward to from The Afters, we have an eternal future worth looking forward to with our Father. We know that we don't belong here on this earth. Our hearts long to be Home. Long for grace. Long for love. For Heaven. Forever.
Partial lyrics:
The arms of grace are open wide
The face of love before our eyes
Where every tear will disappear
Heaven is real

We are not where we belong
We have a hope that we're going live on
Forever ~The Afters
2. Light Up The Sky
"Show me a sign, God!" We do often ask God for a sign that proves to us that He is present. He shows us all the time that He is near but in case we miss all of that, which we often do, He lights up the entire sky for us. He is in the sunrise. He is in the sunset. He is in the stars. Where there is darkness, He is so faithful to provide light. Let this favorite point you to the sky that He has lit up just for you.
Partial lyrics:
You've opened my eyes
So I can see You all around me
Light light light up the sky
You light up the sky to show me
That You are with me ~The Afters
3. Every Good Thing
Oh, how easy it is to get so busy about doing life that we miss out on the living of it. Let this upbeat tune be your anthem of renewed perspective for your day, your week, your life. Life needs be lived and there are so many good things in it to live for.
Partial lyrics:
There will be days that give me more than I can take
But I know that You always make beauty from my heartache
Don't wanna forget or take for granted
That it's a beautiful life we live
I'm not gonna miss the moments like this
This is a beautiful life You give ~The Afters
4. Never Going Back To OK
We have likely all been through times of complacency when just being OK becomes a way of life. When we realize that in our attempts to avoid pain we have also avoided living the good. Just being OK is just not OK. Let us resolve never to go back to OK. It's time to feel alive.
Partial lyrics:
I feel alive
And it hurts for a change
And looking back and it's hard to believe
That I was cool
With the days that I wasted complacent and tasteless and bored but
That was yesterday

We're never going back to OK ~The Afters
5. Beautiful Love
A beautiful night, a beautiful smile, a beautiful love… This song paints such a vivid picture that we can imagine ourselves in our most favorite place with the one we love. In its simple lyrics, this song shares the story of a love that sustains both beauty and broken. It captures a heartfelt and honest desire to stay together and the commitment we make to one another to try to make all things right and beautiful. It paints the picture of a Beautiful Love.
Partial lyrics:
What a beautiful smile
Can I stay for awhile?
On this beautiful night
We'll make everything right
My beautiful love ~The Afters
6. Lift Me Up
We know we should, we hear we need to, we try to, but letting go of what semblance of control we think we have seems so risky and feels so scary. Too often it takes us getting to the bottom to see that we need to look up. Don't fear the free fall. You will realize that He is there with you and has been all along. You will realize that He will catch you. Let this song give you the courage you need to let go and believe that He will lift you up.
Partial lyrics:
You lift me up when I am weak
Your arms wrap around me
Your love catches me so I'm letting go
You lift me up when I can't see
Your heart is all that I need
Your love carries me so I'm letting go ~The Afters
7. Myspace Girl
Of course I had to "save space in my top 8" for this one! This lighthearted and fun addition to the album Never Going Back to OK takes us back to a moment of love at first sight. When he wanted to meet the girl but ordered fries instead. It's an entertaining story of love hoped for and love eventually found and all the crazy that goes on in between. It also takes us back to the Myspace era – which wasn't really that long ago in real years but seems like an eternity in technology years. Enjoy this one!
Partial lyrics:
I saw your picture on Myspace
Maybe someday we can turn it into ourspace baby
I don't care how long it takes
I'm saving space in my top 8 for you ~The Afters
8. Broken Hallelujah
This song holds a very special place in my life as well as in my list of favorites. I've shared it with many of my friends and family members during their dark days, when their heart struggled to praise. It is so comforting to know that God openly welcomes our praise even when it's broken. We will find that in our brokenness His love can seep in better through all of the cracks. I couldn't have said it any better than Josh Havens, "There were times," Havens recalls, "when we were in tears writing that song. We opened the book of Job and saw a man who experienced more loss than we could ever fathom. In the midst of all that, he shaved his head and took off his clothes so that he truly had nothing left, fell to his knees and worshiped God. 'Broken Hallelujah' is a song about praising God, even when the only thing we have to offer is our worship." (www.theafters.com/band)
Partial lyrics:
I've seen joy and I've seen pain.
On my knees, I call your name.
Here's my broken hallelujah.

With nothing left to hold onto,
I raise these empty hands to you.
Here's my broken hallelujah. ~The Afters
Are you finding it a challenge to see beauty in life or are you in a place where you need a good dose of hope to make it through another day? Or maybe you simply want some uplifting tunes to listen to. These 8 songs should do it for you. If they're not among your favorites already, I suspect they will be.
Article by Andrea Stunz
I'm a born-and-raised Texan who enjoys any adventure that requires a passport. As a Christ-following pilgrim, I'm a lover of stories and a connoisseur of sunrises and coffee - best when served together. I listen to a wide range of musicians with Andrew Peterson, Jimmy Needham and Bethel Music being just a few of my favorites. When I'm not writing, you'll find me in the kitchen or spending time with those I love.