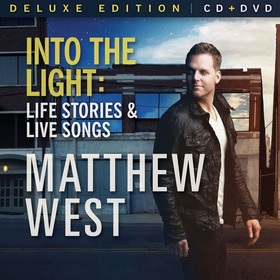 Four-time GRAMMY® nominee, singer, songwriter and storyteller Matthew West has made history! His hit single, "Hello, My Name Is" has officially broken the record for the most weeks at No. 1, achieving the top spot for 16 weeks in a row on the National Christian Audience chart. The song also continues to stay at No. 1 on the AC Monitored chart, a spot he's held for an astounding 14 weeks.
"I am absolutely blown away by this run that 'Hello' has had!" exclaims West. "Many thanks to all the radio stations across the country for letting the song and its message reach the hearts of listeners. I've always seen 'Hello, My Name Is' as a three minute reminder that we are not our failures. We are not even our successes. Of all the names that try to define us, the only title that truly matters is the one given to us by our Creator; children of God. We are children of the one true King!"
A goal never-before achieved at radio, "Hello, My Name Is" is West's second No. 1 song from his October 2012 GRAMMY-nominated album Into The Light. The deluxe edition CD and DVD, titled Into The Light: Life Stories & Live Songs, just released this past August.
"The Capitol CMG Label Group team is so pleased to see the support Matthew West is receiving from the programmers of Christian radio," shares Peter York, President, Capitol CMG Label Group. "It is because of their commitment to his music and mission that listeners continue to get the opportunity to vote yes! We are excited to see Matthew's music receive the recognition we believe it deserves with a record breaking 16 weeks at No. 1!"
Grant Hubbard, VP National Promotion, Capitol CMG Label Group, says, "It's been a tremendous honor to partner with Christian Radio on this song and to see the impact it's had on listeners. Matthew again has delivered a song that encourages and inspires people to live out their faith. A sincere thank you to Christian Radio for their continued belief in and support of Matthew's music."
West's deluxe version of Into The Light: Life Stories & Live Songs CD & DVD shares the songs found on his acclaimed album Into The Light, along with a DVD featuring live concert footage interspersed with the people whose stories have inspired the songs. Additionally, a few select concert dates will feature those real-life stories, told by the actual people who inspired West to write them, sharing these heartfelt and relatable songs about real-life topics and struggles, such as addiction, forgiveness, living out your faith, restoration, being made in God's image, and more.
As of this fall fans can now experience these songs and stories live as he is taking his "Into The Light Tour" on the road and will be visiting 30+ cities across the U.S. The "Into The Light Tour" live show with Matthew West, also featuring Sidewalk Prophets and Jason Castro, will surely be an evening never to forget!
Into The Light Tour dates*
September
26 - Carlsbad, NM - Walter Gerrels
27 - Phoenix, AZ - Grand Canyon University
28 - St. George, UT - Cox Auditorium
29 - Sparks, NV - Sparks Christian
30 - Brentwood, CA - Golden Hills Community Church
October
02 - Coos Bay, OR - Marshfield Auditorium
03 - Portland, OR - New Hope Community Church
06 - Issaquah, WA - Eastridge Church
08 - Cheyenne, WY - Cheyenne Civic
09 - Bismarck, ND - Shiloh Christian Center
10 - Dickinson, ND - Trinity Auditorium
11 - Gillette, WY - New Life Wesleyan Church
12 - Rapid City, SD - Performing Arts Center of Rapid City
18 - Bel Air, MD - APG Federal Credit
19 - Simpsonville, SC - Southside Christian School
20 - Louisville, KY - Southern Seminary
24 - Wausau, WI - Grand Theater
25 - Appleton, WI - Appleton Alliance Church
26 - Bourbonnais, IL - Olivet Nazarene University
27 - Indianapolis, IN - The Caring Place
November
01 - Ft. Wayne, IN - First Assembly of God
02 - Eden Prairie, MN - Grace Church
03 - Zeeland, MI - Community Reformed Church
07 - McAlester, OK - Southeast Expo Center
08 - Lincoln, NE - Lincoln Berean Center
09 - Tulsa, OK - Mabee Center
10 - Mt. Vernon, IL - Central Christian Church
14 - Lubbock, TX - City Auditorium
15 - Andrews, TX - Andrews Expo Center
16 - Decatur, TX - First Baptist Church
17 - Tyler, TX - Lane's Chapel UMC
*All dates subject to change. Please visit MatthewWest.com for the most updated schedule.