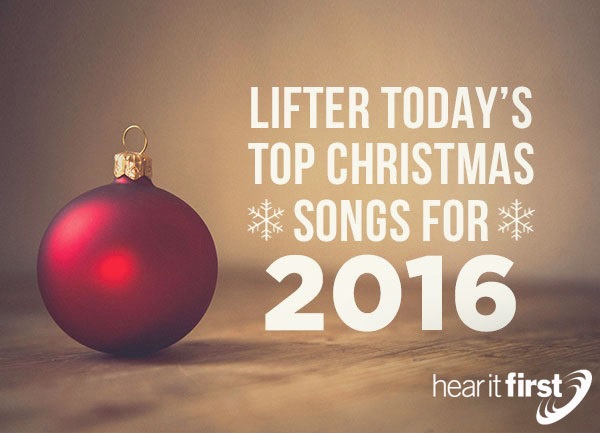 Do you hear what I hear? Probably not if you aren't listening to the Top Christmas Songs for 2016 playlist from Lifter Today.
If I could play Christmas music every day of the year, I would be a happy holiday camper. I personally have playlists put together that could keep Christmas music playing through my home or car speakers nonstop. It's a running joke in my family to count how many new Christmas albums I will buy each year. My husband, who can handle Christmas music in moderation, would like me to buy only one but it typically ends up being around five. I just can't get enough and it seems that artists have an inside track to my weakness.
As mentioned above, Lifter Today has compiled an incredible compilation of holiday joy set to music which includes over 50 of this year's best Christmas tunes to keep the good holiday tunes going for hours.
Lifter Today is your home for Christ-centered music, uplifting entertainment, and community-focused lifestyle. Our mission is to create and provide the most relevant Christian content for believers of all ages in one simple space. (www.liftertoday.com)
With songs from Steven Curtis Chapman, Matt Maher, Casting Crowns, Nat King Cole, Pentatonix, Building 429, MercyMe and so many other great artists, this Christmas playlist is one to follow.
The "Do You Hear What I Hear" playlist heralds melodies you've probably listened to your whole life along with some that you may hear for the first time.
You'll hear Elvis Presley singing a traditional favorite, Blue Christmas.
I'll have a Blue Christmas without you
I'll be so blue just thinking about you
Decorations of red on a green Christmas tree
Won't be the same dear, if you're not here with me. ~Elvis Presley, Blue Christmas
You'll then be lead to experience 1GN's contemporary, Joy.
Joy, Joy

Hang a star on the Christmas tree.
Love has come for you and me.
Joy, Joy
I hear the carols on the radio.
So turn it up and let the whole world know. ~1GirlNation, Joy
With joy to guide the way, a touching message comes from Brandon Heath's, Just a Girl.
His wife said go and see who's knocking
He ran down to the gate unlocked it
The moment he heard Mary's cry
He couldn't look them in the eye
Denied them and went back to bed
When his wife asked who was there
He said I don't know
Just a girl
Just a couple gypsies begging at the door
Told them we don't have room for anymore

And closed the door
It was just a girl. ~Brandon Heath, Just a Girl

Then the playlist offers a reflective version of O Little Town of Bethlehem sung by Rebecca St. James.
No ear may hear His coming
But in this world of sin
Where meek souls will receive Him still

The dear Christ enters in. ~Rebecca St. James, O Little Town of Bethlehem
Obviously from these few songs, which range from Elvis to 1GN and from traditional to contemporary, it's obvious that you'll find an eclectic compilation of Christmas music that offers something pleasing for everyone's musical palate. It would be impossible to list here all of the goodness that you'll find wrapped up in this playlist. There are so many amazing songs that have been gathered here for you all in one place. I do hope you'll pop on over and give them all a listen.
"For Christmas this year
Gonna make a sound gonna make it loud
For Christmas this year
We're gonna make some noise let the world rejoice
For Christmas this year" Toby Mac, Christmas This Year
What would be on your top Christmas songs playlist this year? I hope you'll enjoy these musical gifts and tidings of comfort and joy on Lifter Today's Top Christmas Songs for 2016 on Spotify. They will be great to listen to alone in your home or car or as you entertain a house full of guests at your holiday party.
So now I have to ask, do you hear what I hear? It's a song… or rather about 60 of them put into an awesome Christmas playlist for you.
Happy Christmas!
Article by Andrea Stunz
Andrea Stunz is a stumbling pilgrim who enjoys life's adventures with her family and friends, experiencing another sunrise, and writing about them with a good cup of coffee nearby. She shares stories at www.emptyplatefullheart.com.