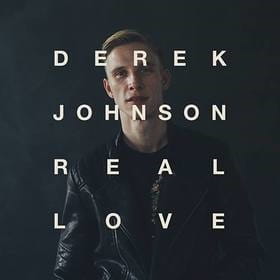 Jesus Culture artist and worship leader Derek Johnson released his album Real Love this week, which has already hit No. 1 on iTunes' Christian Album chart. Real Love is Johnson's first solo project with Jesus Culture Music and Capitol Christian Music Group.
Derek Johnson's debut reveals his passion for message-driven songwriting to share his hope in the God of real and authentic love. "My heart is to write songs that lead people to Jesus," he shares. "Whether they have a relationship with Him and know His love or they are still searching for truth, my desire is that anyone who hears these songs will be brought into a deeper understanding of worship and the God of real love."
As a member of the Sacramento-based Jesus Culture team since 2009, Johnson has lead worship at every Jesus Culture conference since 2011. He has also opened for Kim Walker-Smith and Jesus Culture Band at sold-out venues across the country.
With his "The One We Love" music video being featured on the homepage of RelevantTV, Johnson also has upcoming coverage in CCM Magazine, Worship Leader, The Church Collective, CBA Retailers + Resources and more. Here are just a couple review highlights about Real Love and Johnson's artistry with his first solo effort:
"Derek has given the Church a wonderful new body of Jesus-and-gospel-centered worship music...Strong vocals, great music, and powerful life-changing truth make this record a must for the modern Church." Worship Leader Magazine
"Real Love is a well-produced release that presents honest and worshipful lyrics, passionate vocals, and great musicianship. A hopeful and uplifting worship album, Johnson has crafted a great solo release." Christian Review Magazine