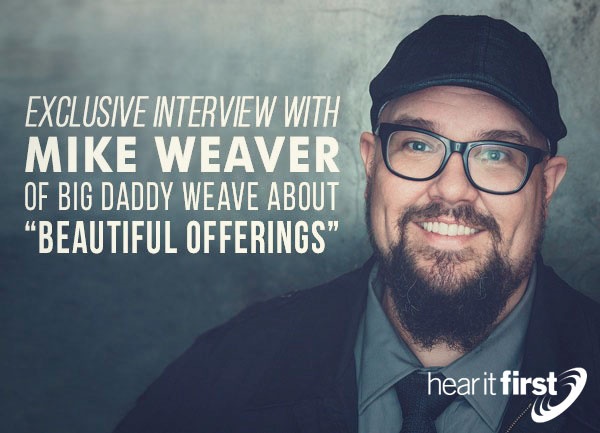 God has worked through Big Daddy Weave to minister to many people through songs "Redeemed", "Neighborhoods," "Overwhelmed" and many other songs, including their latest hit "My Story". They are releasing their new album "Beautiful Offerings" on Friday, September 18th and all of the songs are offerings of worship and praise to God. There is an incredible story behind each song that shows a glimpse of their heart while they wrote with Jason Ingram, Matt Redman and Matt Maher. I had the chance to ask lead singer Mike Weaver a few questions about the songs and was blessed immensely by his heart on fire for Christ. It's clear that Big Daddy Weave doesn't perform for earthly glory – they are on a mission to let God use them to share His love and bring others to Christ.
Question: "My Story" has already touched so many people – what inspired that song?
Mike Weaver: "I wrote a good number of the songs on the record with Jason Ingram. Let's write a song sharing about what God has done in our lives. The irony is that if I told my story we are not telling about us at all, we are telling about what God has done in us. Nobody can argue with your experience. They can choose to not believe it, but they can't argue with what happened to you. Revelations talks about how we overcome the enemy by the blood of the lamb and the word of our testimony. When you begin to share what God has done in your life – one of the greatest needs in the lives of people hurting is hope and it causes hope to come alive and they think, "Well if God did that for them, then what can He do for me?""
Question: I hear you are a big fan of Matt Redman and had the chance to write three songs?
Mike Weaver: "Yes! The label asked who I would like to write with. I have so much respect for him. I sent him an idea and he liked it. He agreed to write in Atlanta in Passion City Church. People say not to meet your hero, because it could be a let down. And I try to keep it in a healthy place and it's not to put people on a pedestal. One of the songs we wrote was called I belong to God with a friend who lives in Cambodia now. We had been impacted by seeing how terrible things are in Cambodia and seeing the light of Jesus through The Heart Places in Cambodia. They are ministering to kids who have been trafficked. They are sharing the identity of Jesus with the kids and it finally clicked for this young man and he began shouting out, "I belong to God. I belong to God." When I brought the chorus to Matt Redman he said he had been thinking about an idea of the children of God."
Question: What's the story behind Jesus I Believe?
Mike Weaver: "It was the first song we wrote even though it's the last song on the album. God changed what we had been about a few years ago. We always had a heart for God, but we were so worn out and we cried out for something more real. We started ending the shows by praying for people and stuff started happening. We received emails, Facebook messages, phone calls and texts about what God was doing. A lot of people had been abused and had kept that hidden and they felt afraid to bring into the light because you feel like you will be rejected or you are ashamed and the enemy keeps us trapped in the fear of other people finding out. "Jesus I Believe" became a prayer for us. This song has appointments with people."
Question: Another song, "When You Love Somebody" talks about testifying and what you do because you love Jesus – what lead to this song?
Mike Weaver: "That was another neat writing session at Jason Ingram's house. Matt Maher came over and he's such a talented person. There were points when I forgot we were in a writing session. One of the things on our heart was why does it have to seem so weird with the world this love you have for God. We've been sold this idea that we have to go close the deal for God in some way and that's not what he's looking for. If you go to a restaurant and you eat a hot Krispy Crème donut you will be like, "Dude, just try one" and if they try it, they will like it – unless they have some weird disorder and we will pray for them. That's Jesus! When God meets you in your brokenness – you are ready to tell someone about it because you want other people to know about the reality of what you have experienced."
Question: What is something you take everywhere you go with you as you travel?
Mike Weaver: "It's really for me the fellowship on the road. Our road pastor - who hates to be called pastor – the Lord uses him to light a fire under us all the time and that's how we stay connected and encouraged. What that's turning into is looking forward to God's presence."
Besides learning of Mike's love for Krispy Kreme donuts, the most memorable part of our conversation was how he knows that each one of these new songs has appointments. God goes before us and will use these songs to minister. We would love to hear how any of Big Daddy Weave's song have helped or uplifted you. Connect with us on Facebook and Twitter and share your story.
Article by Elise Cleary
I'm a Christian writer and editor residing in northern Michigan and thoroughly enjoy Christian centered music, movies, TV shows and books. A favorite song is "Oceans (Where Feet May Fail)" by Hillsong United and I find many songs by Matt Maher, Tim Timmons, Third Day, Laura Story, Jeremy Camp and numerous other artists uplifting. A few of my favorite Christian movies include God's Not Dead, The Shunning, Do You Believe and many by the Kendrick brothers. When I'm not writing, I enjoy running, experimenting in the kitchen and spending time with my musically gifted husband and spunky daughter. I am so blessed and in awe of the work God is doing throughout the Christian entertainment industry.