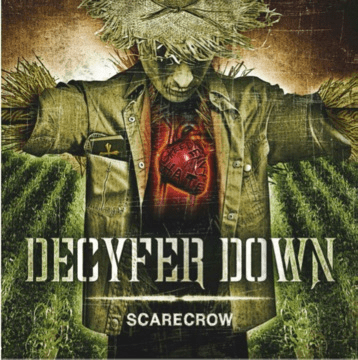 It's been a five-year wait for new music from North Carolina hard rockers Decyfer Down, but it was time well spent. The follow-up to the successful 2008 release CRASH, will floor their long-time fans boasting a tantalizing mix of moody anthems, driving guitars and a heavy sound that is matched by weighty spiritual lyrics. Scarecrow, which releases on August 27, 2013 proves the old adage, "good things come to those who wait." Leading the pack to release date is "Fight To Win," the band's first single off the record which hits digital retailers today including iTunes and Amazon. Additionally, their song "So In Love" became available last week and can be purchased at digital retailers beginning July 9.
Scarecrow will be the first full studio project since front-man TJ Harris joined the group, just after CRASH was written. It's clear that Harris, guitarists Brandon Mills and Chris Clonts and drummer Josh Oliver have created an album that hearkens back to Decyfer Down's 2006 groundbreaking debut, End of Grey. "The way we write songs is based on the things that have inspired our lives the most," says Josh. Scarecrow proves experience has strengthened the band, as artists and writers.
Helmed by producer Paul Ebersold (Seventh Day Slumber, 3 Doors Down, Third Day), Scarecrow is accessible without being predictable and edgy without being off-putting — a rare album that feels familiar immediately while continuing to surprise with each new listen.
Track Listing for Scarecrow:
1. Memory
2. Westboro
3. Worst Enemy
4. Say Hello
5. Bleeding Lines
6. Fight To Win
7. Scarecrow
8. The River
9. Some Things Never Change
10. So In Love