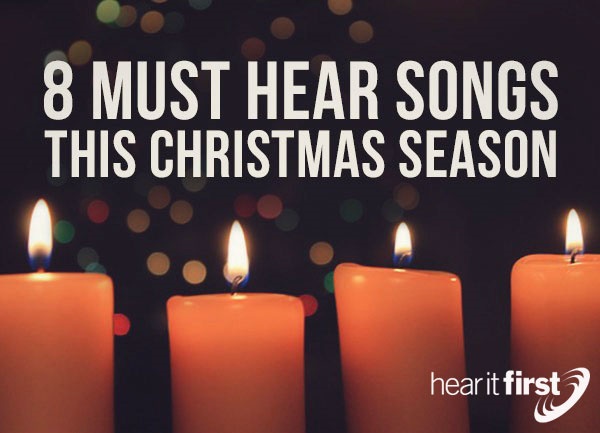 Have you been waiting all year for it to be time for Christmas music again? Well, wait no more. The season has come and we have put together 8 Christmas songs that you simply must hear. Individually, each of these songs carries so well the message of the season and why we celebrate it. Together, the combination of these 8 songs will make a nice addition to your Christmas playlist.
Enjoy these "must hear" songs throughout your holiday season.
MercyMe "Joy"
This contemporary rendition of the traditional "Joy to the World" is a refreshing reminder of the Joy that has been made available to us. With the addition of the favored line from "Oh, Come All Ye Faithful", this song stirs our hearts to worship. We must hear this one because we must worship.
Mark Schultz "Different Kind of Christmas"
Many of us have lost loved ones this year and it brings about unchartered emotions as we go through the Christmas season. It's challenging to balance our desire to celebrate and the sadness that our hearts feel. Mark Schultz allows us to embrace our emotions and consider that this Christmas will be a "Different Kind of Christmas".
Laura Story "Angels We Have Heard On High"
There may not be a more perfectly suited voice to sing this traditional chorus than Laura Story. The richness in her tone compliments the richness in the proclaiming message of the birth of Jesus Christ our Savior. You will want to add this one to your Christmas playlist.
Phil Wickham "The First Noel"
Carrying the message of the birth of our King is one that Phil Wickham does so well in this version of "The First Noel". The lively version is sure to make your heart happy. Who doesn't need a little bit of happy this season?
Phillips Craig and Dean invite us to come and adore Jesus Christ our Lord in this comfortable interpretation of a timeless classic. Set to a more contemporary style of music, the lyrics and harmony are ones we can sing a long with easily.
Sara Groves "It Came Upon a Midnight Clear"
You can't go wrong with a Sara Groves song this Christmas. Her music is always a good idea. She has taken the classic Christmas carol and adapted it to tell a story as she does so well. She encourages us to sing and share peace as the One who came upon a midnight clear did for us.
Shane & Shane "Away In a Manger"
Not only do you want to hear this song but you'll want to sing along. If it is possible to improve on this time-honored tune, Shane & Shane have. With the addition of a solid drumbeat and electric guitars, this is a must hear song for any Christmas music devotee.
Rock it out this Christmas with Hawk Nelson. It's quite possible you've never heard these Christmas carols sung quite like this. This is a spirited tune that young ones or the young at heart will surely have some fun with. What a great one to close out this "must hear" list.
Article by Andrea Stunz
I'm a born-and-raised Texan who enjoys any adventure that requires a passport. As a Christ-following pilgrim, I'm a lover of stories and a connoisseur of sunrises and coffee - best when served together. I listen to a wide range of musicians with Andrew Peterson, Jimmy Needham and Bethel Music being just a few of my favorites. When I'm not writing, you'll find me in the kitchen or spending time with those I love.