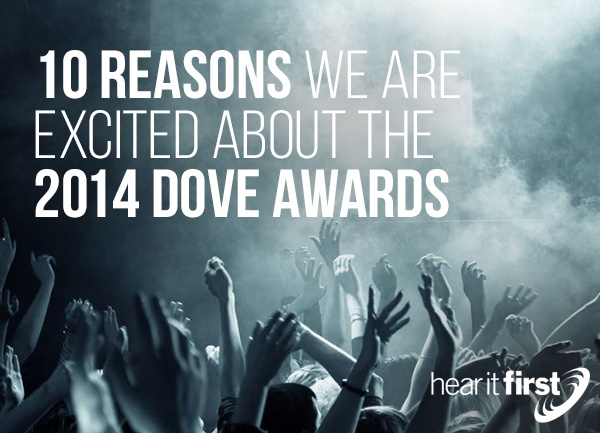 The 45th Annual GMA 2014 Dove Awards are happening Tuesday, October 7th. There are so many artists nominated in 42 different categories. Attending or tuning into the Dove Awards is more than going to an awesome rock concert. Bart Millard and Lecrae are this year's hosts and 20 artists will be performing. Presenters include Bill Gaither, Amy Grant, Danny Gokey, Sandi Patty, Capital Kings, Karen Kingsbury, David A.R. White and Colton Dixon. This is the largest gathering of talented Christian artists and public figures that are passionate about glorifying God while recognizing the hard work of each artist.
Here are 10 reasons we are excited about the 2014 Dove Awards.
10. Getting to See David A.R. White!
David has been in so many Christian movies, but I haven't seen him off the screen. As an actor, he has gone under the radar for so long, but he is an actor, writer, director and producer who has been in over 40 movies and television shows.
9. The Number of Artists Honored
It's exciting to me to see a huge number of artists nominated. Quite a few have multiple nominations, but with 42 different categories, so many Christian artists will be honored.
8. Learning About Unfamiliar Artists
I listen to a lot of Christian music, but I don't know who sings every song played on the radio. The Dove Awards gives you the chance to connect the dots between songs you've heard many times and the story behind many artists.
7. Watching a Rocking Christian Concert!
It's a huge Christian concert with the best artists! I am so excited to hear for King & Country, Natalie Grant, Ellie Holcomb and so many others perform in such an energizing space. This will be their night to rock and shine.
6. Seeing My Favorite New Artists
There are new Christian artists every year, but the artists nominated for the award this year will not be one-hit wonders. Ellie Holcomb sings her heart and soul in a way that is inspiring and encouraging. Love & The Outcome brings a fresh new approach to music. 1 Girl Nation pumps up young girls for Christ in a new way that hasn't been explored before.
5. Uplift Someone Award
I'm excited to see who wins this year's Uplift Someone Award because it focuses on a characteristic, not just a singing voice. The messages that many Christian artists bring to their music is powerful and personal and often seen through their actions off the stage.
4. Excited to See Who Wins the Song of the Year!
The songs that have been nominated are each unique and purposeful. "Fix My Eyes" by for King & Country, "Hello My Name Is" by Matthew West, "Hurricane" by Natalie Grant, "Lord I Need You," by Matt Maher, "Oceans (Where Feet May Fail)" by Hillsong UNITED, "Overcomer" by Mandisa, "Revival" by Karen Peck and New River, "Say Amen" by Brian Free & Assurance, and "That's Why" by Ernie Haase and Signature Sound are all in the running this year. Each song has had a huge impact for individual reasons.
3. Experiencing Who Wins Pop/Contemporary Album of the Year
I love listening to each one of the albums nominated for Pop/Contemporary Album of the Year. As Sure As The Sun by Ellie Holcomb, If We're Honest by Fancesca Battistelli, Overcomer by Mandisa, Thrive by Casting Crowns and We Are young & Free by Hillsong Young & Free each deserve this award, so I am so excited to see who walks away with it this year.
2. Hearing Testimonials of How Songs have Changed People
You've had a bad day and turn on your local Christian radio station that happens to be playing the perfect song that speaks to your soul. Maybe it's "Oceans" by Hillsong UNITED, "Overcomer" by Mandisa or "Lord I Need You" by Matt Maher. Countless people have received the hope and encouragement they need from these songs and many others.
1. Seeing God Honored
There are many award shows from the MTV Video Music Awards, American Music Awards, Billboard Music Awards, CMT Music Awards and the Grammy's, but the Dove Awards keeps God as the focus. Getting nominated for an award is an honor and takes a lot of hard work, but time and time again Christian singers and songwriters give God the glory.
Tickets are still available to the 45th Annual GMA Dove Awards, but if you are not able to attend in person you can still hear a live broadcast at HearItFirst.com/live. Join Jaci Velasquez who is hosting the show at 2:00 p.m. CST on October 7, 2014.
Article by Elise Cleary
I am a Christian writer and editor that lives in northern Michigan and thoroughly enjoy music, movies, TV shows, books and other entertainment with a Christian focus. My favorite song is "Oceans" by Hillsong United because it reminds me that has big plans for me and everyone else who puts their trust in Him. There are many movies that have impacted my life, but a few include God's Not Dead, The Shunning and Letters to God. I also write for www.faithandentertainment.com and love connecting with readers, so please don't hesitate to contact me! When I'm not writing I enjoy watching movies and laughing with my busy toddler and husband.