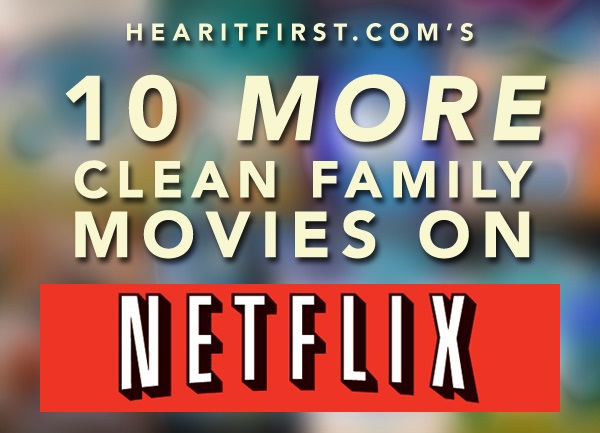 Summer is here, the kids are bored, you have to work and have a checklist longer than the hours in the day. So, what do you do? Turn on a clean, family-friendly movie on Netflix instant! Netflix constantly adds movies available to watch constantly. Whether you are looking for action, adventure, Christian-based, comedy or drama, Netflix has awesome movies. There are also some great older movies that are clean and perfect for the whole family!
Here are 10 more clean family movies on Netflix Instant (If you missed it check our our original article "10 Clean Moives On Netflix Instant")
10. Flicka 2
Carrie loves living in the city, but is forced to live on her father's ranch. Her free spirit and strong will make it seem at though it's not a great fit, but then she meets Flicka, a jet-black mustang. She finally accepts life after befriending Flicka when the horse's future is in jeopardy.
9. Jumanji
Two kids move into a mansion that had been abandoned for years after a boy disappeared and was assumed to have been murdered. The truth comes out when the children find an old board game in an attic that turns into a real life game of survival against the jungle perils of the game Jumanji. The boy who had disappeared (played by Robin Williams) is released from the game 26 years later when the children begin playing and it only ends when the game is over.
8. Daddy Day Care
Two fathers are the breadwinners when the cereal company they are working for lays them off. Struggling to find jobs, Charlie Hinton (played by Eddie Murphy) and Phil (played by Jeff Garlin) come up with the brilliant idea of starting their own in-home daycare. After feeding the kids Pop Tarts for lunch the first day, they realize it's a lot harder than it looks.
7. Spy Kids 3
Juni and Carmen Cortez are kid agents and they bring their skills to fight through a 3-D video game. A power hungry villain is trying to take over the world and it's up to the Spy Kids to jump and dive through levels with their gadgets. There is no game over.
6. Teen Beach Movie
Teens Brady and McKenzie are two love birds, but the summer is coming to an end and this also means that McKenzie has to leave the island for boarding school. The day she is scheduled to leave she has to ride the biggest wave she has ever seen. Brady notices the danger and rides out on a jet ski to save her and instead of ending up on shore, it transports them to the 1960's. They are living the Wet Side Story and have to figure out how to get back to their time period.
5. Camp Rock 2: The Final Jam
Mitchie loves going to Camp Rock, a music-based camp where she has met a ton of friends, including her crush Shane. This summer Camp Star, a nearby rival camp, has lured many campers and counselors away. "Camp Wars" will tell which camp is the best. Camp Rock 2: The Final Jam stars Demi Lovato, Joe Jonas, Nick Jonas and Kevin Jonas.
4. Holes
A teenaged boy, Stanley (played by Shia LaBeouf), is accused and convicted of a crime he didn't commit and is sent to a detention camp for teens in the desert. The punishment is to dig holes in the hot sun all day long because The Warden (played by Sigourney Weaver) is after stolen loot that is supposedly buried somewhere in the desert.
3. Super Buddies
Rosebud, Buddha, Mudbud, D-Dawg and Budderball are the average puppies that make messes and get into plenty of trouble. They find magical rings that end up giving each one of them a superpower, which comes just in time to save the Earth from a shape-shifting bully that is closing in. Before they become heroes, they have to learn how to use their newfound powers.
2. Harriet the Spy: Blog Wars
Harriet Welsch dreams of becoming a famous writer, but first she needs to earn the title of official blogger of her high school class. This requires outsmarting the popular Marion Hawthorne, the reining class blogger. She is focused on getting her voice heard, but has trouble engaging her audience.
1. Return to Nim's Island
Nim has grown to love the island with her scientist dad, but a new buyer wants to turn it into an attraction for tourists. Although the labs and specimens will lead to medical breakthroughs, the government is more interested in making money. Nim won't give up on trying to make people see the value in the work her dad is doing.
Kids dream of experiencing new things and going to lands far away. Bring far away lands to them and help them experience something new by having a family movie night. Borrow a projector and watch a flick outside while camping under the stars. Summer is a great time for kids to experience fun and make memories they will carry with them throughout adulthood.
Article by Elise Cleary
I am a Christian writer and editor that lives in northern Michigan and thoroughly enjoy music, movies, TV shows, books and other entertainment with a Christian focus. My favorite song is "Oceans" by Hillsong United because it reminds me that has big plans for me and everyone else who puts their trust in Him. There are many movies that have impacted my life, but a few include God's Not Dead, The Shunning and Letters to God. I also write for www.faithandentertainment.com and love connecting with readers, so please don't hesitate to contact me! When I'm not writing I enjoy watching movies and laughing with my busy toddler and husband.