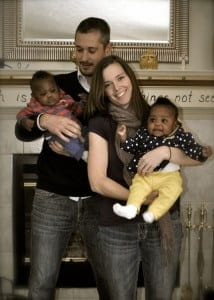 "The Truth": Isaiah 1:17 "learn to do good; seek justice, correct oppression; bring justice to the fatherless, plead the widow's cause."
God works in mysterious ways and forms connections between people in order to fulfill His will. Eric Phelps, M.A., J.D., was a lawyer with a comfortable job in Michigan for 15 years before he stepped away to start Phelps Legal, a practice where he could be instrumental in international adoptions. Eric and his wife have four children, two of whom have been adopted and since then, he has assisted more than 75 families through adoption. In 2009, Eric and his wife were in China bringing home their second adopted daughter when he saw the endless homeless and hopeless children surrounding him within a city of over eight million people. The uncertainty that encompassed each day for hundreds of thousands of children weighed heavily on his heart. Sure, he was providing a home and better life for one more precious child, but what about all the rest? "I resolved to do whatever it was that I could to help their situation," he stated.
What could Eric do? He brought it before God in prayer for two years and commissioned his friends and family to do the same. God answered his prayers, which lead him to start Phelps Legal where he now practices family law, adoption law, fertility law, civil litigation and has a strong focus on international adoptions. With the practice setup and a mission to help children across the world, where does one begin? Eric wasn't sure of the exact steps he would need to take, but since he was walking in faith he decided to write a letter to a local church and expressed his interest in helping with international adoptions. This letter was sent to West Side Community Church in Michigan and passed onto Morgan Shier, B.A., J.D., who was on her own journey with adoption becoming nearer and dearer to her heart.
God's Intervention
God introduced adoption to Morgan when she happened upon the Michigan Adoption Resources Exchange website and read about three brothers who strongly wanted to be adopted but chances were slim since they were in their late teens. Morgan cried and she began turning her thoughts toward adoption – not really sure where it would lead. Not long after, she was stuck in traffic on the way to a court case. As she listened to the radio, the announcers began talking about adoption. Her husband shared this interest and their feeling of urgency to make a difference lead them to become licensed for foster care. An opportunity arose in 2010 to go on a short missions trip to Chihuahua, Mexico with the founders of what has become LOCO Ministries. They fell in love with the orphans they met and became more aware of how desperate children without parents were to find someone who would love and accept them. The Shiers' minds were opened and hearts were aching for God's will in serving orphaned children to become clear. "On the flight home I was reflecting and it was as if God was saying "cuida", these are my children, please care for them. The Bible says that God sets the lonely in families, defends the cause of the poor, and that God is a father to the fatherless, but the way that he is all of those things is through us, his people," recalled Morgan.
Making the Connection
Morgan responded to Eric's letter and they started a mission of making adoption more accessible for families since an international adoption averages between $30,000 – $50,000. It's also a very complex process with changing regulations and cultural issues to overcome that make it impossible without a legal resource guiding the process. She began working at Phelps Legal and, because of new regulations, they were required to become a licensed child agency in order to orchestrate international adoptions. This is where 1:17 Center for Global Adoption was born.
Adoption Hurdles
International adoption has gained a lot of attention around the world, with countries recognizing that not all agencies or potential families have the best interest for the children at heart. In 2012, Eric and Morgan began seeking a country where they would be allowed to perform adoptions. The Democratic Republic of the Congo (DRC) was placed on their hearts and they were already aware of the work of Christ's Hope International, so they checked with the U.S. Director, David Kase. He pointed them to Christ's Hope Congo and they brought the DRC country directors to Traverse City to develop a relationship and begin discussing an adoption program.
After the initial meetings and many Skype conversations, they were made aware of twin babies who were in need of a family. The Shiers quickly made plans to travel to adopt the babies and Eric jumped on a plane to learn of the adoption process and become familiar with the DRC. When they landed in the DRC, they met with the U.S. Embassy and Consulate and were both alarmed and blessed by the events that unfolded. The director spent the first half hour detailing the dangers of the DRC and problems that would occur and how crazy they were to even try to be successful. "God's will and plans do not have to make sense and this was a test," recalls Eric. The conversation turned and the director shared that he was an adoptive parent and told them that the U.S. Embassy would help in every way possible as they pursued facilitating adoptions.
Orphanages (A.K.A. Death Sentence)
Some of the first children they met were infant twins at a remote orphanage. A typical facility in the DRC and many third-world locations is a far cry from the institutionalized care available in the U.S. The caretakers often do the best they can with dirt floors, no beds or furniture, and no electricity, water, heat or air conditioning. Many children do not survive long in this type of orphanage because their basic needs, including medical treatment, are not met.
"The Truth": 2 Chronicles 20:15 "Thus says the Lord to you, 'Do not be afraid and do not be dismayed at this great horde, for the battle is not yours but God's.'"
God's Calling
Morgan and her husband knew where the twins, Kaleb and Nyah, needed to go. God had been preparing them all along and they knew deep down that these children were coming home with them. Their mother had died in childbirth and their father had five other children to care for, with little hope for these beautiful babies. The journey to bring their kids home would prove to be difficult and frustrating at best, with their faith constantly tested. Because of international mandates, the Shiers had to go through numerous steps to prove it was in the best interest of the children for their father to give up custody and allow them to move to the U.S. They had already passed their home inspection since they were licensed foster care providers. After months of working hard and jumping through hoops, the Shiers flew to the DRC to finally bring their six-month twins home! God's timing was impeccable because Nyah had become very ill with a kidney infection and was admitted to the hospital three days after arriving in the United States and could have died if the necessary medical care had been delayed further.
The Shiers were able to complete the adoption of their twins in about six months, but because of the increased interest in adopting, the government in the DRC now has more requirements and steps in place to help protect the kids and ensure they are going to safe homes. The time it requires to complete an adoption currently is about 18 months. During this time, a child being considered for adoption has to stay within the country, but 1:17 helps ensure the child is provided for and safe until they are able to leave.
Great Things to Come
1:17 Center for Global Adoption is in the final stages of two more adoptions and working on earning a Hague Accreditation in order to meet new standards required by the U.S. Government, which will also allow them to work in many other countries. Eric and Morgan strive to keep the cost of international adoption down to around $24,000, which includes all travel expenses and hotel stays. This can vary depending on the country and specific situation for each child. They also make contributions from Phelps Legal for additional financial assistance.
"If the Shier twins were the only children we were ever able to help, all of our work would be completely fulfilling," states Eric. 1:17 is continuing to research other countries to enter and in the mean time refining their adoption process.
Visit their website at www.117center.org to learn more information and become aware of donation opportunities.