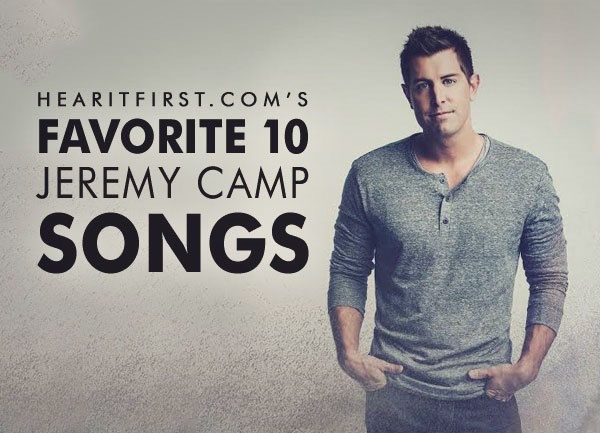 Jeremy Camp is one of my favorite Christian artists because so many of his songs are catchy, easy to listen to and pack a powerful message. He glorifies God through music and this comes through strongly if you have seen him perform live. If you know about his past with losing his first wife, you know that his life has not been free of challenges, but he leans on Christ for strength. His ninth album, I Will Follow, was released earlier this month and it has already topped the U.S. Billboard Christian charts.
Here are my favorite 10 Jeremy Camp songs:
10. "Walk By Faith" from the Album Stay
Favorite Lyrics
Well I will walk by faith
Even when I cannot see
Well because this broken road
Prepares Your will for me

Help me to win my endless fears
You've been so faithful for all my years
With one breath You make me new
Your grace covers all I do
9. "Jesus Saves" from the Album We Cry Out: The Worship Project
Favorite Lyrics
Hope is here
What a joyful noise we'll make
As we join with heaven's song
To let all the world know that Jesus saves
Raise a shout to let all the world know
That Jesus saves

Free at last
Every debt has been repaid
Broken hearts can be remade
Jesus saves
Sing above the storms of life
Sing it through the darkest night
Jesus saves
8. "Christ In Me" from the Album I Will Follow
Favorite Lyrics
Done with what holds me down the things I once was chasing after
Throw off these heavy chains that I have let become my master
So now I'm running free into an ocean of mercy unending

So come and empty me
So that it's you I breathe
I want my life to be
Only Christ in me
So I will fix my eyes
'Cause you're my source of life
I need the world to see
That it's Christ in me
That it's Christ in me
7. "The Way" from the Album We Cry Out: The Worship Project
Favorite Lyrics
Shine, bright
Let Your glory fill this land
Lift high, the King of Kings and great I am
Jesus, You are the way

We can see the works of Your loving hands
With a hope and peace not made by man
When You poured out Your grace and Your mercy
And You held out Your arms so we could see
You bled for all mankind and set the captives free
6. "My God" from the Album Reckless
Favorite Lyrics
There is no other one, who's given a greater love
Laying aside His own life on the cross
Reaching out to us
Whoa whoa, whoa whoa

My God, You are the unchanging love
My God, Your heart sends hope from above
The great Creator, beautiful Savior
I've been redeemed
There is life now from Your victory
You are my God
You are my God
5. "'Living Word" from the Album I Will Follow
Favorite Lyrics
I stand on the truth
In the living word of God
'Cause every time it moves my soul and shapes my every thought
It's alive in me, the very breath I breathe
I'm holding on with all I've got to the living word,
The living word of God

Speak into me now
Your voice is all I'm craving
What a freedom I have found
In the living word of God
4. "Overcome" from the Album We Cry Out: The Worship Project
Favorite Lyrics
Savior, worthy of honor and glory
Worthy of all our praise, You overcame
Jesus, awesome in power forever
Awesome and great is Your name, You overcame

Power in hand speaking the Father's plan

You're sending us out, light in this broken land
3. "There Will Be A Day" from the Album Speaking Louder Than Before
Favorite Lyrics
There will be a day with no more tears, no more pain, and no more fears
There will be a day when the burdens of this place, will be no more, we'll see Jesus face to face
But until that day, we'll hold on to you always

I know the journey seems so long
You feel you're walking on your own
But there has never been a step
Where you've walked out all alone
2. "Same Power" from the Album I Will Follow
Favorite Lyrics
The same power that rose Jesus from the grave
The same power that commands the dead to wake
Lives in us, lives in us
The same power that moves mountains when He speaks
The same power that can calm a raging sea
Lives in us, lives in us
He lives in us, lives in us
1. "He Knows" from the Album I Will Follow
Favorite Lyrics
He knows
He knows
Every hurt and every sting
He has walked the suffering
He knows
He knows
Let your burdens come undone
Lift your eyes up to the one
Who knows
He knows
He knows
Do you feel God speaking to you through one or all of these songs? It's amazing how God can use a single song to fill you with hope, peace, strength, love and reassurance. Check out Jeremy Camp's latest album I Will Follow and take the opportunity to see him on the Winter Jam Tour or one of his upcoming shows later this year.
Article by Elise Cleary
I am a Christian writer and editor that lives in northern Michigan and thoroughly enjoy music, movies, TV shows, books and other entertainment with a Christian focus. My favorite song is "Oceans" by Hillsong United because it reminds me that has big plans for me and everyone else who puts their trust in Him. There are many movies that have impacted my life, but a few include God's Not Dead, The Shunning and Letters to God. When I'm not writing I enjoy watching movies and laughing with my busy toddler and husband.