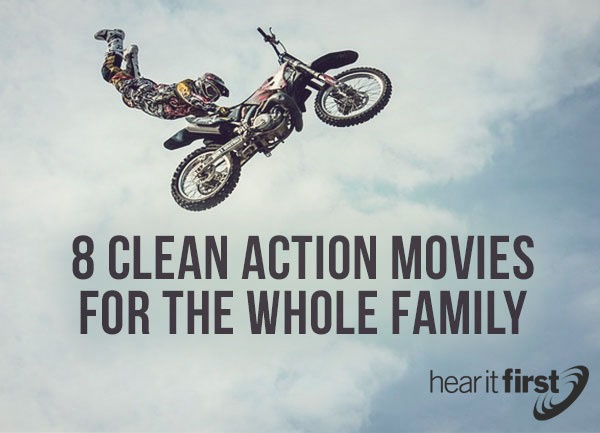 Here are eight great action movies that are suitable for the entire family.

Raiders of the Lost Ark
When I speak about the action-adventure movie, "Indiana Jones," I mean the series of Indiana Jones movies and not just the original one which began with "Raiders of the Lost Ark" (1981) but also included "Indiana Jones and the Temple of Doom" (1984), and 1989's film, "Indiana Jones and the Last Crusade." George Lucas created this story in a stirring tribute to heroes of the 1930's who were mostly the unseen fighters against the Axis Powers (Germany and Italy), and like most George Lucas films, this one is packed with action and adventure from beginning to end, and even has a bit of romance to it when Dr. Jones (Indiana, as played by Harrison Ford) is reunited with his former wife who he discovers he still loves and she loves him.
Hook
The movie, "Hook," directed by Steven Spielberg has great casting with Dustin Hoffman as the infamous Captain Hook, Robin Williams as an adult Peter Pan, and Julia Roberts as Tinker Bell. Granny Wendy Darling (Maggie Smith) tries to persuade lawyer Peter Banning that he was the original Peter Pan and when he finally enters into Neverland he rediscovers his imagination, friendships and gifted abilities that counter the evil deeds of Captain Hook.
Swiss Family Robinson
The movie, "Swiss Family Robinson" is based on a novel by Pastor Johann David Wyss about a Swiss family that becomes shipwrecked on what they thought was a deserted island. Pastor Wyss wrote this novel in order to teach his sons about Christian morals and values but also includes elements of science and natural history lessons in it which should also help young viewers. The movie teaches teamwork and cooperation in surviving and to put the interests of all above the interests of the individual.
20,000 Leagues under the Sea
The movie, "20,000 Leagues under the Sea" stars Kirk Douglas, Paul Lukas, and Peter Lorre who portray shipwrecked survivors who are taken captive by the mysterious Captain Nemo who is brilliantly portrayed by James Mason. They captive crew discover Captain Nemo's scheme to destroy the world and do all that they can to thwart his evil plan. This, like the other movies, is very family-friendly and is rated G.
Enclave
The movie, "Enclave," a film by Goran Radovanovic about a young boy, Nenad, who loved his grandfather, named Milutin. Voja is Militin's father and so Voja is Nenad's father. When he discovers his grandfather is going to die, he is heartbroken because there are no more children in the village to play with as he only had his grandfather to do that. The reason there are no children is because he lives in a war-torn region in a tiny Serb community residing within a small UN-protected pocket where they are surrounded by Muslims but this young Christian boy determines to create a proper community burial for his late grandfather and so he risks crossing enemy lines only to makes friends among the Muslim majority in deeply divided, war-torn Kosovo.
The Chronicles of Narnia: The Lion, the Witch and the Wardrobe
C.S. Lewis timeless masterpiece and beloved action-adventure children's book and movie, "The Chronicles of Narnia: The Lion, the Witch and the Wardrobe" is suitable and I believe, enjoyable for all members of the family. Four siblings, Lucy, Edmund, Susan, and Peter, while playing hide and seek discover Narnia, a peaceful, charming land which at first seems like paradise but there is an ongoing, titanic climatological war going on between the witch's glaciers and the threat of an eternal winter freeze and Aslan, the wise and majestic lion whom the witch seeks to kill.
94 Feet
The movie, "94 Feet" by Chip Rossetti, is about a small mining community which is being threated when the local industry that has supported that town for over 100 years announces that they are planning on closing their doors. This would be certain death for the small town and the only thing that can save this community now is something big and that's what they get, in a bad way, when there's a mine explosion and since this is about the only work in town they realize that this means everyone in the mine is likely either trapped or dead but something strange happens. The disaster someone manages to bring about a lot of good and unexpected results.
Pilgrim's Progress: Journey to Heaven
The movie, "Pilgrim's Progress: Journey to Heaven" is based upon the classic and bestselling Christian book, "Pilgrim's Progress" by John Bunyan. Just like the book does, the movie follows Christian in his allegorical journey of faith, leaving behind the City of Destruction toward the gates of heaven. Just like the book, which has been hailed as a literary masterpiece, there are amazing visual effects and dramatic experiences that teach all members of the family what their walk with Christ is like or will be like (for the children). This is one of the best movies that no one knows about.
Conclusion
I did not want to include PG-13 movies, because to me, if a movies not suitable for a young child, then it's not suitable for anyone else in the family, no matter what their age, and this includes dad and mom. We should not be taking violent and sexually explicit images into our mind that are found in most movies today. It is not "normal" to see inappropriate images or filthy language just for the sake of entertainment. I understand that today, families are hard pressed to find good, clean wholesome action movies that teach moral lessons and objective, godly values. To find such movies, you will most like have to go back more than a decade or two ago (and even earlier), but if you are diligent in your search, you'll be successful in finding and then viewing clean, action-packed movies that are appropriate for every member of the family to enjoy, and you won't have to worry about muting the volume or skipping certain parts.