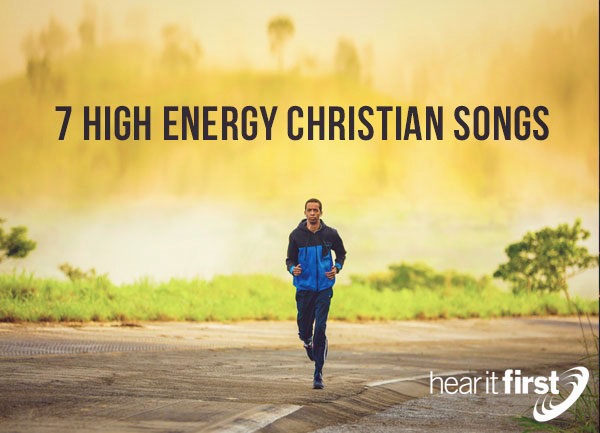 Here are seven great, energy-filled Christian worship songs.
Awake and Alive
The song, Awake and Alive, by Skillet, is very intense and upbeat and you might suddenly start singing the words that many of us could probably sing, "I'm at war with the world and they, Try to pull me into the dark" and His "strength is fading fast," so the only thing he can do at this point is to "know what I believe inside," giving them a solid assurance about their once-waning strength. Skillet reaches a very young audience with contemporary Christian rock and in a high energy format.
Nothing but the Blood
Nothing but the Blood by Stikyard is an explosion of worship with a symphony of percussion instruments that was performed a few years ago on the campus of the World Outreach Church in Oklahoma City, Oklahoma in 2014. Even if you don't love drums, the energy this produces in worship is hard to ignore. It seemed to draw me into worshiping the Son of God, Jesus Christ, and lifting His name up in singing about the fact that only the blood of Christ can take away our sins and that's nothing but the blood of Jesus. If you've never seen this, you must experience it full screen on your computer. It reminds me of the huge production that was associated with the worship of God when Israel was under the leadership of King David.
Strong Tower
Strong Tower by Kutless was not only a huge hit on Christian radio, it's been used by many thousands in their personal worship time with God, including me. Kutless' vocals and drums are perfectly aligned with the strong message that God is our refuge when the storms of life come; and they come to us all. When, not if, dangers do come, we can, as they sing, "seek shelter over me, Beautiful and mighty everlasting King, You are my strong tower, fortress when I'm weak Your name is true and holy." I believe a lot of Kutless songs are high energy, including some of the slower paced songs. Song's don't have to be fast to have a level of energy.
Revelation Song
Revelation Song by Kari Jobe is a very slow paced song but when it comes to worshipping God, by specifically the one done live in Atlanta in 2013 but even Phillips, Craig & Dean's Revelation Song is equally great, but Kari Jobe's version is totally captivating and brings chills to me and induces me to worship more naturally. What a spine tingling worship experience that seems to fill me with energy, rather than expend energy, and that's what many worshippers of God seek. The lyrics are exactly right where Kari Jobe sings, "Holy, holy, holy is the Lord God Almighty. Who was and is and is to come" for "Worthy is the Lamb who was slain. Holy, holy is He." This song helps me to be "Filled with wonder awestruck wonder. At the mention of Your name" which is the King of kings; King Jesus!
12 Stones
The song, Broken, by 12 Stones is a refreshingly honest look at our frail human nature but also to see our brokenness and how we cannot endure without God. God knows "deep inside I'm broken" and "I know your heart is broken. When I turn away. I need to be broken. Take the pain away" so this shows the humility necessary for a person to come before God in confession and in brokenness. This song seems to focus on the fact that God can only help us if we see that we are helpless. I admire this bands theology because they believe that we're all broken but God cannot fix what is first not broken.
Fading
Fading by Decyfer Down is a very hard edged Christian rock but the message is even harder as it screams out from a seemingly undeliverable grip form addictions…the shackles like chains remain day after day, leading to a sense of hopelessness, but this band puts us in the right direction for help. Addicts can only reach out to the God Who can strengthen them to overcome these strongholds…fall and get up, fall and get up, but keep getting up. That's the point. Keep calling out His name and ask for Him to save them and cries out in desperation, much like any drug addict, porn addict, or alcoholic might, "Save me from what I've become." Very powerful message but like throwing a lifeline to younger Christians or even the lost who have hit the rock bottom of life.
Fireflight "Unbreakable"
Fireflight's song, Unbreakable, is a clear call out to God for help and "Sometimes it's hard to just keep going. But faith is moving without knowing" with a clear message about faith, which asks, "Can I trust what I can't see? To reach my destiny" and yes, of course we can trust God. More than we can trust our eyes. God is more real than what we even see and this intensely upbeat song gives the glory to God for what He does when our faith gets shaky.
Conclusion
If you can think of any other high energy Christian songs, please suggest them and let us know so we can see what we missed in this article, which covered only seven songs. Some bands are definitely more intense than others, but as I said earlier, even some of the slower worships can be intensely energetic and renew our spirits in ways that cannot even be described by words. One such example was Revelation Song by Chris Tomlin, with a special vocal appearance of Kari Jobe, proving that high energy worship songs don't always have to be intensely fast.
Article by Jack Wellman