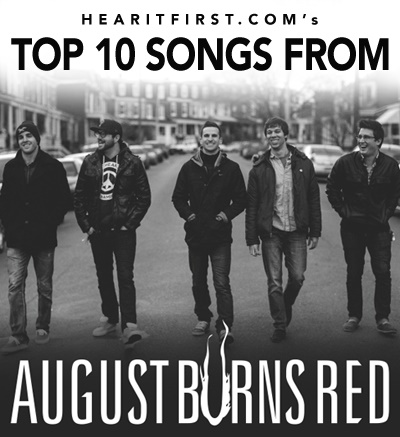 August Burns Red is one of the best bands of today! Their sound is very unique and they are known for brutal breakdowns that you want to keep listening to over and over again! Their songs are chaotic, melodic, heavy and brutal! Their drummer Matt Greiner is one of the best in music today. He has got some serious chops. Here is my list of the top 10 August Burns Red songs of all time with my favorite lyrics for each!
10. A Shot Below The Belt (Thrill Seeker)
This song is about stopping confrontation and cheap blows below the belt. We all have a max we can take and when someone pushes us over the edge we usually do or say things we don't mean.
Favorite Lyric – "We have so little time; let's not spend it in anger, in anger, in anger. I am in the deep end and I can't find air, I can't find air."
9. Empire (Leveler)
Empire is all about standing your ground for what you believe in because the choices you make will affect those around you, including your descendants that follow you.
Favorite Lyric – "We are justice fighters with faces of fire. Many walk away, but we stand firm. We are justice fighters with faces of fire. Our decisions affect our descendants."
8. The Escape Artist (Constellations)
This song is directed towards the individual who thrives on making everyone miserable. They only see the outside but not what is really going on inside because they don't care. No one will take anyone with this mindset seriously.
Favorite Lyric – "Pick and choose based on a face, but it's all in the heart that carries weight. Don't judge until you've taken it all in, 'cause in the end you'll pray to stay above the flames."
7. Fault Line (Rescue And Restore)
Fault Line is about walking side by side through life and holding one another up through the chaos that is life.
Favorite Lyric – "Stand here with me. Together we'll get through this. Stand here with me and we'll wash it all away."
6. The Seventh Trumpet (Thrill Seeker)
This song is referring to the seven trumpets that are written in the book of Revelation. This is a wake-up call to those who could care less about eternity.
Favorite Lyric – "What have you all done? What have you all become? A people more concerned with the temporary pleasures of this world rather than your own eternal salvation?"
5. Back Burner (Messengers)
Back Burner is about those who think they have it all and yet they still keep searching for more. Their emptiness won't be satisfied until they look to Jesus for fulfillment.
Favorite Lyric – "Gather all your possessions, and smile because you've got it all. Still that empty feeling won't go away. Your puzzle's missing one very essential piece and I know you'll keep looking in all the wrong places until it's too late."
4. Whitewashed (Constellations)
Whitewashed focuses on how some unbelievers call us out to be perfect, which is not possible. They will judge and condemn us because Christians should be "blameless".
Favorite Lyric- "You ask me to be blameless. You ask me to be blameless, but who are you to decide what's right? Don't say another word! Don't say another word, you've crossed the line!"
3. The Eleventh Hour (Messengers)
The Eleventh Hour focuses on that fact that death comes for all of us, and for those that continue to reject Christ and make up their own belief systems, they will be in eternal punishment when they can no longer choose in eternity.
Favorite Lyric – "The day is soon coming when turning your back won't be an option. Keep telling yourself what you really don't believe. You can compromise what you know to be true, and you can turn off all of your senses, but in the end you'll see nothing stands between a man and his Maker."
2. Composure (Messengers)
This song touches the serious topic of "cutting" to cope with the now and the past. It is an encouragement to forget the past and move on with your head high and living the life that is ahead.
Favorite Lyric – "Wave goodbye to the past. You've got your whole life to lead."
Bonus Lyric – "Roll down those sleeves. Don't let them see how you've coped. It's not the first time and they're getting deeper."
1. Meddler (Constellations)
Meddler focuses on how we tend to stay busy and fill our lives with something always to do while we ignore other people's issues and struggles. It is a cry out to God for how much we need Him and how we need to stop living for self and start living for others.
Favorite Lyric – "We'll feed our flame before wasting time on everyone else's. The gallows were not supposed to look like this. Oh God, we live in misery, lying here in desperation. We need You here more than anything right now...right now!"
Conclusion
August Burns Red is a staple in the metal community. They write amazing lyrics and heavy riffs! I hope you've enjoyed this list of the top 10 August Burns Red songs! God bless!
Article by Derek Hill
I am a Christian blogger with passions in music, games and news. I enjoy all kinds of music, with my favorite being Christian metal(all kinds). Some of my favorite bands are The Devil Wears Prada, Living Sacrifice(1997-present), and Becoming the Archetype. I enjoy many kinds of games including 1st/3rd person shooters, platformers, RPG's and many more. I am a big fan of the multiplayer online games including the Call of Duty franchise of games. I have been saved since I was 9 years old. I am also a father of 2 beautiful children and I love it!