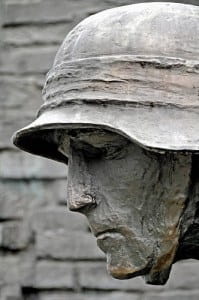 Are you in a helpless and hopeless situation? Is your marriage on the rocks? Do the people around you seem to mistreat you? We all have to survive hard and challenging times and through this, wonder why. I recently had the pleasure of learning about a Polish woman named Dara that endured hardship, after hardship – especially in her marriage.
Miroslaw and Marilu Bartczak are missionaries in Wroclaw, Poland who had the pleasure of studying the Bible with Dara when she was very old. Her real name means wisdom, so we have chosen to call her Dara, which means wisdom in Hebrew. Dara was a woman that kept her heart centered on God's love through an unimaginable journey during World War II when she was ripped away from her family and then mistakenly married an older man while still young.
Happy Years Turned Into One Long Nightmare
She was born into a loving and caring family in the mountains of Poland and her family instilled in her a love for God at a very early age. She was accustomed to working hard on her family's farm. When she was in her late teens, the Nazis showed up and commanded control of her life. She served at least part of her time working in the home of an SS officer who controlled and physically abused her. One time an SS officer broke her jaw after she accidentally dropped a tray. This type of harsh treatment was common and considered normal. Millions of Polish citizens were displaced and hundreds of thousands were killed during the war, yet as traumatic as this must have been, she somehow survived.
Marrying For Safety
After the war ended it was very challenging to reconnect with family members since many did not know where their parents and siblings were sent, let alone if they survived. Many cities were completely destroyed, so there was nothing for people if they returned to their hometowns and resources were used to rebuild the larger cities. Now in her early 20's, Dara returned to Poland and immediately sought marriage in return for safety. Because her choices were limited since she lacked money and education, Dara ended up marrying an older man who put on a good face so she would follow through with the vows. She may have been safe from others harming her, but her husband was cruel, abusive, controlling and immoral.
God's Calling Through a Split Family
Dara raised two daughters and worked outside of the home in a factory. Her heart was turned toward helping others and God opened the doors allowing her to help many individuals. She stayed with her abusive spouse and his behavior was very detrimental in guiding their daughters to live a life for Christ. Her youngest daughter ran off and married a gypsy man at only 16 years of age and left her community gossiping about this for years. Despite this, Dara helped raise her eight grandchildren, knowing this was God's calling. Family drama ensued during the years she helped with her grandchildren and her husband also became ill. Even while ailing, he was still horrible to her and far from encouraging. Dara was in her forties when her husband died at age 59.
Test of Faithfulness
She had stayed faithful to him through everything – a lesson that is often hard to swallow for our avenging culture. Although one burden was lifted upon his death, her family continuously pursued opportunities to take advantage of her, even stealing her retirement money and nearly starving her to death. Her husband's corrupt behavior had lived on through the lives of her younger daughter and some of her grandchildren, but she stayed focused on God, which is where she found her strength.
Her older daughter followed more in her footsteps, and was always a hard worker. She went on to get an education, and during her studies met and married a major in the military. Afterward she found a good job, but unfortunately she and her husband were unable to have children.
You Get Used to Mistreatment
The people in Dara's community often talked about her behind her back because of the actions of her husband and her younger daughter. Their judgmental glances replaced warm smiles that she once soaked in daily, long before the war uprooted her life.
Inspiration from Hopelessness
The Bartczaks met Dara after she had lived most of her life and this is what they remember the most about her, "We had the honor of meeting her in her later years, studying with her and seeing her be baptized. She had always believed in God, read her Bible and asked God for help through all the difficult years. She wanted to obey God's commands and I know that she believed in Paul's words, "For I consider that the sufferings of this present time are not worthy to be compared with the glory that is to be revealed to us," (Romans 8:18). She was a very humble person, and sought to do what was right despite her difficult circumstances. She is an example to many."
Dara's story is a reminder of how much her faith brought the hope she needed to survive the long and trying years. This reminds me of the song "Beautiful Way" by All Star United.
Resources- ESV Holy Bible, Youtube, Photo Credit: archer10 (Dennis) via Compfight cc