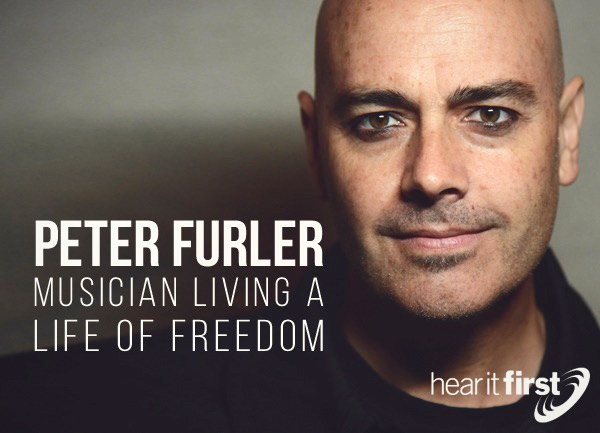 Peter Furler is a legend in Christian music. He helped form the music sensation the Newsboys with childhood friends from Australia. After leaving the popular band in 2009, Peter went on a journey to break away from the life of stuff he had accumulated and live more by going with his gut to make decisions. This is evident in the three records he collaborated on that were released this year. Sun and Shield by the Peter Furler Band was released in March, Christmas with David Ian in October and Goliath by The Perfect Foil with Steve Taylor in November.
"I live a different life now. I'm more fulfilled and filled with the most joy that I have been in my life. Sometimes people think I was there before. I have different things and motives and goals now and I think they are better. I am an encourager and I feel encouraged. There are times we get down and beat ourselves up about things and I do too. Summer (his wife) and I, we live simple lives. We are not trying to promote ourselves. I've had all that and it wasn't worth it. We spent the last bunch of years of our life getting rid of that stuff. You're able to be led places and not led along by finances."
Peter approached each of these albums differently than when working with the Newsboys. "I've desired to show up and just sing for a long time." When he was with the Newsboys he was writing the music, singing, recording and producing and now he is simplifying his role in each project.
"With The Perfect Foil it was four guys all playing four equal parts – that's how a band should be. That's been fulfilling," said Furler.
Collaboration on a project is either there or not. He and Steve decided to put together an album and Peter refused to sing. He played the drums, Steve sang and they chose their favorite bass guitarist, John Mark Painter and guitarist Jimmy Abegg. "The teamwork aspect is really powerful. It's a scriptural thing with the power of agreement. When you get two or three or four people in a room and they all agree on the outcome of the song it can be really, really special," said Furler.
Following His Gut Lead to the Christmas Album
Christmas with David Ian was also a completely different experience. David, a world-renowned jazz and piano player, asked Peter to sing on the album, going a completely different direction than ever before. When I asked Peter if he had ever considered making a Christmas album, his genuine and honest answer surprised me. "I grew up in a time whenever an artist did a Christmas album it was because they were on a way out. I wasn't a fan of bands putting their own sound on Christmas. I love all Christmas music, traditional, vintage Christmas music. I always thought that to do it well was like trying to rewrite a Beatles record – you don't do it – you are going to hurt yourself." Why did Furler agree to do the album? Simple – he followed his gut, regardless of how successful it may be.
Peter put it beautifully,
"As Christians, we serve someone who didn't have a mega church. He wasn't popular at all at the time and was considered a failure years after his death. He had 12 disciples and he spoke to 5000 on the side of a hill and they all walked away. He would have been fired as a pastor. He had 12 disciples and he lost one of them and some of them scattered at the end as well. Looking at situations along the way there were people like Mary Magdalene and bunches of others who were healed and blessed and so we don't know the names of them. I think a lot of times you are right. Sometimes I just make a song that needs to hear it and sometimes that one person is me."
I feel blessed because Peter is following his gut. Christmas is a beautiful album. The music is traditional, emotional and powerful. This is not your typical holiday album. You will be reassured of Christmas' past and find yourself filled with warmth and hope as Peter's smooth and enveloping voice touches your soul on a personal level accompanied with soulful jazz music.
What was it like collaborating with David?
"He started working on the tracks and he didn't show me anything. He put a mic in front of my face and said here are the lyrics; do you know this one? At least one of the vocals in the hotel room made it onto the record. About halfway through the project I started to see something happening. Dave produced the record and I helped with arrangements."
I see a Peter who is passionate and humble with his musical talent and not living by the chains of deadlines and the expectations of others. This is remarkable in a world that may have always envisioned Peter as the lead singer of the Newsboys. It certainly was job security, but Peter isn't following a path that is easy or based on the expectations of people.
What Is Peter Furler's Dream Job?
Have you ever wondered what his dream job is? I thought he would love to be an artist because of his beautiful paintings, but he reassured me that painting is just a break from music. He really wishes he could be a professional motorcycle rider. Thank you Peter for continuing to bring millions of fans authentic music and listening to God's calling for your life.
In closing, Peter thanks you all for listening to his music. Check out his newest albums, Christmas and Goliath. By the way, he hinted on a possible electronic dance record for 2015. Yes please!
Article by Elise Cleary
I am a Christian writer and editor that lives in northern Michigan and thoroughly enjoy music, movies, TV shows, books and other entertainment with a Christian focus. My favorite song is "Oceans" by Hillsong United because it reminds me that has big plans for me and everyone else who puts their trust in Him. There are many movies that have impacted my life, but a few include God's Not Dead, The Shunning and Letters to God. I also write for www.faithandentertainment.com and love connecting with readers, so please don't hesitate to contact me! When I'm not writing I enjoy watching movies and laughing with my busy toddler and husband.