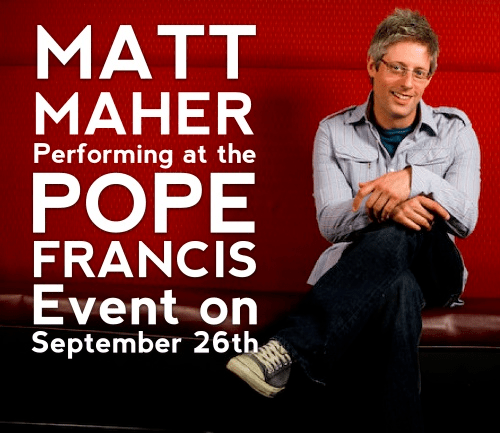 Pope Francis began a tour of America on Monday, September 22nd and he will be visiting different locations and meeting with leaders through Sunday, September 27th. One part of his 2015 Apostolic Journey to the United States of America includes spending time at the Festival of Families, which is part of The World Meeting of Families 2015 in Philadelphia and celebrates families and the unity of the church around the world. Five-time GRAMMY-nominated Christian artist Matt Maher will be performing at the event on Saturday, September 26th, on the Benjamin Franklin Parkway.
"It is an absolute honor to be with so many other families from around the world and join them (and Pope Francis) in unity proclaiming a beautiful reminder - that at the center of any healthy society is the family," shares Matt Maher about this upcoming event.
Prior to his performance at the Festival of Families on Saturday, September 26th, Maher also performed at Saint Patrick's Cathedral in New York on September 24th. The song list for this momentous event includes some of his timeless tracks and new releaseses including "Lord I Need You," "Sons & Daughters" and "Hold Us Together." If you have seen Maher perform in concert, then you've experienced the Holy Spirit move during his performances and can accept nothing less during this weekend's.
The event is projected to draw in over one million attendees and this year's event will be available for streaming here: http://www.worldmeeting2015.org/the-latest/livestreamwmof/
In addition to Maher's performance, a long list of performers includes Andrea Bocelli, Aretha Franklin, Jim Gaffigan, The Fray, the Philadelphia Symphony Orchestra and will be hosted by Mark Wahlberg before the Papal Parade. The artists will begin performing on the Eakins Oval Stage beginning at 5:27 p.m. EDT on September 26th.
This is Maher's second time performing on stage with Pope Francis. In 2013, he sang "Lord, I Need You" in front of an audience of three million people at the World Youth Day in Rio de Janeiro in which he was so filled with the presence of God that he lead "Lord, I Need You" while kneeling in humility.. We are excited for how God will reach many through Matt Maher and the other performers and we send our blessings to Pope Francis as he visits America.