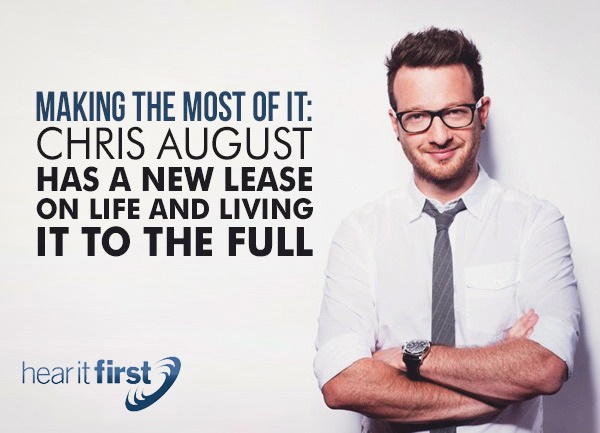 Chris August went on quite the journey over the past few years and emerged with the new album The Maker, which released April 7, 2015. It features 13 songs, including "The Maker", "He's Still Here" and "Gotta Be A Change". The entire album is about focusing on how much God loves us, giving our troubles to God and also features some fun songs like "Superhero". Chris battled depression and a physical injury and had to overcome a spiritual fight to rediscover the vigor and joy of his faith. It started in 2012 after getting into a skateboarding accident that left him in critical condition and unable to remember how he ended up with a head injury. This impacted his music big time because he now writes music with more purpose that isn't as focused on achieving fame. He comes from a sense of deep gratitude and thankfulness for each day. I think Chris is brave in being open about his struggles as we all have them, just in different forms.
Here's an overview of some of my favorite songs on this album!
"Drop Your Stone"
This song opens up talking about a few people who are living life with struggles, from a homeless man to a single mom. The focus isn't on these individuals, it's on people on the outside who are ready to cast stones. Chris August sings about how everyone lives with some form of depravity and how love is lacking when you are pointing fingers.
Favorite Lyrics
If we're pointing the finger
Three are pointing back at us, back at us
Do you not remember
Where we were before His love, before his Love?
Whatever you were gonna throw
Now's the time to let it go, and drop your stone
"Something"
"Something" is a really sweet song about a guy praying for his future wife. He sings about feeling complete with his wife and child and how it was worth waiting for.
Favorite Lyrics
Every single day I've been
Patiently just praying and
Baby, you are more than worth the wait
For the rest of my days
Till my life is through
I want to just spend them with you
"Gotta Be A Change"
Have you felt that you need to change since accepting Christ as your savior? Christ shares the message that although we have God's mercy, you have to change from the person you used to be. This is one of my favorite songs on the new album because it makes you think deeply about how Christ is working in you!
Favorite Lyrics
There's gotta be a difference, there's gotta be a change
You love me as I am, but You called me from the grave
Now that I've met Your mercy, I can't just stay the same
There's gotta be a difference, there's gotta be a change
There's gotta be a difference, there's gotta be a change
"Muddy Waters"
This is a fun and upbeat song about how only God can bring us out of muddy waters. We chase after Earthly cures when Jesus is the only true physician who can save us.
Favorite Lyrics
I need some help from the Father
Won't You come and save Your son
I need some help from the Father
Won't You come and save Your son
I believe that Your life can make it right
And that the healing's already done
I'm gonna play it like it is
"The Maker"
We are surrounded by God's creation from the sunrise and rain to laughter and pain. God is always near. There is beauty in all of it and God is showing us how much He loves us through it all.
Favorite Lyrics
Your love is like a mighty fire deep inside my bones
I feel like I could climb a thousand mountains all at once
And I never have to wonder if somebody cares for me
I love the Maker
And the Maker loves me
Chris August started out as a secular artist and then was lead to Christian music after a recording contract fell through. The first song I recall hearing of his was "Starry Night", which I still love because it paints a beautiful picture of how majestic God is and the true artist our creator is. I'm excited about the new direction and music that Chris is taking. You can purchase the new album The Maker on iTunes and check out videos for many of the songs on his YouTube playlist. He will be touring around the country through May to the end of the summer.
Article by Elise Cleary
I am a Christian writer and editor that lives in northern Michigan and thoroughly enjoy music, movies, TV shows, books and other entertainment with a Christian focus. My favorite song is "Oceans" by Hillsong United because it reminds me that has big plans for me and everyone else who puts their trust in Him. There are many movies that have impacted my life, but a few include God's Not Dead, The Shunning and Letters to God. When I'm not writing I enjoy watching movies and laughing with my busy toddler and husband.