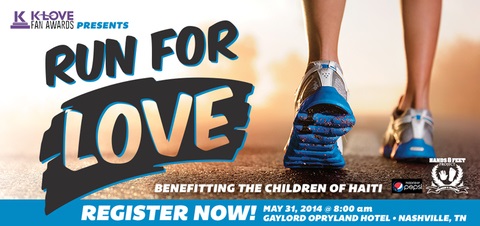 For the first time, the K-LOVE Fan Awards will incorporate a RUN FOR LOVE 5K at the Gaylord Opryland Hotel on May 31 as a part of the K-LOVE Fan Awards Weekend. The 5K will benefit the Hands and Feet Project and the children of Haiti. Christian fans will have the opportunity to run alongside some of their favorite artists as they support the work of the Hands and Feet Project.
"The K-LOVE Fan Awards was a fantastic event last year," said Mark Stuart, Executive Director and Co-Founder of the Hands and Feet Project. "This year the fan experience will be more exciting and more significant. K-LOVE Fan Awards and the Hands and Feet Project are teaming up to bring hope to Haiti's orphaned and abandoned children by putting on the first annual RUN FOR LOVE, a celebrity 5K Fun Run. Where else can you break a sweat with some of your favorite artists to bring hope to some kids in Haiti? It's all about love. What are you waiting for?"
Lacing up to participate in this year's 5K Fun Run is K-LOVE Fan Awards host Matthew West, Tenth Avenue North, KJ-52, Audio Adrenaline, Sidewalk Prophets, Group 1 Crew, Citizen Way, Finding Favour, Josh Wilson, Rhett Walker Band, City Harbor, Everfound, K-LOVE On Air DJs and more.
Each participant will receive a RUN FOR LOVE race tee and swag bag including music and merchandise. This is a once-in-a-lifetime experience for fans as they get to run or walk alongside some of their favorite artists on Saturday morning, the day before the K-LOVE Fan Awards. Fans can register for the RUN FOR LOVE 5K here: http://smarturl.it/run4love14.
K-LOVE – the largest Christian music radio network with a weekly listenership of over nearly 14 million people – has also announced more nominees in the categories of Film/Television Impact, Book Impact and Sports Impact (a full list of nominees can be seen here):
Film/Television Impact
Duck Dynasty
God's Not Dead
Heaven Is For Real
My Hope America with Billy Graham
Son of God
Book Impact
Balancing it All by Candace Cameron Bure
Not A Fan by Kyle Idleman
One Thousand Gifts by Ann Voskamp
You'll Get Through This by Max Lucado
Sports Impact
Clark Kellogg, CBS Sports broadcaster
Cody Zeller, Charlotte Bobcats Center
Gus Malzahn, Auburn Tigers Head Football Coach
Stephen Curry, Golden State Warriors Guard
Thomas Davis, Carolina Panthers Linebacker
Winners will be announced LIVE at the awards show in the categories of music, sports, books and movies. To vote, visit: www.klovefanawards.com.