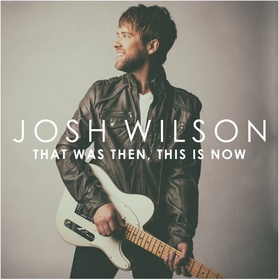 Josh Wilson is celebrating his highest street week debut in his storied nine year career with the recent release of That Was Then, This Is Now (Sparrow/Capitol CMG). The album landed in the Top 5 on the Billboard Top Christian Albums chart and his first ever debut on theBillboard Top 200 chart, selling more than 25 percent over his last album's (Carry Me – 2013) street sales. (Tweet this news link)
Tweet this: @joshwilson is celebrating his highest street week debut in his nine year career with the recent release of That Was Then, This Is Now
With the release of this album, Wilson feels more resolute in his mission, "I think there is confidence in knowing this is my calling, but there's also humility in knowing that my talents are on loan. I am stewarding this gift of music. I feel a renewed sense of purpose." (Tweet this quote link)
Tweet this: "I am stewarding this gift of music. I feel a renewed sense of calling and purpose." @joshwilson
Wilson spent the last two weeks with radio stops across the country promoting his title track single and the new album with stations such as KLTY, KSBJ, and KXOJ. The debut radio single and title track from the project is currently climbing radio charts at AC Indicator (No. 3), Top 10 at AC Monitored and the National Christian Audience chart (No. 12) with 5.8 million total audience impressions. Fans can also check out the current issue of CCM Magazine as Wilson graces the cover with the story behind this album. Click on the cover below to check out this story. Media have also praised Wilson for his newest effort with high reviews. Here are a few things that the media have had to say about That Was Then, This Is Now:
"That Was Then, This Is Now is certainly going to turn heads because of the way it approaches music as art without watering down the message."
-Breathecast
"With lyrics that pack a punch and a fresh, updated sound, That Was Then, This Is Now, is aptly titled and will serve to define this moment in Wilson's now nine-year career."
-CCM Magazine
"That Was Then, This Is Now is an ambitious, fun, pop record that stretches Josh Wilson musically and lyrically."
-CMAddict
"This most recent endeavor sees Wilson formulate an intimate and personal worship experience while remaining relaxed, accessible, and charming."
-JesusFreakHideout
ABOUT JOSH WILSON:
The Texas-native started taking piano lessons in fourth grade, learned guitar and drums in sixth and seventh grade, and fell in love with songwriting in college at Nashville's Belmont University. A self-described introvert with an aversion to the spotlight, Wilson never dreamed he'd be the one behind the mic, but God had other plans. Since signing to Sparrow Records in 2006, Wilson has become a staple at radio, amassing five Top 10 hits on Billboard's Hot Christian Songs chart, including "Savior, Please," "I Refuse," "Fall Apart," "Carry Me" and "Before The Morning," which landed the No. 4 spot on Billboard's 2012 Year-End Christian Songs chart. He's toured with some of the genre's biggest acts, including Third Day, Steven Curtis Chapman, Matthew West and Casting Crowns; and even veteran artists who applaud Wilson's carefully honed musicianship have admired his impressive live show. He's been known to have as many as 20 instruments on-stage at any given time (and knows how to play all of them).