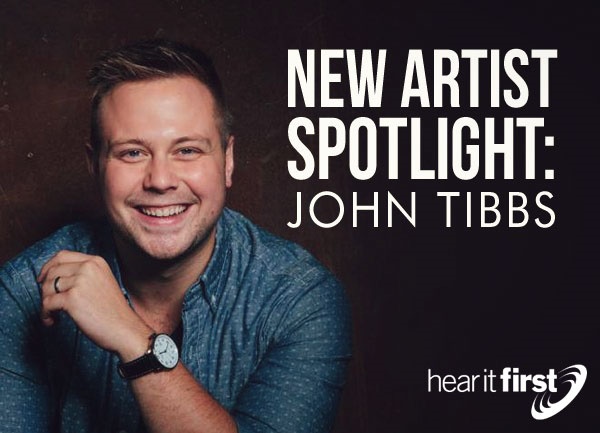 John Tibbs is a newer Christian artist, but he has already shared the stage with names you love in Christian music. Over the last few years he has toured with Newsboys, Gungor, Tenth Avenue North and Audrey Assad. He has released two EPs: Swallowing Death, Breathing Life (2012) and Anchor (2013). His latest EP, called Dead Man Walking, is releasing October 30, 2015 and features the single "Dead Man Walking". If you have heard "Anchor," you will remember the energy that John brings to his music.
John's musical style is unique and you gain a personal sense of who he is as each song comes from a place of deep longing to bring hope to others. We know you will enjoy his music and wanted to take the opportunity to tell you more about him.
Musical style
John has more than a great voice – he brings his experience as a worship leader to each performance and guides the audience to worshipping and praising God. His songs remind me of watching a talented band – they bring in numerous instruments at the right time and change it up for each song. "Run Wild" includes a guitar, drums, banjo, tambourine and other instruments. The rhythm of most songs is upbeat and the energy changes throughout each song – this is very true for his song "Anchor". Overall, you will hear tones of country, an Irish jig and modern Christian pop all mixed together. His songs are each unique and really fun to listen to.
John's mission is much greater than creating fun music as he has mentioned, "My hope is that I can create music that connects people to Jesus – both Christians and those who may not identify with Christianity. I want to make music that moves people, and I hope that it honors God."
Where is John From?
John is from Indiana and recently moved to Nashville, Tennessee after being discovered on Noisetrade. He has a record deal with Fair Trade Services – the same label as The Digital Age, Shane & Shane, MercyMe and Phil Wickham. John isn't typical. He doesn't want to follow the path of everyone else. He does want to be a great husband, dog owner and child of God. He's just like you – trying to carry out God's will in this life that includes hectic days with some that require more coffee than others.
Song Highlights from Dead Man Walking
"Dead Man Walking"
The story behind "Dead Man Walking" is uplifting and tells why we can let go of the chains pulling us down that Christ already broke. Sometimes we feel like the chains will always hold us down, but they no longer have that power when you align your thoughts with those of Christ. Our favorite lyrics include: "Your love Your love oh it set me free | Oh no guilt no shame got a hold on me | Your love Your love well it opened my eyes | I was a dead man walking till You gave me life."
John shares his hope for this song, "Since I was a kid, I've had a stutter. As I've grown up I've done everything I can to cover it up. These last few years have been a journey of learning it's a piece of who I am, and it's really ok. It doesn't define me. I believe we all have our own struggles and situations, and although I don't know why these things exist - I do know our God is in everything. I hope 'Dead Man Walking' is a song that points you to your struggles and then to Jesus. He is our hope and peace."
"Abraham"
"Abraham" references the Bible story of Abraham and the journey that God took him on and then connects the message of hope from that story to your life today. Our favorite lyrics include: "Towering Bridge Uniting hope amidst shadows fear Carrying light, he's redeeming, drawing near He's in the pillar of stone Laid down with memory Remember love It is our harmony It's not where you've been It's not what your eyes have seen It's not who you are It's not what you're becoming It's not what you say It's not what your hands have held It's the grace of God who makes this fallen place whole."
"Run Wild (In My Soul)"
"Run Wild" has a country sound with a banjo and the whole song is about God running wild in our soul and letting Him take over. We love the imagery of freedom this evokes and we think about running free through a field of flowers. Nothing can hold us back when God's running wild through our souls. Our favorite lyrics include: "We stand free | In you we belong | Run wild | Run wild in my soul | Run wild | Run wild in my soul."
More is Coming!
John Tibb's new EP album is releasing October 30th with a full-length album promised early next year! Connect with John on Facebook and Twitter to get to know him and stay updated on his upcoming show dates. Pre-order John Tibb's "Dead Man Walking EP" on iTunes now (http://smarturl.it/JT-DMW-EPiTunes). We can't wait for you to devour his new EP and for the other music he will be releasing next year.
Article by Elise Cleary
I'm a Christian writer and editor residing in northern Michigan and thoroughly enjoy Christian centered music, movies, TV shows and books. A favorite song is "Oceans (Where Feet May Fail)" by Hillsong United and I find many songs by Matt Maher, Tim Timmons, Third Day, Laura Story, Jeremy Camp and numerous other artists uplifting. A few of my favorite Christian movies include God's Not Dead, The Shunning, Do You Believe and many by the Kendrick brothers. When I'm not writing, I enjoy running, experimenting in the kitchen and spending time with my musically gifted husband and spunky daughter. I am so blessed and in awe of the work God is doing throughout the Christian entertainment industry.