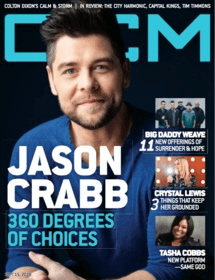 GRAMMY-award and multiple DOVE-award winning artist Jason Crabb celebrates the release of his new studio album Whatever The Road on his new label home Reunion Records. Whatever The Road debuted at No. 4 on the Billboard Top Christian and Gospel Albums chart and at No. 1 on Soundscan's Adult Contemporary Albums chart. The new album is available in all digital and retail stores now and is receiving praise from fans and media.
Working with producers Jason Ingram (Chris Tomlin, Tenth Avenue North, Kari Jobe), and Paul Mabury (Hillsong, Lauren Daigle, One Sonic Society), Crabb takes a bold new step forward, not just lyrically but stylistically, and has finely honed a collection of anthems for the church that have sophisticated pop sensibilities as well as deep, substantive lyrics that are resonating with everyone.
This month Crabb is featured on the cover of CCM Magazine as well as coverage on Digital Journal, Yahoo!, Guideposts.com and a review from Associated Press. Recently an album release televised special aired on TBN showcasing new songs from Whatever The Road as well as some fan favorites from previous albums. The special will re-air next month. Next month he will be hosting the backstage and behind-the-scenes of the 46th Annual GMA Dove Awards via Periscope (@GMADoveAwards) on October 13.
"Crabb's latest project will firmly entrench him as one of Christian music's go-to-guys-transcending perceptions and barreling through dense barriers. We certainly agree that the music is wonderful." - CCM Magazine
"...Crabb's masterful display on this project..." - Associated Press

"This could be a career-making year for Christian artist Jason Crabb. Whatever the Road is giving fans an up-close and personal look at his heart." - Guideposts
"I highly recommend his new album. These songs are well suited for the church as well as your home. You will be moved by the message in each song."- Hollywood Jesus

"While the project marks Crabb's first foray into songwriting and Adult Contemporary radio, it's not the change in musical landscape that will catch the ears of listeners. It's the stories of loss, love and, ultimately, hope that he tells through this new collection that will tug at heartstrings and keep this album on repeat for years to come." - Vital Magazine
"Jason Crabb's big heart and amazing voice continually rises to the top, making him one of the industry's most exciting listens. And that reputation will only be more enhanced with the release of Whatever The Road." - Soul-Audio.com
"What's most impressive is that Crabb has curated a group of songs that satisfy every musical taste - from pop to country to worship - and though they're each different, every song speaks straight to the heart." - Simple Grace Magazine
About Jason Crabb: In his career, Kentucky-born Jason Crabb has won a GRAMMY (in 2010 for Best Southern/Country/Bluegrass Gospel Album, Jason Crabb) and 21 Dove Awards, both as a solo artist as well as with the Crabb Family. In 2012, the Gospel Music Association's Dove Awards crowned Crabb as both Artist and Male Vocalist of the Year.
Jason Crabb has performed at many of the world's most prestigious stages such as Carnegie Hall, the Grand Ole Opry, the Brooklyn Tabernacle and Billy Graham's final crusade in NYC. He has also shared the stage with artists such as Wynonna, Brad Paisley, Blake Shelton, Sandi Patty, the Oak Ridge Boys and more. He has appeared on Donald Trump's "Celebrity Apprentice" (NBC) and alongside Duck Dynasty's Willie Robertson.
Jason Crabb has been covered in such outlets as Associated Press, Huffington Post, Billboard, USA Today online, Fox News, Entertainment Tonight, Country Weekly, among others, and was named one of Nashville's Most Beautiful People by Nashville Lifestyles Magazine. Jason Crabb is also a host at TBN (Trinity Broadcast Network).