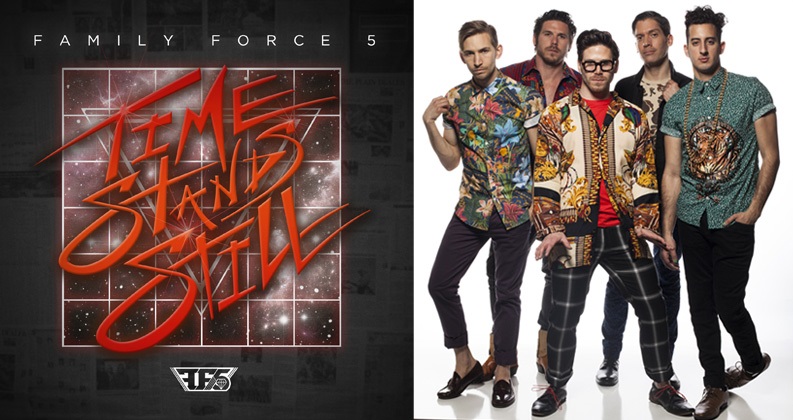 Momentum continues to build for Alternative Pop/Rock band Family Force 5 in advance of the Aug. 5, 2014 release of its first studio album in three years, Time Stands Still, from Word Entertainment. The highly anticipated, 15-song recording is being featured now at iTunes in a pre-order campaign that includes two Instant Grat Track downloads from the album, "Let It Be Love" and "BZRK."
"BZRK," the first video from Time Stands Still that released May 23, has already gathered over 250,000 views and 2,400 likes on YouTube in just eight days. Family Force 5, who has been at the forefront of driving video content throughout its career, also released "BZRK" as the lead Rock single at Christian radio. This week, the song becomes the second "Most Added" single in the format. Watch the video below.
Family Force 5 further released its first Christian AC/CHR radio single from the album, "Let It Be Love." The song, which emphasizes the incredible, life-giving power of grace, went for adds at radio last week and is quickly gaining airplay nationally, becoming the top "Most Added" at CHR radio and second "Most Added" at Christian AC this week.
"I remember getting the single and thinking 'do they have something that will work for AC radio?' Then I heard the song and thought 'man, what a win!' I love the message," says Ben Milton, WGTS FM (Washington, DC) music director, "plus the fact that it sounds fresh, fun and great on the air."
Produced by Riley Friesen (Vota, Staggerford) and Seth Mosley (Newsboys, for KING & COUNTRY), Time Stands Still also features "Glow In The Dark," "Sweep The Leg" and more songs that Family Force 5 member Jacob Olds ("Crouton" / vocals, drums) says "step outside of the box from the way faith-based artists have traditionally sounded and worked."
Known for electrifying crowds worldwide with a unique blend of dance and rock, Family Force 5 will be taking the new music and fan favorites on the road. This summer Family Force 5 will be featured at numerous festivals, theaters and arenas internationally, including at Creation Northeast (6/27, Mt Union, PA), Seaside Festival (7/4, Tvedestrand, Norway), Gullbranna Fest (7/5, Halmstad, Sweden), Lifest (7/11, Oshkosh, WI), Sonshine Festival (7/17, Willmar, MN), Creation Northwest (8/2, Kennewick, WA), Rock The Desert (8/8-9, Midland, TX) and many more. For the latest tour itinerary, click here.