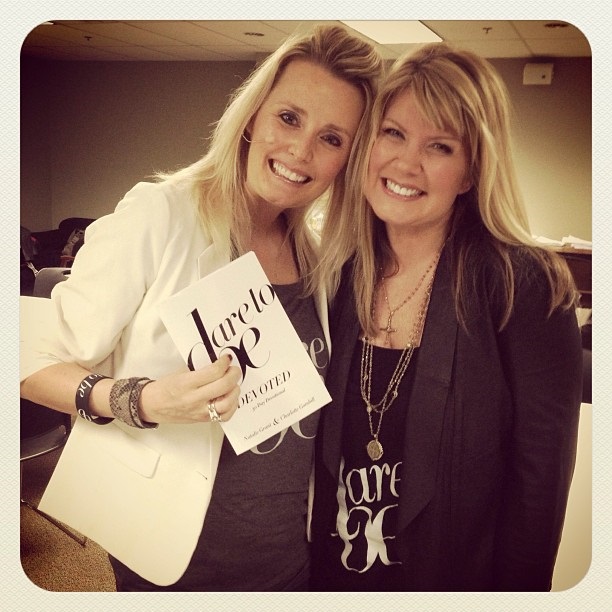 Dare to Be Nationwide 2014 Event Tour Launches With Sell Outs, Featuring Grammy® Nominated Vocalist Natalie Grant And International Speaker, Author Charlotte Gambill
The Dare to Be...The Journey Continues 2014 event tour launches this weekend, with two of the upcoming dates already sold out. The tour kicks off in Sacramento, Calif. on Friday, January 10. Crossing the United States and creating an unforgettable experience for women of all ages to come together and 'dare to be' empowered to make a difference in their life, their family and community, the event tour features Grammy® nominated vocalist Natalie Grant and international speaker, Bible teacher and author Charlotte Gambill. Tickets are on sale now for remaining events.
The night is created for women to unwind, be refreshed, and celebrate life with other women in their lives. They will be dared to follow their dreams, challenged to do more than they ever thought possible, and to let go of their fears and embrace who they truly are in Christ. The affordable, three-hour event is a fully integrated evening of teaching, music, and media that will infuse incredible worship and Bible-teaching into one evening.
At each event, Dare to Be will honor one local woman who has overcome extraordinary circumstances and is now an inspiration to others by making a difference in her community. Nominations will be taken in each city, and Dare to Be will surprise one woman at each event. Nominee stories may be submitted to Natalie and Charlotte for consideration at daretobeevent.com/stories.
Tickets are on sale at the daretobeevent.com.
Abolition International is the presenting sponsor for 2014. Abolition International was founded by Natalie in 2005 and is making a difference in the lives of human trafficking victims by advocating for quality care, education and awareness. Abolition International's mission fits perfectly with the purpose of Dare to Be and Natalie and Charlotte are excited about the possibilities of restoration through this partnership. Regent University also returns as a supporting sponsor for 2014.
DATES/CITIES/VENUES
January 10, 2014 Sacramento, CA Capital Christian Center
January 11, 2014 Portland, OR Crossroads Church
January 12, 2014 Coos Bay, OR Southwestern Oregon Community College-SOLD OUT
January 16, 2014 Twin Falls, ID Twin Falls Reformed Church
January 17, 2014 Boise, ID Capital Christian Center
January 18, 2014 Seattle, WA Christian Faith Center
January 19, 2014 Bellingham, WA North County Christ the King
January 23, 2014 Virginia Beach, VA Wave Church
January 24, 2014 Baltimore, MD Bridgeway Community Church ---- SOLD OUT
January 25, 2014 Washington, D.C. Christian Fellowship Church
February 20, 2014 Coral Springs, FL Church by the Glades
February 22, 2014 Tampa, FL City Life Church
March 1, 2014 Waxahachie, TX The Avenue Church