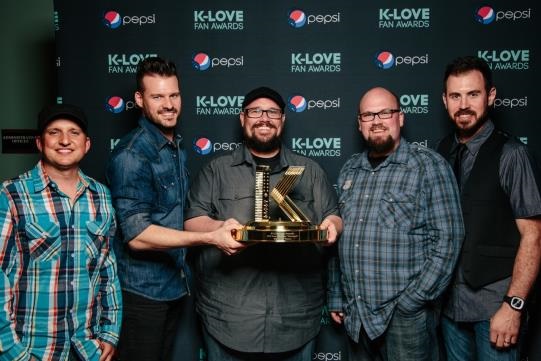 The Band Performed "Redeemed" Before the Fan-Filled Ryman Auditorium in Nashville Saturday Night
Photo Credit: David Molnar Photo ID (L-R): Joe Shirk, Jeremy Redmon, Mike Weaver, Jay Weaver and Brian Beihl
NASHVILLE, TN – (June 3, 2013) –Saturday night was a momentous evening for Big Daddy Weave as they took home one of the evening's top honors by picking up Song of the Year for their hit song, "Redeemed," at the K-LOVE Fan Awards. During the award show the band also played a stirring rendition of the fan-voted favorite in front of a packed Ryman Auditorium. In addition to the K-LOVE Awards, "Redeemed" also received a nomination for Christian Song of the Year at the 2013 Billboard Music Awards. "Redeemed" is the most successful song of Big Daddy Weave's career having spent 12 weeks at No. 1 on the Christian radio charts and selling over 280,000 song downloads. In May, they released their third single, "The Only Name (Yours Will Be)," from Love Come To Life to radio.
"I was shocked and overwhelmed," said Big Daddy Weave frontman Mike Weaver. "I couldn't believe it. What an honor to be voted on by the listeners, especially in light of how many huge songs in that category that I'm a fan of. To win this award, then to be congratulated by the people from your favorite TV show was amazing – it was like a dream! Thank you so much to K-LOVE for such a special weekend. This first-time event seems like the beginning of something big."
Big Daddy Weave formed when its members got together at the University of Mobile. They stepped into the spotlight in 2002 with the release of their second album One and Only, which debuted in SoundScan's Christian Top 5 and saw the group nominated as Dove Awards New Artist of the Year. Their 2010 album Christ Has Come won a Dove for Christmas Album of the Year, and they recently released their first greatest hits compilation, The Ultimate Collection. They have been honored at ASCAP's Christian Music Awards, were chosen for the WOWHits compilations in five of the last six years, and are one of the 10 most played artists at Christian radio over the past decade.