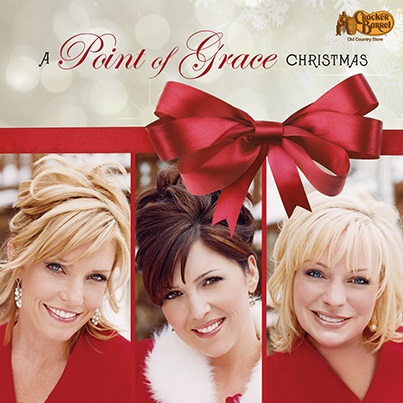 A few years ago we were given a holiday treat from the ladies in Point of Grace with their Christmas album, Home for the Holidays. It was a real delight and the group has gotten back together to give us another Christmas outing. A Point of Grace stands out by being released exclusively at Cracker Barrel restaurant stores. This gives the trio a chance to try some new things. The main distinction of the album being featured by the restaurant is the interesting divide of sound between the first and second half of the album. The first half of the album has almost a jazzy sound with the second featuring a more country focused feel. It's an interesting concept for the album, and one that practically gives you two albums in one.
Kicking off the first half of the album is the grand opener, "It's The Most Wonderful Time Of The Year." It starts off with a huge opening and features a full band backing the group. It's a style that carries on through the entire first half of the album. "Winter Wonderland" is a great representation of Point of Grace's vocal abilities and "Jingle Bells" is a true highlight. The song starts off as an a cappella piece until the full band comes in near the one minute mark. "The Santa Medley" is a truly fun track, featuring parts of Christmas favorites such as "Here Comes Santa Clause" and "Frosty the Snowman". Closing out the first half of the album are the more spiritually driven "Unto Us" and "Breath of Heaven (Mary's Song)". They're similar to the style of the other songs on this half of the album, but are much slower and faith based. It's great to hear some spiritual Christmas songs before Point of G moves into the country side of things.
"Tennessee Christmas" wastes no time changing the style of the music. Right from the beginning you're gifted by an acoustic guitar and southern vocals from the Point of Grace ladies. "Little Drummer Boy" and "Candy Cane Lane" carry on the southern and country style, but the tempo really picks up with "Joy to the World". The track leads off with percussion and eventually brings in keys to give the song a more unique sound. On the country half of the album, this track is a clear standout. "White Christmas" is a great country reimagining of the Christmas classic, and "Home for the Holidays/Silver Bells" is a relaxing song that brings the album to a pleasant end.
Point of Grace really gives you two albums for one this Christmas. The first half is the jazz-styled/big band Christmas music you hear in holiday montages and the second is a country Christmas you will not forget. These are some great renditions of these Christmas favorites, and they are sure to bring you great joy and a wonderful sense of holiday nostalgia.
A Point of Grace Christmas Track Listing:
1. It's The Most Wonderful Time of the Year
2. Winter Wonderland
3. Jingle Bells
4. Santa Medley
5. For Unto Us
6. Breath of Heaven (Mary's Song)
7. Tennessee Christmas
8. Little Drummer Boy
9. Candy Cane Lane
10. Joy To The World
11. White Christmas
12. Home For The Holidays / Silver Bells
Written by Ben Mills for hearitfirst.com