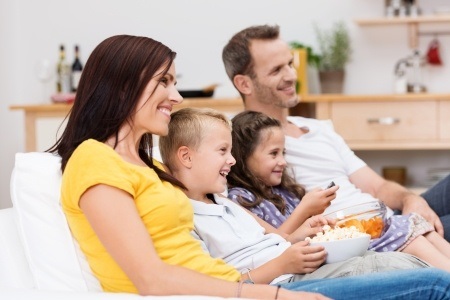 Do you struggle to find a clean television show that is appropriate for the entire family? No swearing, no promiscuity, no disrespect, just wholesome, good fun. Reality T.V. has come a long way over the past decade and offers humor and a glimpse into the lives of unique American families. Here are seven clean family TV shows on television.
Wipeout – ABC
The game show Wipeout premiered in the summer of 2008 on ABC and quickly attracted a huge following. Hosts John Henson and John Anderson chime in clean and funny quips about competitors' reactions to various obstacles as they rush to finish a particular course. Jill Wagner is the on-location presenter and interacts with the competitors. Contestants are often dressed in unique outfits. The show has been nominated for Kids' Choice Awards numerous times and has won three years in a row (2011 – 2014).
America's Got Talent
Simon Cowell of American Idol created America's Got Talent, which premiered on NBC in 2006. Anyone with a unique talent can complete, from kids to the elderly. Competitors audition in front of four judges and compete in rounds for their chance to win $1,000,000 and an opportunity to perform on the Las Vegas Strip. Judges on the show have included David Hasselhoff, Piers Morgan, Sharon Osbourne and Heidi Klum. Regis Philbin and Nick Cannon have served as hosts.
19 Kids and Counting
TLC's 19 Kids and Counting is a reality show that follows Bob and Michelle Duggar and their 19 kids who live in Tontitown, Arkansas. The Duggar children are all homeschooled and have strong conservative beliefs and values, such as women always wearing skirts and dressing modestly. Josh Duggar married Anna Keller in 2008 and they have three children. Jill recently became engaged to Derick Dillard and, just as with Josh and Anna, the topic of courtship was discussed extensively on the show.
Duck Dynasty
A&E's Duck Dynasty is a reality show that follows the Robertson family in West Monroe, Louisiana. They own and operate the company Duck Commander, which sells duck calls and accessories for duck hunters. Many viewers' fascination with the show comes from their strong and outspoken Christian beliefs. Phil Robertson was in the headlines for making anti-gay remarks during an interview with GQ Magazine and the entire family has stood firm in their support of him. The show portrays the Robertson clan as they are – rednecks that have a crazy sense of humor, but have their priorities straight at the end of the day.
Cake Boss
TLC's Cake Boss has followed Carlo's Bakery and Buddy Valastro since 2009. The bakery is based in Hoboken, New Jersey but has grown a strong fan following around the country. The bakery started out as an Italian family-operated bakery, but as Buddy has grown and expanded it through the years they have welcomed non-family members into the Carlo's Bakery famiglia. A spinoff show that has also garnered much success is Next Great Baker.
DC Cupcakes
TLC follows Georgetown Cupcake shop in DC Cupcakes. Sophie LaMontagne and Katherine Kallinis are sisters who quit their corporate jobs to start their dream cupcake bakery. The show follows the growing pains of running a small, one-shop bakery to developing multiple locations as they create statues, pictures and unique displays of cupcakes. As sisters, the two get on each other's nerves, but they have overcome a lot pursing their American dream.
Little People Big World
TLC's Little People, Big World premiered in 2006 and follows Matt and Amy Roloff who have been diagnosed with dwarfism. They have four kids, but only one of them has dwarfism. Although she is little, Amy can hold her own as she manages, chauffeurs, comforts and encourages her kids while Matt grows and operates the family farm. As dwarfs, Amy and Matt have overcome a lot and also travel around speaking about dwarfism and providing encouragement to countless individuals.
As with every show and family, none of these shows are perfect, which is a relief compared to the unrealistic dynamics that many Hollywood producers push on the market. What are your favorite clean family TV shows currently airing?
Article by Elise Cleary
I am a Christian writer and editor that lives in northern Michigan and thoroughly enjoy music, movies, TV shows, books and other entertainment with a Christian focus. My favorite song is "Oceans" by Hillsong United because it reminds me that has big plans for me and everyone else who puts their trust in Him. There are many movies that have impacted my life, but a few include God's Not Dead, The Shunning and Letters to God. I also write for www.faithandentertainment.com and love connecting with readers, so please don't hesitate to contact me! When I'm not writing I enjoy watching movies and laughing with my busy toddler and husband.