Baby Cracks Up Over Dad's Disney Voices During Storytime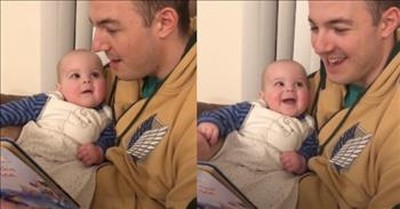 Prepare to and cast off all your cares now...because you won't be able to hold back the laughs while this adorable baby cracks up over Dad's Disney voices during storytime.

Doing his best impressions of the beloved Disney favorites, Mickey, Minnie, and Goofy, this dad delights his baby's heart so deeply, the belly-laughter is completely uncontainable.
As soon as the wide-eyed baby relaxes under a blankie, nestled in Daddy's arms for the entertainment of a story, the hilarious reactions start bubbling. With each up and down of Dad's comical Disney character voices, this chubby-cheeked cutie thrills in amusement.
The baby's board book, likely a favorite (as babies are known to have), is titled Mickey Mouse on the Ice. Naturally, this feels like a prime topic and story line—with slippery escapades and buffoonery—for Dad to make the most of Disney's animated antics.
The dopey, low tones of Goofy, punctuated with the spritely high squeaks of Minnie and Mickey, lights this baby's soul so completely with glee, it brings forth a cascade of smiles and laughter. The joy exchanged between baby and Daddy is so instinctive and genuine, it's simply contagious.
Baby Laughing At Dad's Disney Voices Goes Viral
Commenters on this viral video, with over 3 million views
share
, "This adorable baby is really impressed with daddy's awesome voices during story time." One commenter says, "This is the sweetest thing I have ever seen! Lol." Another adds, "Such a beautiful baby and amazing dad! A baby's laugh immediately makes me smile regardless of how I'm feeling."
And isn't that why we read stories? To take us away from things we might be feeling before the story began, and release our emotions to the thrill of a tale. When we read to our babies, we fuel their imagination, and ours.
As this baby glances back and forth from the book to her father's face, we sense a trust in the giver that's reminiscent of a childlike faith in God.
Utterly absorbed in Daddy's expressions, this beautiful baby lets us snuggle up to the innate wisdom of children—that gladness is good for the soul.
"A cheerful heart is good medicine…"
Proverbs 17:22
godtube-inspiration

14308 views

2021-02-10T09:34:23

source: Sunny Skyz Prepare to and cast off all your cares now...because you won't be able to hold back the laughs while this adorable baby cracks up over Dad's Disney voices during storytime.

Doing his best impressions of the beloved Disney favorites, Mickey, Minnie, and Goofy, this dad delights his baby's heart so deeply, the belly-laughter is completely uncontainable.

As soon as the wide-eyed baby relaxes under a blankie, nestled in Daddy's arms for the entertainment of a story, the hilarious reactions start bubbling. With each up and down of Dad's comical Disney character voices, this chubby-cheeked cutie thrills in amusement.

The baby's board book, likely a favorite (as babies are known to have), is titled Mickey Mouse on the Ice. Naturally, this feels like a prime topic and story line—with slippery escapades and buffoonery—for Dad to make the most of Disney's animated antics.

The dopey, low tones of Goofy, punctuated with the spritely high squeaks of Minnie and Mickey, lights this baby's soul so completely with glee, it brings forth a cascade of smiles and laughter. The joy exchanged between baby and Daddy is so instinctive and genuine, it's simply contagious.
Baby Laughing At Dad's Disney Voices Goes Viral

Commenters on this viral video, with over 3 million views share, "This adorable baby is really impressed with daddy's awesome voices during story time." One commenter says, "This is the sweetest thing I have ever seen! Lol." Another adds, "Such a beautiful baby and amazing dad! A baby's laugh immediately makes me smile regardless of how I'm feeling."

And isn't that why we read stories? To take us away from things we might be feeling before the story began, and release our emotions to the thrill of a tale. When we read to our babies, we fuel their imagination, and ours.

As this baby glances back and forth from the book to her father's face, we sense a trust in the giver that's reminiscent of a childlike faith in God.

Utterly absorbed in Daddy's expressions, this beautiful baby lets us snuggle up to the innate wisdom of children—that gladness is good for the soul.

"A cheerful heart is good medicine…" Proverbs 17:22
Today's Devotional
A Prayer for Those Who Are Battle Weary - Your Daily Prayer - March 6
For those who are battle-weary, His Truth over us for this day…
Top Artists
Top Music Videos