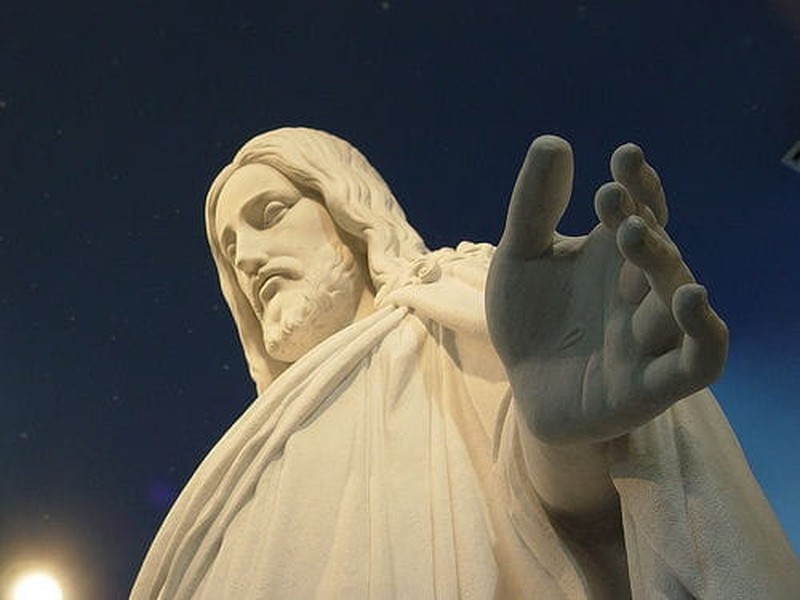 Christian Movies that are centered around Christ are my favorite.  Here is my list of the top 15 movies from the "Jesus" genre.  You will find movies spanning 7 decades and also several movies offering different perspectives of who's eyes the movie is seen through.  There are lots of great actors that have portrayed Jesus over the years, but I feel none did it as genuinely as Jim Caviezel in the Mel Gibson film "The Passion of the Christ".  Notice other big names such as Christian Bale and Jeremy Sisto also playing the King of Kings.  Countdown all 15 with us, there are plenty that cover the entire life and ministry of Jesus.

15. The Gospel According to Matthew (1964)
Director- Pier Paolo Pasalini
Writer- Pier Paolo Pasolini
Stars- Enrique Irazoqui, Margherita Caruso, Susanna Pasolini
The story of the life and work of Jesus as told through the Gospel of Matthew.  Covering Jesus teaching the disciples by using parables, and garnering the attention of the pharisee's.  Leading up to his arrest, beating, and crucifixion.  This movie was nominated for 3 Academy Awards.
"Pasolini's is one of the most effective films on a religious theme I have ever seen…"
Roger Ebert, Chicago Sun Times
14. Jesus (1979)
Director- John Krish, Peter Sykes
Writer- Barnet Bain
Stars- Brian Deacon, Rivka Neuman, Alexander Scourby
Released in 1979 this film covers everything from the miraculous birth through the resurrection.  The writing is based of the book of Luke from the New Testament.
"The Truth" Matthew 6:34 Jesus Speaking: "Therefore do not be anxious about tomorrow, for tomorrow will be anxious for itself. Sufficient for the day is its own trouble."
13. King of Kings (1961)
Director- Nicholas Ray
Writer- Phillip Yordan
Stars- Jeffrey Hunter, Siobhan McKenna, Hurd Hatfield
Another story covering the full life of Jesus including the baptism, disciples, and miracles.  This movie begins by showing the invasion which led to the crowning of King Heron.  A recent screening of this film in a New York museum proved the durability of the movie as fans were subdued by the showing.
12. Mary, Mother of Jesus (1999)
Director- Kevin Connor
Writer- Albert Ross
Stars- Christian Bale, Pernilla August, Melinda Kinnaman
A film where we see it from a different side as the story unfolds through Mary's eyes.  Some rather big name stars in this movie with Jesus being portrayed by Christian Bale (Batman).  And also Pernilla August who also plays Anakin Skywalker's Mom in Episode 1.
11. Pontius Pilate (1962)
Director- Gian Paolo Callegari, Irving Rapper
Writer- Oreste Biancoli, Gian Paolo Callegari
Stars- Jean Marais, Jeanne Crain, Basi Rathbone
"The Truth" Isaiah 9:6 Prophecy: For a child will be born to us, a son will be given to us; And the Government will rest on his shoulders; And his name will be called wonderful counselor, Mighty God, Eternal Father, Prince of Peace.
10. The Miracle Maker (2000)
Director- Derek W. Hayes, Stanislav Sokolov
Writer- Murray Watts
Stars- Ralph Fiennes, Michael Bryant, Julie Christie
Very interesting animation depiction of the life of Christ.  Ralph Fiennes takes the lead as the voice of Jesus.  Several other great actors are cast in this film.  An excellent selection for younger viewers.
9. Jesus of Nazareth (1977 TV)
Writer- Anthony Burgess, Suso Cecchi D'Amico
Stars- Robert Powell, Olivia Hussey, Laurence Olivier, Anne Bancroft, Christopher Plummer
"The Truth" 1 John 3:20-21 Jesus Speaking: "Everyone who hates his brother is a murderer, and you know that no murderer has eternal life abiding in him."
8. The Gospel According to St. Matthew (2003)
Director- Regardt Van Den Bergh
Writer- Johann Potgieter
Stars- Richard Kiley, Bruce Marchiano, Gerritt Schoonhoven
Also known as "The Visual Bible:  Matthew" this movie is now available on DVD.  The film recounts the life of Jesus from the Gospel Matthew.  And what a powerful story it is to hear the good news of Jesus.
7. The Robe (1953)
Director- Henry Koster
Writer- Phillip Dunne, Gina Kaus
Stars- Richard Burton, Jean Simmons, Victor Mature
Marcellus is a tribune who is in lead of the group assigned to crucify Christ.  Following the event, Marcellus has won Jesus' Robe.  He struggles with trying to cope and find a way to live with what he's done.  As he is tortured by delusions and night terrors he travels to Palestine to learn more of the man he's just helped kill.
6. Jesus Christ Superstar (1973)
Director- Norman Jewison
Writer- Melvynn Bragg, Norman Jewison
Stars- Ted Neeley, Carl Anderson, Yvonne Elliman
Often incorrectly labeled a musical, it is actually a "Rock Opera".  There are no spoken lines, everything is sung out.  The film focuses on the final 6 days of the life of Christ as seen through the eyes of Judas Iscariot.
5. The Greatest Story Ever Told (1965)
Director- George Stevens
Writer- Fulton Oursler, Henry Denker
Stars- Max Von Sydow, Dorothy McGuire, Charlton Heston
An epic classic by George Stevens, this movie asks the question of has God forsaken Jesus?  This movie was nominated for 5 Academy Awards.  They nailed it (no pun intended) with the title as there is no greater story than that of our Lord Jesus Christ.
4. The Visual Bible:  The Gospel of John (2003)
Director- Phillip Saville
Writer- John Goldsmith
Stars- Henry Ian Cusick, Daniel Kash, Christopher Plummer
This movie is narrated by Christopher Plummer and is the life of Jesus Christ as it was told by the apostle John.  This film has received good reviews and ratings, although it was released in 2003 so it may have been overshadowed by the soon after "Passion of the Christ" which was right on its heels in 2004.  And for any "LOST" fans out there please notice the actor who played Desmond is cast as Jesus.  This makes sense seeing as how Christ is "constant".
3. The Nativity Story (2006)
Director- Catherine Hardwicke
Writer- Mike Rich
Stars- Keisha Castle-Hughes, Shohreh Agdashloo, Oscar Isaac
Released in 2006, this is the second highest grossing box office film on the list after "The Passion".  The story focuses on the hardships of Mary and Joseph and things led up to a big miracle in a little manger.  Keisha Castle-Hughes is phenomenal as Mary.
2. Jesus (1999 TV)
Director- Roger Couture
Writer- Suzette Couture
Stars- Jeremy Sisto, Debra Messing, Gary Oldman
This is an all encompassing look at the life and times of our Lord Jesus Christ.  A full cast of big named stars.  The tagline on this movie based off its release date is "2000 years ago one man changed the world forever."  This is true and an understatement for sure, but this movie does a good job of showing the full life and importance of Jesus.
"The Truth" John 18:36 Jesus Speaking: "My Kingdom is not of this world. If my kingdom were of this world, my servants would have been fighting, that I might not be delivered over to the jews. But my kingdom is not from this world."
1.The Passion of the Christ (2004)
Director- Mel Gibson
Writer- Benedict Fitzgerald, Mel Gibson
Stars- Jim Caviezel, Monica Belluci, Maia Morgenstern
The Passion is an amazing movie with incredible acting and directing.  Jim Caviezel gives the best portrayal of Christ by a landslide.  Mel Gibson had great vision in the making of this film, he credited that to the Holy Spirit and prayer.  This movie received 3 Oscar nominations.
Conclusion
Hope you found this list informational and enjoyable.  Please give us at F&E feedback in the comments as to whether you like this article or we missed any of your favorite movies about Christ.  God Bless, Jesus is King!
Resources:  IMDB.com, www.youtube.com, The Holy Bible, English Standard Version
"Scripture quotations are from The Holy Bible, English Standard Version® (ESV®), copyright © 2001 by Crossway, a publishing ministry of Good News Publishers. Used by permission. All rights reserved."