Cat Runs Onto The Field And Ends Up Saving Lives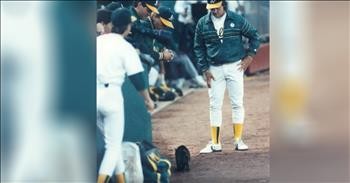 It was an incredible moment when this cat runs onto the field and it ends with thousands of saved lives. On May 7, 1990, a scared cat ran onto the field during an Oakland Athletic's baseball game. The entire game was being televised, so the whole world saw this cat run all across the field before making her way to the dugout.

That's when the A's manager, Tony La Russa, decided to take the stray cat in and named her Evie. Before deciding on keeping her, Tony and his wife looked at local shelters and discovered that there were no no-kill shelters in their area. So Tony and his wife kept Evie and decided to open their own shelter, Tony La Russa's Animal Rescue Foundation.
This incredible organization has saved over 38,000 animals who would've been put down at kill shelters. But it all started with one scared cat running onto the field of a ball game. It's truly amazing to see the impact that one of God's creatures can have on the world. What an incredible story!
Job 12:7-10 "7 "But ask the animals, and they will teach you, or the birds in the sky, and they will tell you;
8 or speak to the earth, and it will teach you, or let the fish in the sea inform you.
9 Which of all these does not know that the hand of the LORD has done this?
10 In his hand is the life of every creature and the breath of all mankind."
godtube-inspiration

193556 views

2018-05-22T16:12:00

source: Tony La Russa's Animal Rescue Foundation It was an incredible moment when this cat runs onto the field and it ends with thousands of saved lives. On May 7, 1990, a scared cat ran onto the field during an Oakland Athletic's baseball game. The entire game was being televised, so the whole world saw this cat run all across the field before making her way to the dugout.

That's when the A's manager, Tony La Russa, decided to take the stray cat in and named her Evie. Before deciding on keeping her, Tony and his wife looked at local shelters and discovered that there were no no-kill shelters in their area. So Tony and his wife kept Evie and decided to open their own shelter, Tony La Russa's Animal Rescue Foundation.

This incredible organization has saved over 38,000 animals who would've been put down at kill shelters. But it all started with one scared cat running onto the field of a ball game. It's truly amazing to see the impact that one of God's creatures can have on the world. What an incredible story!

Job 12:7-10 "7 "But ask the animals, and they will teach you, or the birds in the sky, and they will tell you;
8 or speak to the earth, and it will teach you, or let the fish in the sea inform you.
9 Which of all these does not know that the hand of the LORD has done this?
10 In his hand is the life of every creature and the breath of all mankind."
Today's Devotional
A Prayer to Keep it Together When Your Life is Falling Apart - Your Daily Prayer - November 15
Top Artists