'We Praise You' Matt Redman Official Live Video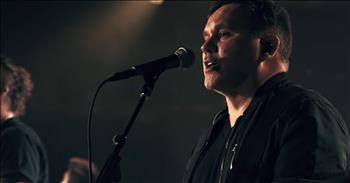 Contemporary Christian artist Matt Redman leads us in worship with 'We Praise You.'

This inspiring live performance also features Brandon Lake, of Bethel Music Collective. As Matt and Brandon belt out these words, we are reminded of His power and grace.
"We'll see You break down every wall
We'll watch the giants fall
Fear cannot survive when we praise You
The God of breakthrough's on our side
Forever lift Him high
With all creation cry, 'God, we praise You'
Oh, we praise You"
Matt Redman has been leading worship for decades. His powerful songs, such as '10,000 Reasons (Bless the Lord)' and 'Gracefully Broken' have touched hearts all over the world.
Now, he is joining together with Brandon Lake for a special, live performance of 'We Praise You.'
"Let faith be the song that overcomes the raging sea
Let faith be the song that calms the storm inside of me
Let it rise, let faith arise"
When we put our trust in God, He will truly help see us through any trial or tribulation. And in the good times and the bad, we will praise His Holy Name with worship and song.
Psalm 95:1-3 "Oh come, let us sing to the LORD; let us make a joyful noise to the rock of our salvation! 2 Let us come into his presence with thanksgiving; let us make a joyful noise to him with songs of praise! 3 For the LORD is a great God, and a great King above all gods."
matt-redman

2800 views

2020-01-21T13:49:43

source: Matt Redman Contemporary Christian artist Matt Redman leads us in worship with 'We Praise You.'

This inspiring live performance also features Brandon Lake, of Bethel Music Collective. As Matt and Brandon belt out these words, we are reminded of His power and grace.

"We'll see You break down every wall
We'll watch the giants fall
Fear cannot survive when we praise You
The God of breakthrough's on our side
Forever lift Him high
With all creation cry, 'God, we praise You'
Oh, we praise You"

Matt Redman has been leading worship for decades. His powerful songs, such as '10,000 Reasons (Bless the Lord)' and 'Gracefully Broken' have touched hearts all over the world.

Now, he is joining together with Brandon Lake for a special, live performance of 'We Praise You.'

"Let faith be the song that overcomes the raging sea
Let faith be the song that calms the storm inside of me
Let it rise, let faith arise"

When we put our trust in God, He will truly help see us through any trial or tribulation. And in the good times and the bad, we will praise His Holy Name with worship and song.

Psalm 95:1-3 "Oh come, let us sing to the LORD; let us make a joyful noise to the rock of our salvation! 2 Let us come into his presence with thanksgiving; let us make a joyful noise to him with songs of praise! 3 For the LORD is a great God, and a great King above all gods."

Today's Devotional
A Prayer for the Strength We Need to Be Joyful - Your Daily Prayer - August 14
Top Artists