'Never Lost' Christian Couple Perform Beautiful Elevation Worship Cover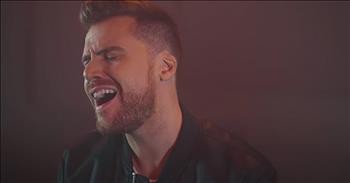 Caleb and Kelsey Grimm lead us in worship with the beautiful words of 'Never Lost.' This song of praise reminds us all that God is by our side each step of the way.

"You can do all things
You can do all things but fail
'Cause You've never lost a battle
No, You've never lost a battle
And I know, I know
You never will"
Caleb + Kelsey are a married duo that use their musical talents to worship our Lord. Time after time, they lift up His Name in praise with performances of our favorite songs, like 'Oceans (Where Feet May Fail)' and 'Amazing Grace.'
Today, they are belting out the words to 'Never Lost' by Elevation Worship and it is truly a blessing to hear. Just listen as they sing straight to Heaven with perfect harmonies and open hearts.
"Everything's possible
By the power of the Holy Ghost
A new wind is blowing right now
Breaking my heart of stone
Taking over like it's Jericho
And my walls are all crashing down"
Even when the world may seem uncertain, we can rest easy knowing that God is in control. Hand your burdens over to the Lord and He will help see you through each difficult moment. Let us use these words to give Him all the praise.
Proverbs 3:5-6 "Trust in the Lord with all your heart and lean not on your own understanding; in all your ways submit to Him, and He will make your paths straight."
anthem-lights

742 views

2020-05-11T12:19:59

source: Anthem Lights Caleb and Kelsey Grimm lead us in worship with the beautiful words of 'Never Lost.' This song of praise reminds us all that God is by our side each step of the way.

"You can do all things
You can do all things but fail
'Cause You've never lost a battle
No, You've never lost a battle
And I know, I know
You never will"

Caleb + Kelsey are a married duo that use their musical talents to worship our Lord. Time after time, they lift up His Name in praise with performances of our favorite songs, like 'Oceans (Where Feet May Fail)' and 'Amazing Grace.'

Today, they are belting out the words to 'Never Lost' by Elevation Worship and it is truly a blessing to hear. Just listen as they sing straight to Heaven with perfect harmonies and open hearts.

"Everything's possible
By the power of the Holy Ghost
A new wind is blowing right now
Breaking my heart of stone
Taking over like it's Jericho
And my walls are all crashing down"

Even when the world may seem uncertain, we can rest easy knowing that God is in control. Hand your burdens over to the Lord and He will help see you through each difficult moment. Let us use these words to give Him all the praise.

Proverbs 3:5-6 "Trust in the Lord with all your heart and lean not on your own understanding; in all your ways submit to Him, and He will make your paths straight."

Today's Devotional
A Prayer to Forgive Yourself - Your Daily Prayer - June 3
Top Artists