'Power To Redeem' Lauren Daigle Worships From Home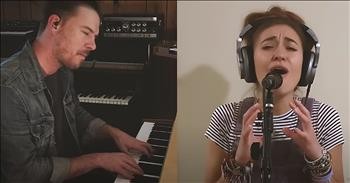 Grammy award-winning Christian artist Lauren Daigle reminds us of God's strength and love with this at-home rendition of 'Power To Redeem.'

During these uncertain times, it is more important than ever to turn to God and trust that He is always in control.
"With breath that brings the dead to life
With words that pierce the dark with light
Only by the blood are we set free.
With mercy strong to carry shame
And nail it to a tree You alone
Hold the power to redeem."
Lauren Daigle burst onto the scene with her 2014 album 'How Can It Be.' Since that time, it's only been up for this powerhouse vocalist. With hits like 'You Say' and 'Rescue,' Lauren is truly making her mark on the Christian music scene. But as we face unprecedented times in our world, Lauren wanted to share God's continuing message of hope.
Just listen as she belts out the inspiring words of 'Power To Redeem' from her own home.
"Rejoice oh child of God
Lift your eyes to see
With every morning light
Again we are redeemed"
These words of praise are the perfect reminder that God is always with us and we are redeemed because of His sacrifice.
1 Peter 1:18-19 "For you know that it was not with perishable things such as silver or gold that you were redeemed from the empty way of life handed down to you from your ancestors,
19 but with the precious blood of Christ, a lamb without blemish or defect."
lauren-daigle

1088 views

2020-05-07T14:56:43

source: Lauren Daigle Grammy award-winning Christian artist Lauren Daigle reminds us of God's strength and love with this at-home rendition of 'Power To Redeem.'

During these uncertain times, it is more important than ever to turn to God and trust that He is always in control.

"With breath that brings the dead to life
With words that pierce the dark with light
Only by the blood are we set free.
With mercy strong to carry shame
And nail it to a tree You alone
Hold the power to redeem."

Lauren Daigle burst onto the scene with her 2014 album 'How Can It Be.' Since that time, it's only been up for this powerhouse vocalist. With hits like 'You Say' and 'Rescue,' Lauren is truly making her mark on the Christian music scene. But as we face unprecedented times in our world, Lauren wanted to share God's continuing message of hope.

Just listen as she belts out the inspiring words of 'Power To Redeem' from her own home.

"Rejoice oh child of God
Lift your eyes to see
With every morning light
Again we are redeemed"

These words of praise are the perfect reminder that God is always with us and we are redeemed because of His sacrifice.

1 Peter 1:18-19 "For you know that it was not with perishable things such as silver or gold that you were redeemed from the empty way of life handed down to you from your ancestors,
19 but with the precious blood of Christ, a lamb without blemish or defect."

Today's Devotional
A Prayer for a Strong Marriage - Your Daily Prayer - August 9
Top Artists