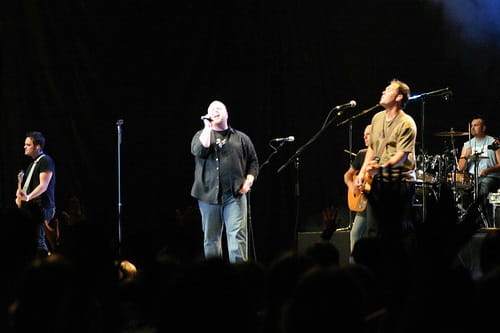 MercyMe formed in 1994 and had 6 independent albums, but didn't gain mainstream attention until their huge crossover hit "I Can Only Imagine" in 2001.  Since then they have done 6 studio albums, 4 of which have gone gold.  Here is a list of what I consider the top 8 lyric video songs they have put out over the course of their career.
8. So Long Self
Favorite Lyric- "Believe it or not but life is not apparently about me anyways."
This song reminds me of Rick Warren's "Purpose Driven Life" when you open the book the first sentence is so powerful  saying "It's not about you."  This whole song is a great description of what it means to give yourself over to Christ.
7. Move
Favorite Lyric- "When life won't play along and when right keeps going wrong and I can't seem to find my way."
This is an awesome upbeat song about moving at the pace of life.  It's also about how to have faith through life's adversities.
6. God With Us
Favorite Lyric- "The debt is paid the chains are gone."
Powerful lyrics praising the achievements of the Risen Christ, and all he has done and what he offers.
Revelation 7:10 "Salvation belongs to our God who sits on the throne, and to the lamb."
5. Beautiful
Favorite Lyric- "You are made for so much more than all of this."
This part of the song always makes me think of how so many people spend their whole day or sometimes their whole lives wrapped up in business or work to the point that they are not  giving any energy or thought to our true mission of spreading the word of Christ.
4. I Can Only Imagine
Favorite Lyric- "Surrounded by your glory, what will my heart feel?"
These are very deep lyrics asking a very meaningful question, when our time comes what will be our prevailing thought or feeling?  I know I would certainly be fearful of judgement while still being in awe of his power and glory.
Revelation 19:1-3 After this I heard what seemed to be the loud voice of a great multitude in heaven, crying out, "Hallelujah! Salvation and glory and power belong to our God."
3. Word of God Speak
Favorite Lyric- "To be still and know that you're in this place.  Please let me stay and rest in your holiness."
An award-winning song whose lyrics speak(no pun intended) to the idea of us individually having the Holy Spirit within us and that we each have our own unique relationship with Christ.
2. The Hurt and the Healer
Favorite Lyric- "I'm alive.  Even though a part of me has died.  You take my heart and breathe it back to life."
A mesmerizing song, saw lots of radio play in 2012.  This set of lyrics to me is referring to the way all believers were in need of being born again when they came to Christ.  The song also talks of how Jesus can take away our fears when we lay them down to him.
"The Truth" 2 Corinthians 5:17 Therefore, if anyone is in Christ he is a new creation. The old has passed away; behold; the new has come."
1. You Are, I Am
Favorite Lyric-  "I've been the one to fall apart and question who you are."
This is the latest single from the band and it is blowing up on the radio right now.  I love all these lyrics, but I love this line because we all have to deal with doubt on a daily basis.  But he is our rock and our fortress upon which we must rely.
Lead Singer- Bart Millard  Keyboardist- James Bryson
Percussionist- Robby Shaffer    Bassist- Nathaniel Cochran
Guitarists- Michael Scheuchzer, Barry Graul
Conclusion
MercyMe is a great band that has tons of hits already and probably lots more to come.  They have some of the most powerful lyrics in the business today.  They also have a great lead singer in Bart Millard who has a very distinct sound.  I look forward to the next single and album from MercyMe.
Let me know in the comments if I missed one of your favorites.  God's Richest Blessings to you all!
Resources-
photo credit: Ray Majoran via photopin cc
www.youtube.com
The Holy Bible, English Standard Version
"Scripture quotations are from The Holy Bible, English Standard Version® (ESV®), copyright © 2001 by Crossway, a publishing ministry of Good News Publishers. Used by permission. All rights reserved."